In this comprehensive article, we have collected the most important growth and revenue milestones, the introduction of new features, and other important details in the history of one of the most popular and definitely most influential dating company, Tinder. This is the History of Tinder year by year from 2012 until today.
The founding of Tinder in 2012
The history of Tinder has been started in a startup incubator and defined the later history of the successful dating company.
 

Tinder was founded in 2012

in a startup incubator called Hatch Lab, by Sean Rad, Jonathan Badeen, Justin Mateen, Joe Munoz, Dinesh Moorjani and Whitney Wolfe Herd. There is some dispute about whether Whitney Wolfe Herd who later left the company to found Bumble is actually a co-founder or an early employee.

 

The initial first beta release of the app

came out

on 12 September 2012. The app was first only available on iOS devices and looked something like this:

 

Two months after the launch they managed to maintain

65% daily active users

, showing a huge growth potential for the app.
Tinder Milestones in 2013
 

The app quickly gained popularity on US college campuses

reaching 1 million matches

by the beginning of 2013.

 

By May 2013 Tinder was one of the top 25 social networking apps based on frequency of use and number of users. It has won

TechCrunch's Crunchie Award for "Best New Startup of 2013

.

 

In July 2013 the

Android version of the app

was launched heavily requested by more than 800 thousand people

 

In 2013 they also entered into the international markets, getting traction in the UK, Canada, Australia, and other non-English speaking countries where they started the localization of the app
History of Tinder in 2014
Major Tinder Events in 2015
2015 was an important year in Tinder history as they started to make money In 2015 the growth of Tinder started to stabilize but it was still growing its userbase in a very rapid way. In 2015 they obviously started to focus on the monetization of this huge userbase and very attractive demographic groups. (people in their 20s and 30s) in 2015 the company also made its first acquisition in Tinder history by acquiring the photo messaging app startup, Tappy.
Tinder History in 2016
As Tinder started to monetize the app in 2015 (a very important milestone in Tinder history) and started to make a lot of money they had more resourced to add new free and paid features to the app in 2016. A  second acquisition by acquiring a San Francisco based startup, Humin a startup focusing on contact management feature.
At the beginning of 2016, they released a version update that made it possible to send

Giphy gifs within Tinder messages.

They also allowed to upload profile photos tin Tinder directly from users' phone.

Another new free feature was added to the app like the ability to connect your Tinder profile to your Instagram and Spotify account and Tinder Smart Photos that help you choose the best photos for your Tinder profile.

Besides free features, a new premium feature, Tinder Boost was introduced. With Tinder Boost users are able to "skip the line" for 30 minutes, becoming the top profiles in their neighborhood for 30 minutes. Tinder Boost was introduced as a premium feature similar to Tinder Super Like, Plus subscribers got 1 Boost per month for free, and additional Tinder Boost can be purchased separately.

Besides the acquisition of the startup, Humin, they also

invested in the fast-growing, female-friendship network called Hey! Vina

,  which was a move to broaden the dating focus of the company.

The revenue of Tinder has more than quadrupled from 2015 reaching 169 million USD in 2016.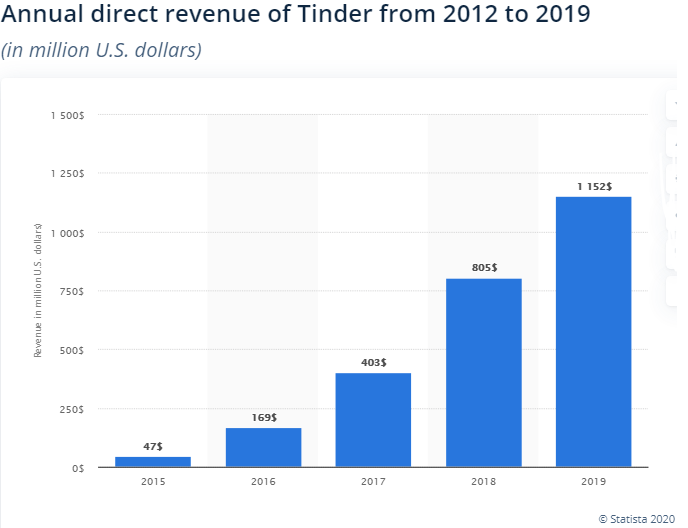 Tinder History in 2017
Tinder Revenue kept skyrocketing in 2017 as the number of paying premium subscribers doubled in a year reaching 3.1 million at the end of Q4 2017.
In 2017 Tinder acquired another company for an undisclosed amount called Wheel. Wheel was an L.A. based startup whose app let users share collaborative, video-based "stories". This was a clear move from Tinder to add a video feature to the app.
In 2017,

Tinder has launched Tinder Online

the desktop version of Tinder that can be also accessed through a desktop computer. This was a move also to the developing countries where users were struggling to use Tinder on their phones due to slow internet connection or due insufficient storage place.
Facing competitive pressure from new exclusive dating apps like the League Tinder has secretly launched Tinder Select, an invite-only part of Tinder for the most attractive member of Tinder( super-models, millionaires and celebrities)
In June 2017, a new Tinder premium subscription, called Tinder Gold was introduced. Tinder Gold has been positioned with a higher price and more exclusive features as the upper-tier subscription plan on Tinder. Tinder Gold subscribers are able to use all the features of Tinder Plus (Passport, Rewind, No ads, Unlimited swiping, 5 Super Likes per day, 1 Boost per month) and also have access to the Likes You feature that enables them to see who liked them before they would swipe the profiles right.
Tinder revenue has really skyrocketed in 2017, reaching 404 million USD thanks to the growing number of premium subscribers and especially thanks to the higher pricing of Tinder Gold.
Tinder History in 2018
Thanks to the introduction of Tinder Gold premium subscriptions Tinder revenue growth hasn't slowed down in 2018, almost doubled to 806 million USD in 2018. This revenue growth was driven by the increasing number of premium subscribers that reached 4.3 million at the end of Q4 2018.
In August 2018, Tinder has launched Tinder U, its feature exclusively developed for university students in the US, its most loyal userbase. With Tinder U, American university and college student can swipe and match with fellow students more easily.
They added a new feature for the Tinder Gold premium subscribers called Tinder Top Picks which is basically a curation of the most attractive profiles in your neighborhood. Gold subscribers are able to swipe 10 top picks per day for no additional cost.
Tinder has also rolled out a free feature for all users called Tinder Feed. Similar to social media apps, in your Tinder Feed you can see all the changes someone made in her profile like adding new picture or new bio information. It seems like the feature hasn't been a great success as in 2020 the feature has disappeared from the AI.
Tinder History in 2019
In 2019 they reached the following milestone: more than 30 billion matches were made in the app. In terms of financial growth their revenue and the number of premium subscribers also kept growing. It had a net revenue of 1 152 million dollars and its premium subscriber count reached 5.9 million by the end of 2019.
If Tinder was a separate company its 2019 valuation would have been around 10 billion USD.
Tinder has admittedly changed how its infamous matching algorithm work. They no longer use the Tinder Elo score (although it doesn't mean they don't use a similar measurement score to measure the relative attractiveness of Tinder profiles)
They started to roll out a new feature, Tinder Super Boost. Tinder Super Boost is basically the same as a Tinder Boost but with way more power and higher price. With Tinder Super Boost you can get a higher profile visibility for 180 minutes and can 100X your average number of profile impressions you get on Tinder
They also released Tinder Read Receipts a premium feature not part of any premium subscription packages that enable you too see if someone has read your Tinder messages.
History of Tinder in 2020
The COVID 19 pandemic and the stay-at-home orders and lockdowns it triggered also had a significant impact on Tinder. The usage of the app surged, just on 29 March, 2020 more than three billion swipes were recorded on Tinder. At the same time as more people experienced uncertain situation in the job market, the the growth in the number of premium subscribers has declined.
At the beginning of  2020, new safety-focused features were introduced for all Tinder users to make the Tinder experience safer. The features include Tinder photo verification to stop catfishing, the integration with the Noonlight app to add a Panic Button to Tinder and the Safety center where users can learn more about how they can keep safe using the popular online dating app.

During the coronavirus epidemic, responding to lockdowns and stay-at-home orders, Tinder made its Passport feature free for all Tinder users around the world.

Tinder has launched a video-calling feature called Tinder Face to Face that makes it possible to have video-chats during