In this article, we will answer every question you have ever had about Tinder mid-level subscription, Tinder Gold.
We will show you what extra features you get access to once you purchase a Tinder Gold subscription and review its features, give a humble, non-biased opinion on whether it is worth the money, and everything else you need to know.
What is a Tinder Gold subscription?
Tinder Gold is one of the premium subscriptions that you can purchase if you want to get access to Tinder premium features. It used to be a high-tier subscription until Tinder introduced Tinder Platinum.
When you purchase Tinder Gold, you can access the following features
Tinder Gold Features – What Is Included?
There are two features that you only get when you are a Tinder Gold subscriber:
Besides these two, you also get all the features of Tinder's lower level premium subscription, Tinder Plus:
We go over these mutual features in our Tinder Plus detailed review, now we will only elaborate on the two exclusive Tinder Gold features.
Here you can compare the premium features you can access using different Tinder subscriptions:
Tinder Top Picks in Tinder Gold
With Tinder Gold you will get 10 profiles that can be swiped right away, that are not part of the usual Tinder deck. Tinder claims "these top picks are designed to highlight your most swipe-worthy potential matches".
It is important to be active and swipe these top 10 picks, as they are only available for 24 hours. As one day passes, you will see 10 new top picks. If you find this feature to be useful, you can buy even more top picks, but these also last only for 24 hours.
Likes You in Tinder Gold
The second exclusive feature of Tinder Gold is See Who Likes You Feature. This feature enables you to see who liked your profile before you actually swiping them. This means you can get a ton of potential matches without ever doing the regular swiping.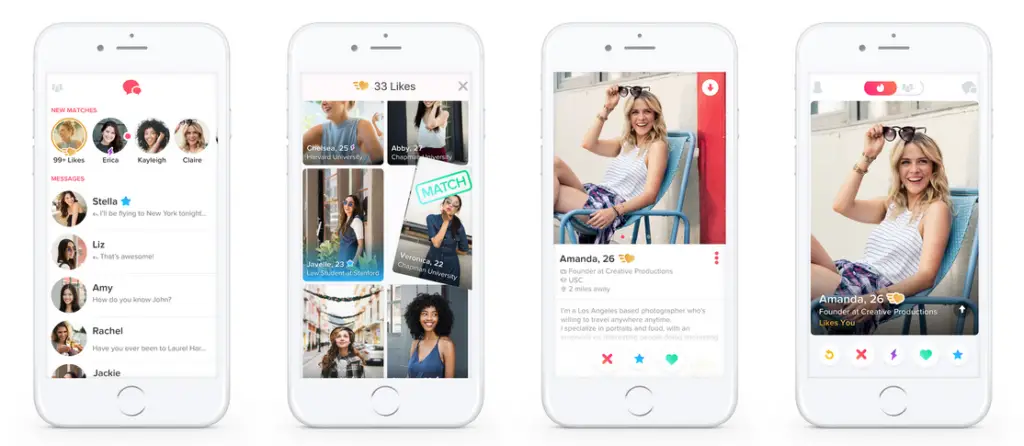 How to activate Tinder Gold?
Here is how you can get a Tinder Gold Subscription:
Open Tinder
Tap your profile icon
Go to Settings
Tap on get Tinder Gold
Choose your preferred monthly plan
Tinder Gold Price
The pricing of Tinder Gold is not fixed. It will depend on your age, location and the discount you are being offered. But the standard one month price is about 30 USD/month. You can get a hefty discount if you subscribe for 6 or 12 months. It is also worth comparing the price to a Tinder plus subscription as you get the same features except the above mentioned two with a lower price.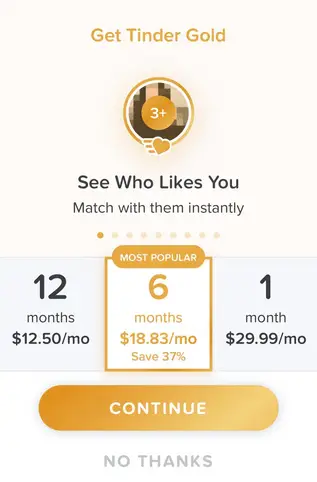 Tinder Gold Review – Should you buy it?
According to our experience, Tinder Top Picks indeed shows really high-quality profiles in its Tinder top picks report. This is great, but fortunately the majority of the profiles in the regular deck are really high quality as well. If you are not afraid to go over some not so popular profiles in the profile deck, you will still have access to high-quality profiles. Important to add that even non-subscribers get 1 top pick per day, so this is something you can definitely test before deciding to purchase Tinder Gold for it.
See who liked you is definitely a more useful feature. It might be useful for those who don't really have the time to swipe a lot on Tinder, but still want to have conversations on Tinder and use it to go for dates. I would suggest it is more for girls, as they will get a lot more likes, so they can save precious time. Funny enough Tinder Gold is not giving any significant plus for those people who are the most active in swiping.
Should you purchase it? Well, maybe, but most likely no. Top Picks feature just doesn't seem like a useful feature. Although you will most likely like the profiles they feature there, but if you are an active Tinder user you would do that anyway.
It also gives you insights who are the profiles that generally like you, and if you are not happy with the results, change your profile based on this.
to get another perspective you can check out this video whether you should get Tinder Gold or not:
Tinder Gold – Final Verdict
Only buy Tinder Gold if you have an attractive profile and don't really want to spend a lot of time swiping on Tinder. Tinder Plus is definitely the better value for money choice. You can also check out our article where we compare the two premium subscriptions: Tinder Plus vs Gold.
You still have questions, or something is not clear about Tinder Gold? Ask us in the comment section, and we or one of our members in our community will help you.
Frequently Asked Questions – Tinder Gold
Does Tinder Gold Offer A Free Trial?
No, Tinder doesn't offer a free trial, but you can get a hefty discount sometimes. Usually for new users a discount is offered. It is also cheaper if you buy it for 6 or 12 months.
What Does Tinder Gold Cost?
The standard price of Tinder Gold in the US is around 30 USD/month. This price can vary based on your age, your gender, on your location and the discount you are offered.
Will I Get More Matches With Tinder Gold?
There is no premium feature on Tinder that will guarantee to increase your match number. However, some features included in the Gold plan, e.g. Tinder Boost or Super Like help you that.
What Is the Difference Between Tinder Gold And Tinder Plus?
Tinder Gold offers two exclusive features that Tinder Plus does not: Top Picks and See Who Likes You. For this reason, you have to pay a higher price for the Tinder Gold subscription.