One of the two exclusive features that you get when you buy Tinder Gold is the See Who Likes You feature. In this article, we are going to cover everything you have ever wanted to know regarding this feature.
What is it, how does it work, its price, and we will also give you an honest review and tell you whether is it worth buying Gold subscriptions for this feature. At the end of the article, we have an FAQ section to answer the most frequently asked questions about the See Who Likes You feature.
What is Tinder See Who Likes You?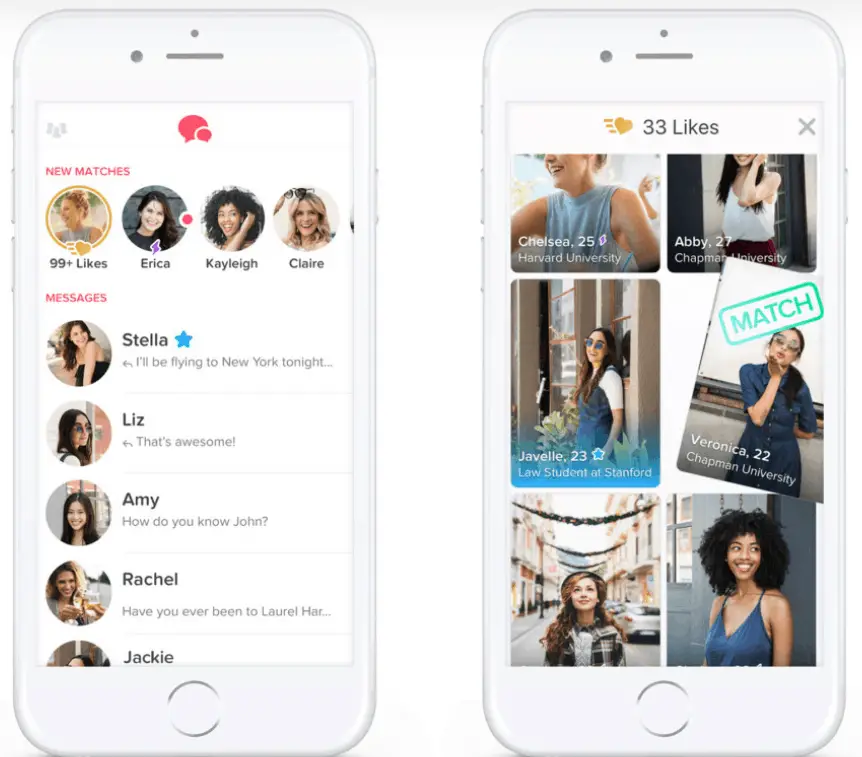 With Tinder See Who Likes You feature you are able to see who liked your profile before you would swipe right on them. It has a dedicated screen on Tinder where you can see all the profiles that have already liked you and you can pick those you would like to match with.
It is a feature of Tinder Gold, the premium level monthly subscription of Tinder. With Tinder Gold, you also get the Top Picks feature and all the features that are available in Tinder Plus.
If you are new to Tinder but have used Bumble before, it is basically the same in functionality as Bumble Beeline. In most cases, Bumble was the one who copied the premium features already developed by Tinder, but in this case, Beeline is the older feature. By the way, Bumble seems to be also more creative in giving names to features.
How to See Who Liked You on Tinder?
If you have Tinder Gold, do the following:
Go to the messages icon on the main screen
In your new Matches row, the first profile photo highlighted with a gold border will be the profiles who liked you. Tap on it.
Here now you see all the profiles who liked you
Tap to view someone's profile. Now you can swipe left or right. If you swipe right it will be an instant match.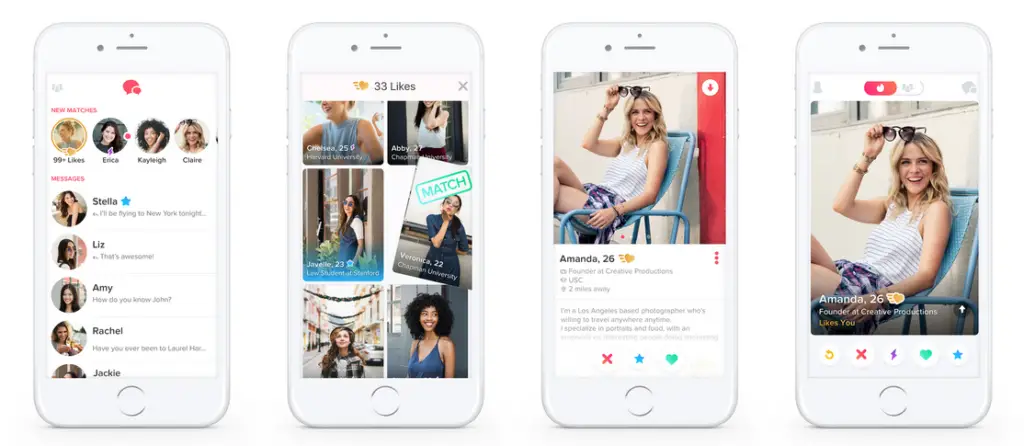 Don't be surprised if you have already swiped left someone in your standard swiping deck and that profile still appears among the Likes You screen. This feature still adds these profiles to the collection and you have the option to change your mind and still match with them if you want to.
Tinder See Who Likes You cost
You can't buy this feature separately, you can only have access to it if you buy a Tinder Gold subscription.
But if you purchase Tinder Gold, you also get access to other useful features, such as 1 Boost per month, Tinder Passport, No ads, Unlimited likes, etc., and 10 Top Picks, the other exclusive feature of Tinder Gold.
The price of Tinder gold is not fixed, it will depend on your location, age and gender, but the standard 1-month price will be around 30 USD. You can get a discount if you subscribe for 6 or 12 months and sometimes you will also get limited-time discounts.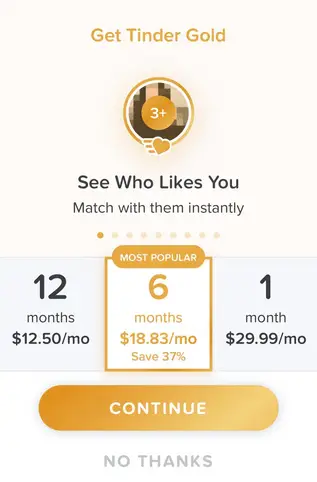 It is worth comparing the price of Tinder Gold with Tinder Plus pricing. For a 1-month subscription, you can get Tinder Plus for 20 USD, so it is around 33% cheaper than Tinder Gold.
Is it a useful feature?
As we have seen, Tinder Gold is more expensive than Tinder plus and only gives you 2 additional features: 10 Top Picks and Likes You. We have a separate article where we review Tinder Top Picks, but spoiler alert: it is a really useless feature.
Therefore to buy Tinder Gold or not to buy really depends on how useful Likes You feature is for you. However, this question is not that obvious to answer. It depends on your usage of Tinder and the general attractiveness of your profile.
If you are a girl (and fed up with swiping)
Let's be honest, this feature has been developed to girls with at least average attractiveness whose profiles are right swiped about more than 90 times out of 100 swipes. It is not a surprise that a similar feature has been first introduced by the "feminist" Tinder, Bumble.
With this feature, girls get a new kind of ego boost, as they can see how many profiles have already swiped them right. And as the women-to-men ratio has worsened on Tinder in the last couple of years, even if they have an average profile, they can have over 99+ Tinder likes easily.
Besides the ego boost, this feature makes their life also easier. With Likes You, all they have to do is pick the profiles they find attractive and not have to deal with swiping anymore.
To sum it up, if you are at least an average looking girl and not interested in swiping, just want to find potential partners fast, this feature is definitely for you and worth the extra price you have to pay for Tinder Gold.
If you are an average looking guy
For an average looking guy, that is the most crowded group on Tinder, Tinder has become tougher and tougher in the last couple of years.
As we mentioned, more and more single guys are active on Tinder while the number of active girls might have been declining in the last couple of years which led to fewer and fewer matches on the platform. Even great features such as Boost have lost its effectiveness as a lot of other guys have started to use it.
For them, Tinder Gold's See Who Likes you feature is not that useful and won't help them get those new matches. So if you want to get more matches, don't spend that money on Tinder Gold, buy some Super Boost instead.
A more interesting feature would be actually to see who already swiped on you, regardless of whether that was a left or right swipe. But that would be a suicidal move from Tinder as that would show for guys that their profile is only shown to a very few girls.
Likes You feature effects on user experience
There are some user experience changing impacts of this feature that are worth mentioning.
Takes out the fun of swiping
First, one of the fun things in Tinder for active users is when you are swiping and right after the swipe you get a match. If you find the girl or guy attractive, it gives you a nice dopamine boost and keeps you going on with swiping.
If you see all the profiles that already liked you, you won't have any of these experience that makes Tinder less fun and might also make you less active. (see later.)
Influences the decision on swiping
The other thing that might be changed due to this feature is the decision on who you swipe left or right. Some people will be more choosy with their swiping as they will look for mistakes and things they don't like in the profile that liked them. Other people might give a chance just because they know that the profile has liked them.
Makes girls less active
The worst impact of all is that the feature makes a lot of girls less active. As they can get a ton of matches without ever swiping a profile, they just simply won't anymore. It will take them a lot of time just to swipe on profiles that alrealy liked them, they won't bother swiping profiles that didn't like them yet.
This will result in fewer matches for guys and worse user experience.
But until Match Group makes a ton of money out of Tinder Gold, they will be happy to provide this feature even if it leads to a worse user experience and a smaller number of active users.
See Who Likes You Review
To sum it up, it is a quite useful feature for profiles that are getting a lot of matches and hate swiping and just want to use Tinder for chatting and setting up dates.
However, if you are not getting a ton of matches, or like swiping on Tinder, don't bother getting Tinder Gold for this feature.
How to see Tinder likes for free?
To be able to see who liked you on Tinder, you need to have a Gold subscription. However, you can try two kinds of hacks that can do almost the same thing as the feature and they are free.
There are two ways to do this, one works completely but is "more work" the other one works more or less but can be done on your phone. For the infamous unblur hack, we wrote a separate article where we show you with video examples how you can do it step by step. In this post, we are going to cover the more simple but less impressive distance hack
Or you can also check out this video:
Distance hack to see who liked you on Tinder
You can do this hack by using the regular mobile app version of Tinder. All you have to do is take your distance settings back to the smallest you can. (1 mile or 2 km).
As you are going through your profile deck, once you see a profile whose distance is more than your minimum distance setting, most of the time it means that she or he already liked you. One exception if he or she is using Tinder Passport, but that is quite rare.
This obviously doesn't work for those profiles who are really close to you and would be shown to you even if they didn't like you. Anyway, this is also an almost perfect way to see who liked your Tinder profile for free.
There you have it, everything you need to know about Tinder Likes You feature. What is your experience with it? Do you think it is worth buying Gold or this feature? Please share your comments below, we'd love to hear from you.
Frequently Asked Questions
I Can't See Who Liked Me On Tinder. Why?
You have to have Tinder Gold to be able to use this feature. Even if you have gold, if nobody liked you who you didn't swipe right yet, you won't see any profile there.
I Ran Out Of Swipeable Profiles But Tinder Still Shows Profiles Liking Me. Why?
It is a trick from Tinder to get you to purchase Tinder Gold for the Likes Youe features. These are not fake likes, but Tinder won't always let you match right away with all profiles that already liked you, so you will be more likely to buy Tinder Gold.