Tinder Passport is a premium feature of Tinder that allows you to change your Tinder location and swipe, match and chat with people all around the world.
In this blog post, we are going to give a comprehensive review of Tinder passport, explain the main functionalities, and show you how it works, and if it is worth changing your location on Tinder. 
What is Tinder Passport?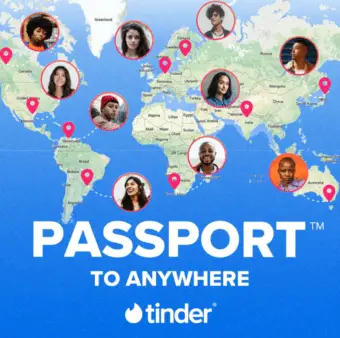 Without using the Passport feature, Tinder only allows you to see profiles in a certain radius you have set in your profile settings. Enabling Tinder Passport, you can search for cities or drop your pin anywhere in the world and start chatting with people who are physically located there.
Passport is only available for Tinder Plus or Gold subscribers.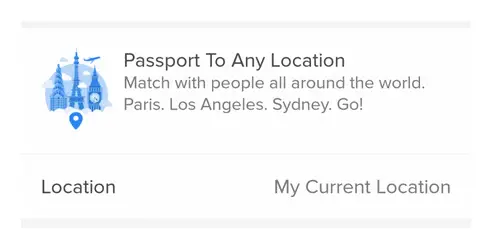 How does Tinder Passport work?
When you change your location (see how to do it step by step in the next section) you will be able to swipe profiles that are physically located in that city.
When you are using Passport, you can only be seen at one location, your profile won't be shown at your real physical location. You might still get matches from your home city if you swiped someone right before changing your location.
Don't forget to change your locations settings back when you no longer want to see profiles in another city, because Tinder won't change it back automatically.
Tinder Passport: a free Boost in visibility
Based on our experience, one of the benefits of Passport feature is that you get a boost in profile visibility due to the location change. It is smaller in effect but similar to the newbie boost you can experience when you reset your account and Tinder algorithm thinks that you are a new profile and gives  you special treatment (shows your profile way more often to get a ton of matches.)
Some speculate that your profile score that determines how attractive you are (also called ELO score), are reset when you enter a new city or change your location with the Passport feature. this might be the reason that you get a profile boost.
How to change your location in Tinder?
It is really easy to change your location in Tinder. Here are the steps:
Open the app and tap your profile icon.
Go to the "Settings" and tap "Location".
Tap the option to "Add a new location."
Type the city you want to change your location to.
Select the city from your search results.
Tap the blue banner to change your location.
Is Tinder Passport free?
During the coronavirus (COVID-19) epidemic Tinder has made its Passport feature free for all users through 30th April that is normally only available to Tinder Plus or Gold subscribers.
As the official statement says: "Our hope is that you use the Passport feature to virtually transport yourself out of self-quarantine to anywhere in the world. You can check in on folks in their hometown, college town, or sister city, and find those across the world who are going through the same things."
Although it was quite successful during the lockdown, Tinder has not extended the free period, so you have to pay for it again if you want to have access to it.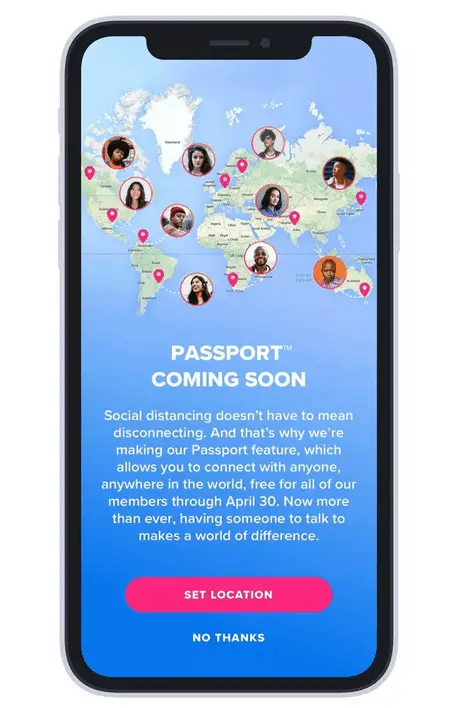 If you don't have the budget to pay for Tinder premium subscriptions, you can try the methods here to get Tinder Gold or Plus and Tinder passport for free.
How to succeed with Tinder Passport?
Tinder Passport is worth using when you are planning to travel somewhere in the upcoming days. With Passport, you can change your location to the travel destination and swipe on profile before you would be actually located there.
You can match up with profiles and set up dates in advance so you can have different dates on every night. It will be even easier for you to get new matches as in a new location you get a boost in your profile visibility.
If you want, you can also hide your location, so people don't see how far from them you are. But the best thing to do is ass something in your bio that you will be traveling there and would love to meet up with someone. (don't ask for free guides, that is lame.)
Tinder Passport statistics
Tinder published a study that analyzed to which cities users changed their location setting most often with the Passport feature. The list was topped by European cities with London and Paris leading the list and New York city being the only North-American city being in the top 10 cities.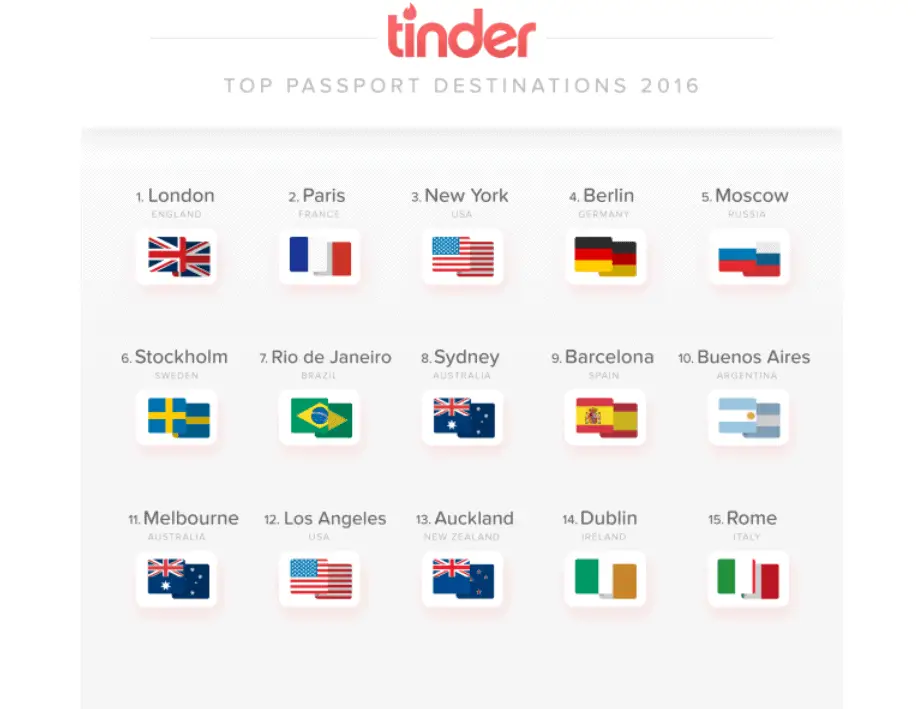 Here is also a nice video about using Tinder in different cities:
There you have it, everything you need to know about Tinder Passport. What is your personal experience with it? Have you used it during the coronavirus epidemic? We want to hear your stories, share with us in the comment section below.
Frequently Asked Questions
Do other users see where I am from when I use Tinder passport?
No, users only see that how far away you are from them. If you want, you can also hide your location.
Can I hide how far I am while I'm using Tinder passport?
Yes, if you want, you can hide your distance from other users.
I can't change my location on Tinder, why?
You can only change your location if you have access to Tinder Gold or Plus premium subscription.
How to change your radius on Tinder?
To change your radius, open up the app, tap on Settings, and scroll to discovery preferences. Here you will see a slider that you can adjust to determine how far away you want to look for matches. The default is 50 miles, you can increase it up to 100 miles and take it back to 1 mile only.
Can I see profiles over 100 miles radius on Tinder?
Yes, you can, you need to use the Passport feature, that is available for you if you're a Tinder Plus or Gold Subscriber.
How many cities can I visit with Passport?
You can visit as many cities as you want with the Passport feature. There is no limit how many times you can change your location on a given day.