This blog post is written to be the most comprehensive resource on everything you need to know about Tinder Plus in 2021Tinder's lower level premium subscription plan. We will explain and review its features, and give an unbiased, honest opinion on whether it is worth the money. For a detailed Tinder Plus FAQ, go to the end of this article.
Tinder Plus Features
Rewind your last swipe
5 Super Likes a day
1 boost a month
Passport to swipe around the world
Hide you age
Hide your distance
No ads.
Unlimited likes with Tinder Plus
As you most likely have experienced, without a premium subscription, Tinder is limiting the number of swipes you can have in a 12 hour period. The limit is used to be around 100 swipes per 12 hours, but it has been changed, and men have even fewer now. With Tinder Plus you can forget about this limit, and the only limit is the number of profiles that are available in your neighborhood.
Rewind your last swipe with Tinder Plus
Did you accidentally swipe left someone you would marry? Or super liked someone who is anything but attractive? You can rewind your last swipe with Tinder plus subscription. You have the ability to rewind only your last swipe.
5 Super Likes a day with Tinder Plus
As it is also part of Tinder basic features, we guess you don't need a lot of explanation. If you super like someone, he or she will get notified about it with a bright blue border and a star and your profile will also get a better position in her swiping deck.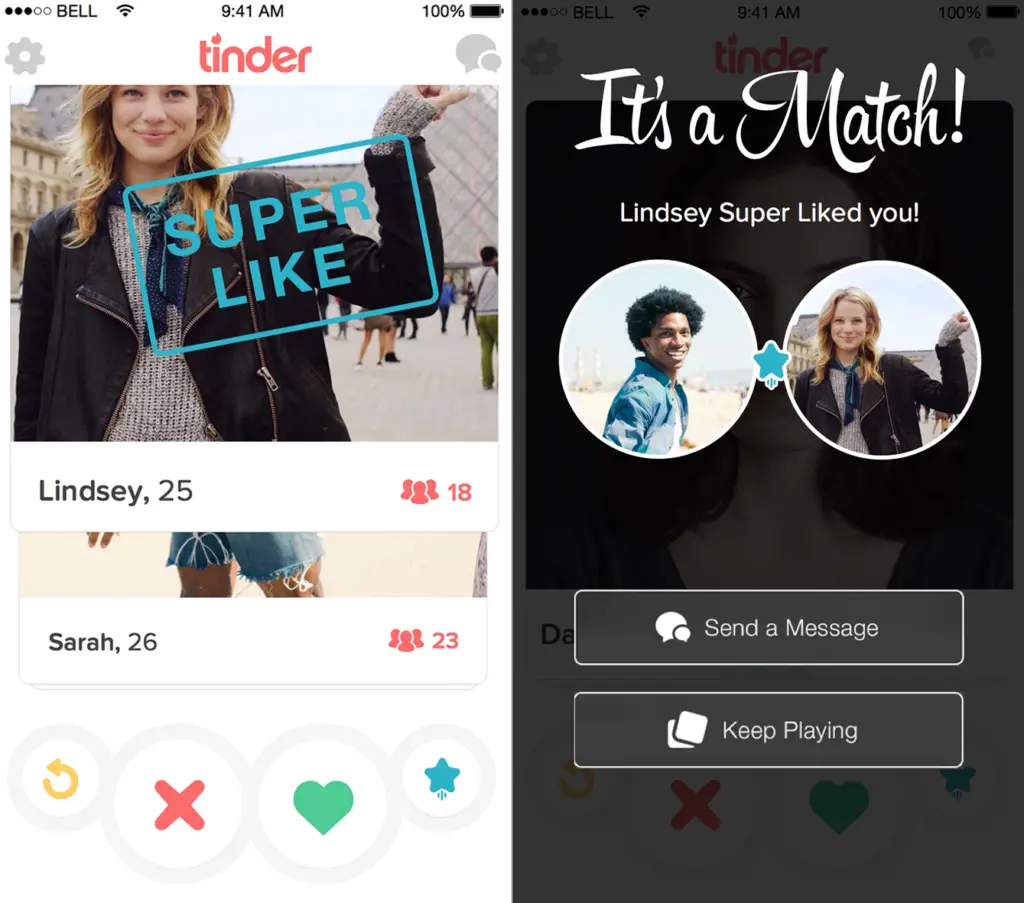 You will get 4 more Super Likes a day if you are on a Tinder Plus subscription. Since you also have 1 Super Like without Tinder Plus, you can test how well Super Likes works for you.
For a more comprehensive guide on how to use Tinder Super Like and whether it is worth the money to buy even more, you can read this article where we go deep everything Tinder Super Like related.
1 Boost a month with Tinder Plus
Boost allows you to be the top profile in your area for 30 minutes. Once you enable a boost, you can basically skip the line and gain extra exposure as your profile will be shown to a lot more potential matches. Tinder claims you can get 10 times more profile views in this 30 minutes period.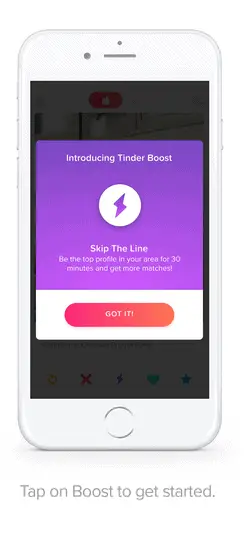 With Tinder Plus you get 1 boost per month and you can purchase more boosts for some extra money if you liked the effects the boost had on your match number.
If you want to know more about Tinder Boost and how to use it to take advantage of it, check out this article where we go deep everything Boost related.
Tinder Passport with Tinder Plus
With the Passport feature, you can change your location around the world and get matched with people located in another city.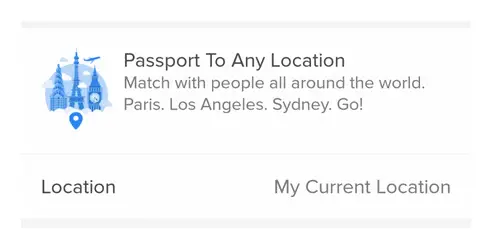 All you have to do is search by a city or drop a pin where you want to be located by the app. It is very useful if you are planning to travel somewhere and want to set up a date or a meetup before actually traveling there.
Based on our experience, using the Passport features you get a new account-like boost when you set your position to a new city, so this is one more reason to try experimenting with it.
Hide your age on Tinder with Tinder Plus
If you are insecure about your age, with Tinder Plus you can hide it so nobody can see it. However, we would strongly advise you against doing it. Because everybody has full control over the age range of the profiles he or she wants to see, this means they will find people in your age attractive. The only thing you can achieve with this is that people will feel that something is off with your profile and swipe you left.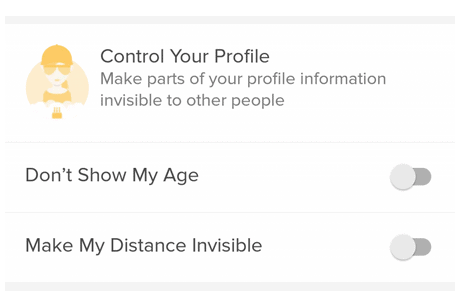 Hide your distance on Tinder with Tinder Plus
Besides your age, you can also hide your distance from your potential matches. Just like with the age hiding feature we believe this is also a not a very useful feature, but creates the same confusion for people and will assume you are far away and won't swipe you right regardless of your attractiveness.
If you are using the Passport feature of Tinder (and you are planning to visit the place), there is no need to hide the distance. What you have to do instead is to add to the first line of your bio where you explain that you will be in the city e.g next week and want to set up some dates/drink in advance. You can even get some more attention with the huge distance and get more matches.
No Ads on Tinder with Tinder Plus
Pretty self-explanatory. You won't see any advertisements on the platform. If you are not into marketing, you'll probably like this feature.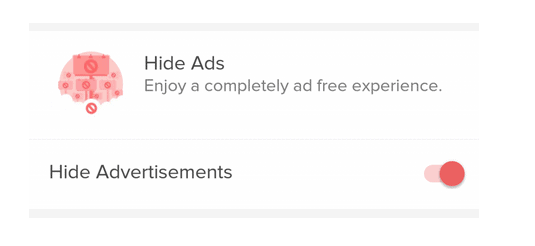 Tinder Plus Price
Tinder Plus doesn't have fixed pricing just like Tinder Gold, its price depends on factors such as location, age and gender. In the US, usually you can get it for 9.99 USD per month under 30, and 19.99 USD above 30. If you purchase it for 6 or 12 months the monthly cost will be lower. Sometimes you can get 50% or more discounts which are limited to 24 hours.
Tinder Plus is the lower level premium subscription plan of Tinder for a lower price. Currently, you get two exclusive features in Tinder Gold that is not available in Tinder Plus. See Who Liked You feature basically shows you who liked you before you had the chance to swipe their profile. 10 Top Picks feature gives 10 top-notch profiles, the algorithm thinks you will like.
You can read more about the usefulness of these features in our comprehensive review of Tinder Gold.
Here you can also check out a video review on Tinder plus features:
Tinder Plus Review – Is it worth it?
If you are currently active on Tinder we believe you should definitely get Tinder Plus. Unlimited Likes is a must-have as the number of swipes is only limited by the time you can spend on Tinder. Only this feature is worth the subscription price you have to pay for Tinder Plus.
Even if you are not that active on Tinder, the other useful features of Tinder Plus, Boost and Passport will get you more matches. If you know how to User Super Likes the right way, they can be at your advantage as the standard exposure of an average profile is getting smaller as more people get on the platform.
Rewind your last swipe and No ads feature is also useful if you are very active on Tinder as your daily swiping can be more frustrating without them.
There are some features you most likely won't really use (and we don't recommend), such as hiding your age and distance.
Tinder Plus pricing is also reasonable, you can get it fairly cheaply if you purchase it for a 6 months period. More so if you compare it to Tinder Gold, which only gives you two extra features but has a heftier price tag.
Final Verdict: Should you buy Tinder Plus?
Yes, there are features that will definitely help you get more matches and the price is not too high compared to Tinder Gold. However, don't forget that you still have to have a great profile with great pictures and be good at conversations to have success on Tinder.
Do you still have questions about Tinder Plus? Ask us in the comment section, and we will answer you as soon as possible. Also, we'd love to hear your negative or positive experiences regarding Tinder Plus.