Is Tinder Super Like only for weirdos? Well it definitely used to be, but with its new feature, it has become even more valuable.
In this blog post, we go through everything Tinder Super Like related and also share how we think Tinder Super like can be used in a way that can get you more Tinder matches. For all your Super Like related questions, you can find a Tinder Super Like FAQ at the end of this article.
What is Tinder Super Like?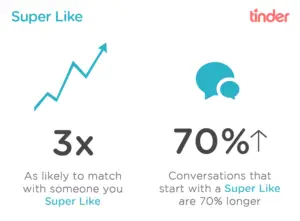 Tinder Super Like is a way to show your potential matches that you liked them before they swiped you right.
It is a controversial premium feature regarding its effectiveness, some people suggesting that it can even decrease your match number. Tinder claims that it can increase your chance of matching with some 300% and that conversation with SuperLikes lasts 70% longer compared to a regular conversation.
How does Tinder Super Like work?
You can Super Like someone on Tinder by swiping them up instead of left or right or tapping on the blue star at the bottom of your screen. When the superliked person sees your profile she will see a blue bar and a star indicating that you superliked them.
A new feature added to Super Likes made it 10 times cooler then it used to be. Now, you can not only indicate that you like someone, but you can also send them a note with the Super Like. Make the Tinder Opener very effective and you can get a match that you wouldn't have received otherwise.
How many Super Likes do you get?
You used to be able to get one Super Like per day for free even without Tinder Plus or Gold, unfortunately, Tinder changed this and you can only use Super Likes if you have Tinder Gold or Tinder Platinium subscription or you purchase them separately.
If you buy Tinder Gold or Platinium then you get only five free Super Likes per week.
No more free Tinder Superlikes?
Yes, unfortunately, Tinder has removed the free Tinder Super Likes in most countries. This is because the new additional feature made its way more effective as you can message someone before you would match with her.
Tinder Super Like Price
Tinder keeps changing its prices and but you can get 5 extra Super Likes for around 5 USD, but as always the price depends on your age, location and gender. You can get a pretty big discount if you buy 60 at once.

Is Tinder Super Like needy?
Most of the people don't really use Super Like, as they believe it is very off-putting and needy. Match Group's (Tinder holding company) official communication is that it is a great way to show someone that you like them and thus you can increase your chance of matching.  We believe these opinions to be a bit too extreme and the fair evaluation of Tinder Super Like is somewhere in between. However, to find a more nuanced answer to the question of whether Super Like is needy, we have to segment your potential matches to 3 distinct parts:
1.     If you are found to be not attractive at all
One thing is sure, if a girl or guy doesn't find you attractive at all, then the Super Like is totally useless, they definitely won't change their mind just because they received a Super Like from you.
2.     If you are found to be very attractive
If your potential match would find you very attractive, and he or she would swipe right you anyway, then once again, Super Like didn't really give you any kind of advantage. However, the fact that you Super Liked your match, her profile will keep displaying with a blue arrow indicating thee Super Like. So from the conversation, I think a great way to start a conversation with something funny related to Super Likes.
3.     If it is 50% call
The interesting thing happens when it is a close call from a swiping point of view, it is around 50% of chance that in a normal scenario you would be swiped left or right. But we think even in this case the use of Super Like is not unambiguous? to be beneficial or not. It will depend on your potential match's perspective of a Super Like.
If she finds it needy, then probably that imaginary 50% went down and your chances of matching have decreased. If she finds it cute or as a sign of self-confidence, she thinks you can get a chance just because that you managed to get a swipe that you wouldn't have got without Super Like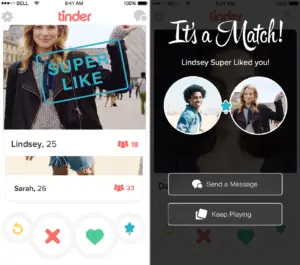 Should you use Tinder Super Like?
Based on the above points, the only fair thing to say is that you have to test it for yourself. It may work specifically for you or may not, you have to try it out. Even if you are not a premium Tinder Gold or Plus subscriber you have 1 Super Like in a day that can be enough for testing purposes.
How To Find Out if Tinder Super Like Works?
The only way to find out is to test it by applying a few basic statistics and a scientific method.
Use Super Likes every day for at least 30 days and check back how many matches you got from Super Likes. Then you can compare this to regular swipe matches. If you are an active member and not a premium subscriber, your maximum number of daily swipes are limited, so you can calculate around 100 swipes a day and 3000 swipes a month.
All you have to do is a simple division to find out which way did you manage to get a higher match ratio. You can do this test longer if you want a reach a higher significance with your test and be more confident about the effects of Super Likes on your match ratio.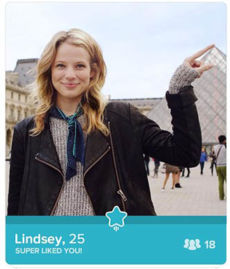 If you are a Tinder Plus or Gold member, you can use 5 Super Likes per day without purchasing any extras. This gives you way more swipes in a shorter period, so you can do the testing described above a lot faster and find out whether Tinder Super Like is worth using.
Will Super Like get me more Tinder matches?
However just to make it clear, even if Super Like works, it helps you a tiny bit in getting you more matches. If you want to increase your chances of matching in a significant way, you have to focus on the fundamentals of Tinder: first of all on profile pictures, and then on your bio.
You can Super Like every profile you get a chance to swipe up, but if you don't have nice photos and your bio is total trash then Super Like won't even move the needle.
If you took high-quality pictures of yourself, have a short funny bio, then it is time to start to use Super Likes and see its effects on your match number.
How to use SuperLikes the right way to get more matches?
As we said, Tinder Super Like might work for you and get you more matches. However, using it in a clever way will make it more probable that it will work for you. Let us show you how to use Tinder Super Like in a way that will get you more matches:
1.     Super Like your type, not Supermodels
One of the biggest reasons, Tinder Super Like don't work for a lot of people that they use it in the wrong way. They Super Like the hottest girls or most good looking and charming guys. This is totally wrong. These people get a ton of matches, basically, everybody swipes them right, so they have an abundance of possible matches. If you Super Like them, it doesn't make any difference, because they get so much validation anyway.
What you can do instead is to "Super Like your type". What we mean by that is there are types of girls or guys that you fund really attractive whereas the majority of the population would find it average or below average. This is different for everyone, you might find a tattoo, a type of face form very hot that most people say "meh".
As everyone has different types, your type most likely is also unique and doesn't get 10 Superlikes a day. So if she or he gets a Super Like, it will be unique, so she will more likely check your profile and want to even know why you superliked her.
2.     Why I Super Liked You – The silent opener
If you find Super Like to be useful and help to boost your match ratio it here is another great tip for you. Besides some basic bio stuff, also include something related to Super Like. Unlike some girls who write that if they Super Liked someone that was unintentional, write something why you Super Liked a person. If they don't find you very unattractive, they will most likely check your profile bio because of the Super Like.
This way it is a great way to kill the neediness aspect of the Super Like, you just have to make the line about the Super Like funny. This line can also work as a Silent Opener if you phrase you Super Like line in a smart way. Make it a challenge for you, that the line about the Super Like is so good, that the Super Liked profile wants to message you first after reading that line.
A similar viewpoint is laid out about Tinder Super Likes in this video:
Tinder Super Likes Today
As Tinder user number has skyrocketed in the last couple of years, the platform got really crowded. At the same time, some people are speculating that the ratio of men-to-women has increased, making it more difficult for guys to get profile visibility. As a lot of men have experienced, match number has decreased significantly from the golden ages of Tinder.
Although Tinder Superlike doesn't work the same way as Boost, it will have a similar effect to those profiles who you Super Likes. If you Super Like someone, your profile won't be placed in the first place of his or her swiping deck but it is generally believed that you will get a better placement and you will have a lot higher chance that she gets to see your profile.
Considering this, Tinder Super Like might increase its usefulness in 2020, by using it as a cheaper and alternative Boost.
Should you buy extra Tinder Super Likes?
Generally, no, it is not as valuable to buy more, Boost or Super Boost is way more valuable. As we wrote, if you want to get more matches, start with the fundamentals: use great pictures of yourself and write a short funny bio. If your match number is low, try premium features like Boost. And if you maxed out those, then Super Like is something worth testing.
We also mentioned that you have to test it for yourself to find out how useful Tinder Super Like is for you. And if it works for you tremendously, then we don't want to stop you from buying extra Super Likes.
Tinder Super Like Final Review
To sum it up, Tinder Super Like is not the best premium feature, to say the least, we wouldn't buy a premium subscription just to have 4 extra Super Likes a day. However, if you have 1 or 5 per day it would be unwise to never experiment with it. You might be surprised that by applying some techniques share in this article you can increase your match ratio by using Tinder Super Like in a smarter way.
Do you have any questions we did not answer in our article or in the FAQ? Ask us in the comment section below and we make sure to get back to you with an answer.
What is your experience with Tinder Super Likes? Did it work for you? Do you have any tips to increase its effectiveness? Share your experiences with us in the comment section.
Tinder Super Like FAQ
Can Tinder Super Likes Be Taken Back or Cancelled?
Yes, you can take back you Super Like by using the Rewind feature. This feature is only available if you are a Tinder Gold or Tinder Plus subscriber.
How Many People Can I Super Like?
What Is The Price Of Tinder Super Like?
5 extra Super Like costs around 5 USD currently in the United States, but you can get a discount if you purchase more than 5. For example if you purchase 60 Super Likes at once, your price could decrease to around 0.6 USD per Super Likes, which is around 36 USD total. As with all Tinder premium features and subscriptions, the price can change based on your location, age and gender. You might also get occasionally.
How Long Does Extra Super Like Last?
Extra Super Likes that you have purchased last until you use them, they don't have any expiration date. Regular Super Likes (1 per day in standard accounts, and 5 per day in premium subscriptions) refresh every day once.
My Extra Super Likes Disappeared. What Happened?
Extra Super Likes purchased through the app don't have an expiration date, so you can't lose any. If you still think they disappeared somehow, we suggest contacting Tinder Support.
How Can I Buy More Tinder Super Likes?
If you want to buy extra Super Likes you can do that:
1. Tap your profile icon, then
2. Go to Settings and
3. Tap "Get More Super Likes".
Can Super Likes Be Refunded?
No. Although you can always try to contact Tinder Support. But if you want to get a refund, because you are not happy with the performance of Super Likes, they won't refund you. If you want to know how to get more matches with Super Like, read our article.