Tinder is the number one most popular online dating platform in the world that has been downloaded over 340 million times. As the number one platform, it has been also been criticized many times that it is not doing enough to protect its users' safety.
Tinder and its parent company Match.com group is now introducing safety features that is a big step towards a more secure online dating experience. In this article, we are going to go over all of its new features and how you can use them to protect yourself. We also wrote a Tinder security features FAQ at the end of this article.
If you want to watch a short summary of the new updates, you can also check out this video:
What is Tinder Panic Button?
The most highlighted part of the update is definitely the Tinder Panic button that can actually be used by downloading and installing the Noonlight app. Using Tinder in integration with the Noonlight app, users can now share details about their upcoming date in the new Safety Center section of the app.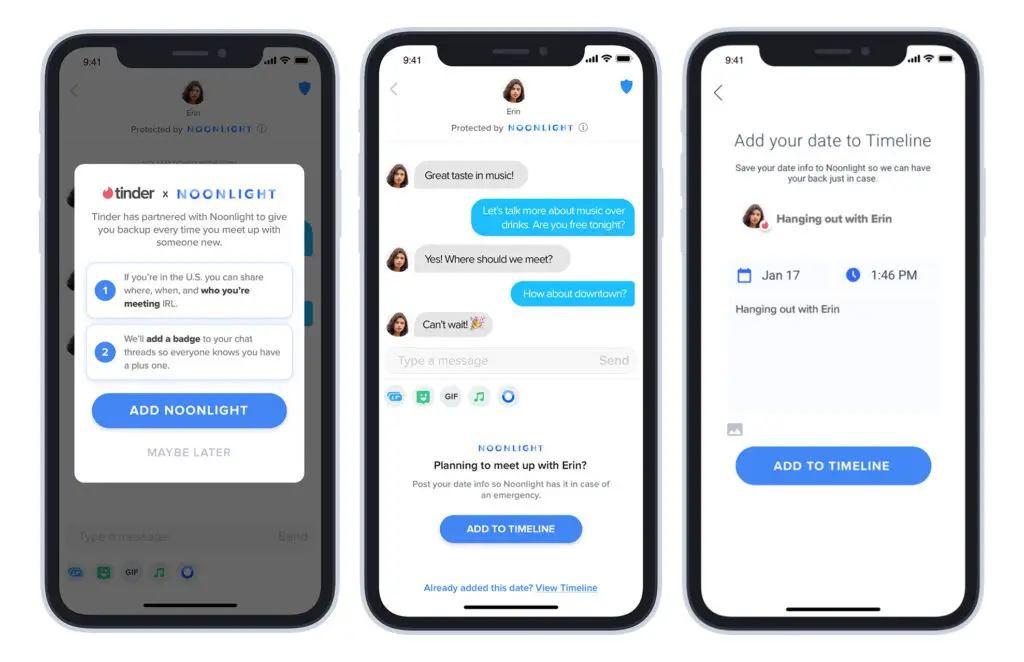 Users will also have the option to add a blue badge to their profile, showing that their safety is protected by Noonlight. "I liken this to the lawn sign from a security system." told Tinder CEO Elie Seidman.
How to use Tinder Panic button?
It is important to note that the Panic Button is not directly in Tinder, it is in the Noonlight app. If the user has enabled location sharing and feels that his or her safety is in danger, by pressing and holding the Panic Button in Noonlight, the dispatcher will send a text and code to her. If the call is unanswered, they will alert the proper emergency services.
Verifying your profile
Photo verification deals with another huge problem related to online dating, catfishing. Catfishing is when someone uses a fake online persona on dating profiles and even meets up with other people without unhiding his or her profile.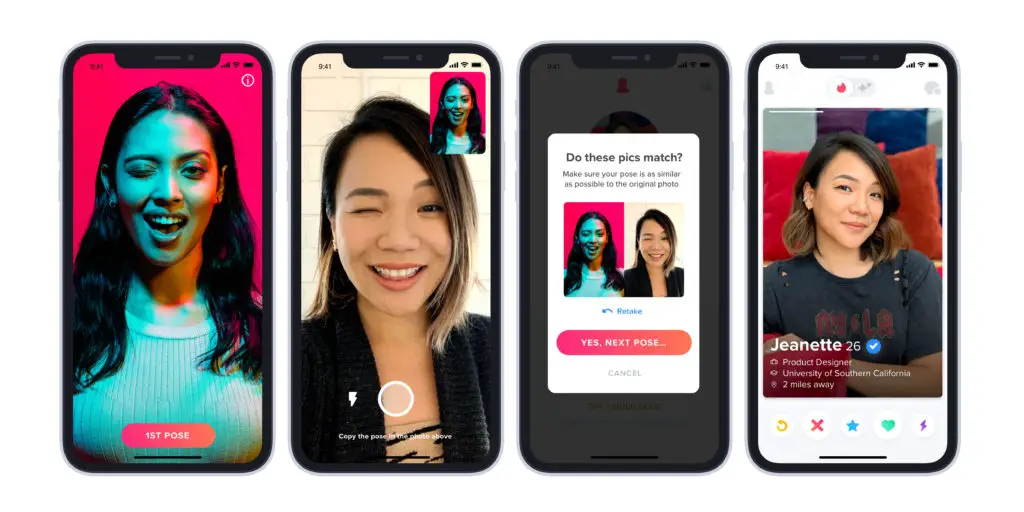 With the Photo Verification feature, Tinder will now allow users to take real-time selfies which then will be matched with their profile pictures using a human-assisted AI algorithm. If the photos match, your profile will be verified and a blue checkmark will display next to your name, indicating that people can trust your profile.
This feature is in beta mode and still tested in select markets, so if you don't access these features, it is most likely that it has not yet been rolled out in your country. Until then you can try it other platforms, as this photo verification feature is already available at Tinder's main competitor, Bumble.
Tinder Safety Section
Last but not least, Tinder is introducing a Safety Section in the app, that is dedicated to providing resources and tools to everything related to Tinder safety features. It will have information related to the Photo verification and the Panic Button feature and also will provide information on how to stay safe using Tinder.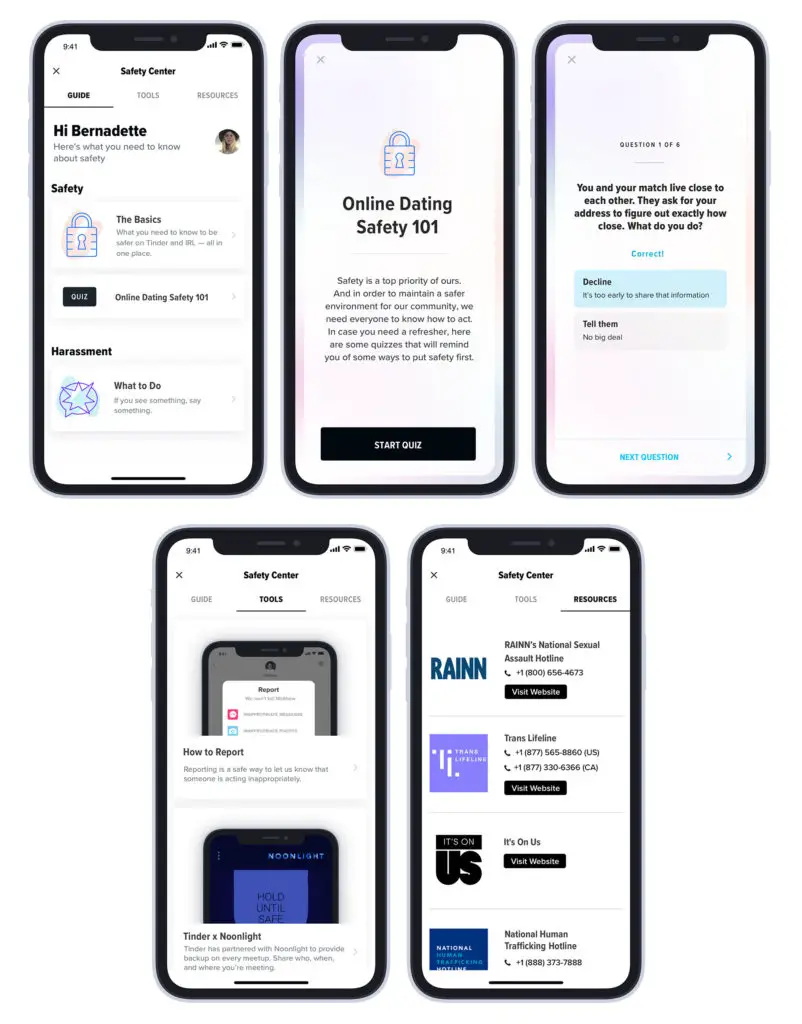 You can Tinder Safety section via the main menu and the chat section. It is currently available in the US. UK, France and Germany and will roll out soon in all markets with localized information.
What security feature Tinder is still missing?
Tinder and its parent company Match Group have been heavily criticized that they are not screening for any database of sexual offenders. They claim that the existing registries of sexual offenders are far from complete so it would not make sense to make screening based on that database. However, as these databases have improved a lot recently, this screening process is something Tinder and other dating platforms have to do to make its platforms more secure and safe.
Is Tinder safe to use now?
Introducing these new features is definitely a promising step to a safer online dating experience. Tinder claims that the Panic Button feature is the first solution that has been developed in the online dating industry that is tackling the issue. Although there has been criticism that Match group could do even more for protecting its users' safety in the app and outside the app such as the screening process previously mentioned.
We find these new features to be truly useful and an ideal step for a safer online dating. However, it is important to add that these features are helpful, they do not replace human judgment. If you feel something is off with someone, that he or she is behaving weirdly, maybe wait more before setting up a date, or set up a date in a public venue where something unexpected is less likely to happen. We think that Panic Button is a really useful feature, but the best scenario is still that you don't need to use it.
Have you used any of these new safety features yet? What is your opinion of theses updates? Will it make Tinder more secure? Share with us your experience and thoughts in the comment section.
Tinder Safety Features FAQ
What Does Tinder Panic Button Do?
Pressing Tinder Panic button in the Noonlight app will alert the emergency services with your location data. They send you a code and if you don't send any information back, they will check on you where you are located.
How To Use Tinder Panic Button?
You have to enable your location sharing and press the Panic Button in the Noonlight app to alert emergency services.
Where Is Tinder Panic Button Available?
Tinder Panic Button that is available by installing Noonlight app, and is currently only available in the United States, but it is expected to be rolled out in more countries in the future.
I Don't See Tinder Panic Button. Why?
Tinder Panic button can't be directly accessed in Tinder. You have to download and install Noonlight app, enable your location, and use the Panic Button there. It is also only available in the US currently.