Can you change your location in Bumble? For a long time, the answer was no, but not anymore! Bumble was missing a key feature that Tinder has had for years, called Passport. Finally, Bumble has caught up and has come out with the new feature, called Bumble Travel mode that enables users to change their location to a place they are currently not physically located.
In this comprehensive article, we will cover everything you must know about Bumble Travel. What is it, how does it work, how is it different from Tinder Passport, how much does it cost and whether it is worth paying for? We will also give you an honest, non-biased review whether it is a useful feature.
At the end of this blog post, you can find a FAQ about Bumble Travel and everything Bumble location related.
What is Bumble Travel mode?
Bumble Travel mode is Bumble's premium feature that enables you to change your location for 7 days to a place you are not physically located. This place can be anywhere where Bumble is available in the world currently.
Bumble Travel mode can be utilized in all three modes of Bumble, so you can use it for dating, networking and making friends in a location far from you.
How does Bumble Travel mode work and how can I change my location on Bumble?
First, you have to ha have at least 5 Bumble coins to purchase Bumble Travel. Once you have the coins you can activate Bumble Travel and change your location by doing the following:
Open up the app
Go to Settings by tapping on the grey gear in the upper left corner
Scroll to the Location section at the bottom and tap "Travel to…"
Find the city you'd like to change your location to and select it
It will cost you 5 Bumble coins. It will be deducted from your balance or you have to purchase 5 Bumble coins now
A timer will appear under your location so you know how much time you have left for Bumble Travel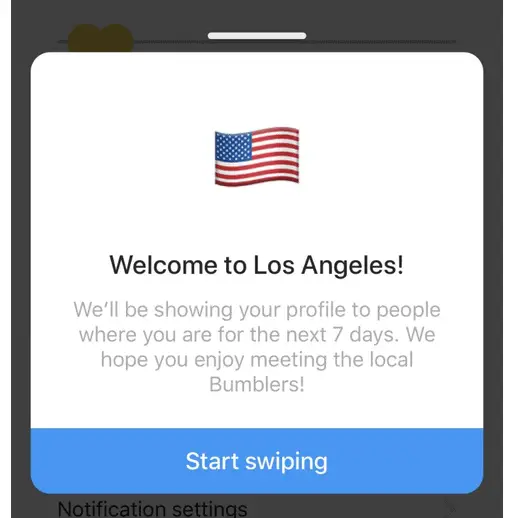 Bumble Travel Mode Price – how much does it cost?
1 Bumble Travel costs 5 Bumble coins, that can be purchased for 7.99 USD.
Unlike Tinder Passport, Bumble Travel is not part of Bumble's premium subscription, Bumble Boost. You can only buy it separately for 5 Bumble coins.
5 Bumble Coins price can change based on how much Bumble coins you buy at once, but if you only buy 5 Bumble coins, it costs 7.99 USD. If you purchase 20 Bumble Coins, you can save some money on 1 Bumble Travel, as 20 coins only cost 24.99 USD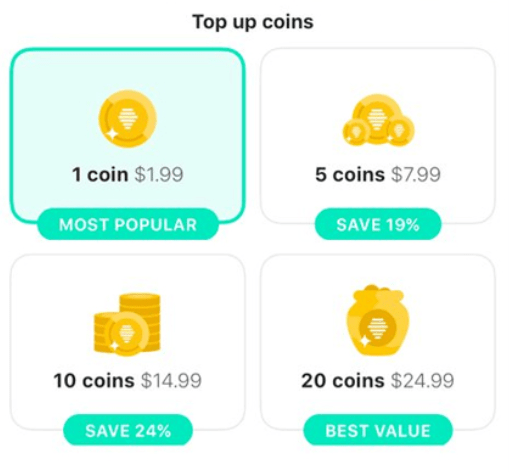 Bumble Travel Mode for free
If you don't want to pay for Bumble Travel mode, there is a way to get the effects of Bumble Travel Mode for free. All you have to do is to manipulate the GPS location of your phone. There are several third-party apps that can help you achieve this.
If you are interested in how you can do this, check out this video:
Bumble Travel vs Tinder Passport
Although the features are pretty similar between Bumble Travel and Tinder Passport, there are some differences worth mentioning.
It is also difficult to compare pricing because of the slight difference in how you can use these functionalities. As Tinder Passport can be used as many times as you want it is part of the premium subscriptions in Tinder. Bumble Travel is not part of Bumble Boost subscription, so you can only buy it separately. Although in the 7 days when Bumble Travel is active, you can change your location any time you want.
We prefer Tinder Passport in this case, as most active users would. We don't think there are a lot of Bumble users who only want to use the Bumble Travel feature from all of the premium features.
Is Bumble Travel Mode Worth it? – Review
Well, if you are traveling to a new play in the upcoming days and want to set up dates before actually being there or find a new friend to hang out with, then it is definitely worth a trial. Just to change your location for fun, it seems quite meaningless.
As it is a new feature, we don't know yet whether using Bumble Travel gives your profile additional profile visibility in the location you chose your location to be. Tinder is speculated to give you a higher visibility when you are using Tinder Passport. It will be interesting to see whether Bumble Travel can increase your visibility similar to Bumble Spotlight.
If you have already used Bumble Travel, we want to hear your experience with it in the comment section below.
That's it, everything you must know about Bumble Travel. Have you already tried it? What is your experience? We want to read it in the comments below.
Frequently Asked Questions
✅How To Change Your Location In Bumble?
To change your location in Bumble, you can use a new premium feature called, Bumble Travel, it costs 5 Bumble coins.
✅Can I Change My Location More Than Once While Using Bumble Travel?
Yes, during the 7 days you can change your location to any city you want any time you want. It doesn't cost you more Bumble coins.
✅How Long Does Travel Mode Last?
Travel mode lasts 7 days, but you can extend it for more days if you like being there. It will cost you another 5 Bumble coins.
✅Can Bumble Travel Be Refunded?
No, even if you don't like it, currently Bumble Travel cannot be refunded.
✅Can I Use Bumble Without Providing Location Permissions?
No, you have to grant your location permissions in order to be able to use Bumble. If you turn it off, you can still interact with your matches, but you can't swipe anymore.