What are Bumble Coins, how can you pay with them, how much do they cost, and for which feature of Bumble can you pay with them? If you have questions similar to these, we will answer them in this article.
If you don't find your questions below, ask us in the comment section and we will make sure to get back to you with an answer as soon as we can.
What are Bumble Coins?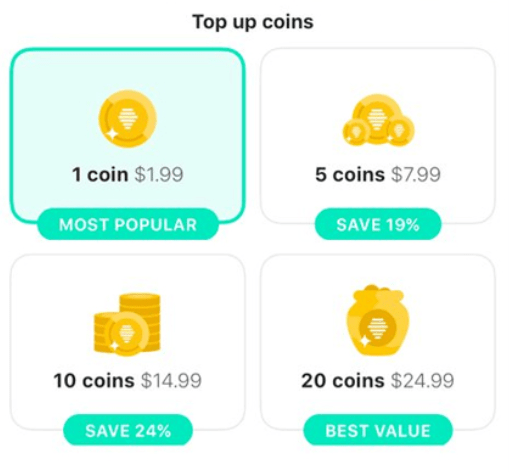 Bumble Coins is the in-app currency of the Bumble dating app that enables you to buy premium features such as Bumble Spotlight (similar to Tinder Boost), Bumble SuperSwipe, and Bumble Travel. All these features cost a different number of Bumble CoinS and you can buy them only with Bumble Coin, they are not available in the premium subscription, Bumble Boost.
How to buy Bumble Coins?
Bumble coins can be purchased via 2 main ways. Either you can go to your Profile page and buy Bumble coins there, or when you try to use any of the features that require Bumble Coins you will be directed to a page where you can buy Bumble Coins.
How many bumble coins do I have?
When you go to the sales page of one of the premium features that you can buy with Bumble Coins, you can see how many coins you have currently like as you can see in the above picture.
Bumble Coins cost
1 Bumble Coin price changes based on how much you buy at once. If you only buy one coin, it costs you 1.99 USD, but if you buy 20 Coins at once, 1 Bumble Coin only costs 1.2495 USD. The standard prices in the US are the following:
1 Bumble Coin: 1.99 USD
5 Bumble Coins: 7.99 USD
10 Bumble Coins: 14.99 USD
20 Bumble Coins: 24.99 USD
What you can buy with Bumble Coins?
If you purchased Bumble Coins, now you can use them to use three premium Bumble features, Spotlight, SuperSwipe and Travel mode.
1 Bumble Coin for a SuperSwipe
The cheapest premium feature is SuperSwipe. To send a profile one Bumble SuperSwipe, it will cost you one Bumble Coin. Using SuperSwipe by tapping on the yellow heart on the screen, you can indicate to a profile that you like him or her, before she would swipe you left or right.
Some suggest that Bumble SuperSwipe it a pretty useless feature, you can read more about it in our Bumble SuperSwipe review.
2 Bumble Coins for a Spotlight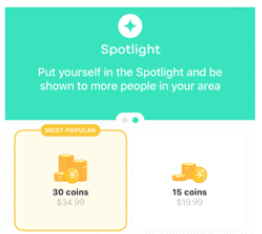 Bumble Spotlight costs two Bumble Coins. This difference in the number of Bumble Coins necessary for them shows that Spotlight is a lot more valuable feature than a SuperSwipe.
With Spotlight, you can get a higher than average profile visibility in your neighborhood for 30 minutes. This usually gets you a ton of  new Bumble matches in this period.
5 Bumble Coins for Bumble Travel
The newest feature that you can buy with Bumble Coins is Bumble Travel. It will cost you five Bumble coins. If you activate Bumble Travel mode, you can change your location to any location you want for a week. By purchasing one Bumble Travel, mode you are able to change your location as many times as you want for 7 days.
It is a great feature that Tinder has had for already years, that Bumble just recently introduced. It seems to be a little bit too pricey compared to Bumble Spotlight. Tinder Passport is also part of Tinder subscription packages.
Free Bumble Coins?
Yes you can try to get Bumble coins for free. These Bumble hacks work for some time, but Bumble is always making sure that they don't work for a long time. These hacks are also not really safe from a data and privacy point of view and are not so ethical. So keep in mind when you try any of the hacks to get Bumble coins for free. We would always suggest to purchase the Bumble Coins to get the premium features of Bumble.
If you are interested in the Bumble coins hack, you can try the one described in the video below. Try this out, but be aware there are always safety concerns with these hacks.
https://www.youtube.com/watch?v=-yo1F2PtH1c
So there you have it. Everything that you need to know about Bumble Coins. If you still have a question that we have not answered in the article, let us know in the comment section below.
Frequently Asked Questions – Bumble Coin
how to get coins on bumble?
You can get Bumble Coins by either going to your Profile page and buy Bumble coins there, or when you try to use any of the features that require Bumble Coins you will be directed to a page where you can get Bumble Coins.
Are Bumble Coins Worth It?
A better question is: Is SuperSwipe/Spotlight or Travel worth it? In my opinion, SuperSwipe is useless, don't spend Bunble Coins on it, Spotlight can definitely work, but only if you live in a metropolis, and Travel is also worth trying before you would actually travel to a new place.
Can You Get A Refund For Bumble Coins?
No, currently there is no way to get a refund for Bumble Coins. But don't forget you can spend Coins to buy not only SuperSwipe but Spotlight and Travel as well.