Are you new to Bumble and are a little bit confused about the Bumble heart symbol?
Don't worry, we will explain what this icon means, how you can use its feature and if you should buy Bumble Coins to use these yellow hearts on Bumble.
What does the Bumble Heart Icon mean?
Bumble yellow heart is the icon or symbol of a Bumble SuperSwipe, a premium Bumble feature that allows you to let a Bumble profile know that you like her before she would swipe you right.
The heart icon looks like the picture below, as you can see it is actually a white heart on a yellow background:
It is a little bit misleading as the heart icon on Tinder's main screen is the regular like button of Tinder, so it is not a surprise that a lot of new users tend to tap on the yellow heart icon on Bumble when they want to just simply right swipe someone.
Bumble Heart vs Bumble Checkmark
When you want to simply like a profile on Bumble, but you are not a fan of swiping, you can do that by first scrolling down on the profile.  As you scroll down, a checkmark on the right side of the screen will appear that you can tap on and it will right swipe the profile.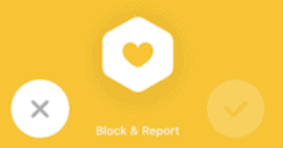 How does the Bumble Yellow Heart work?
When you tap on the yellow heart icon on a profile, and you have purchased Bumble Coins before and have not spent all of the Coins yet, you will Super Swipe the person you see.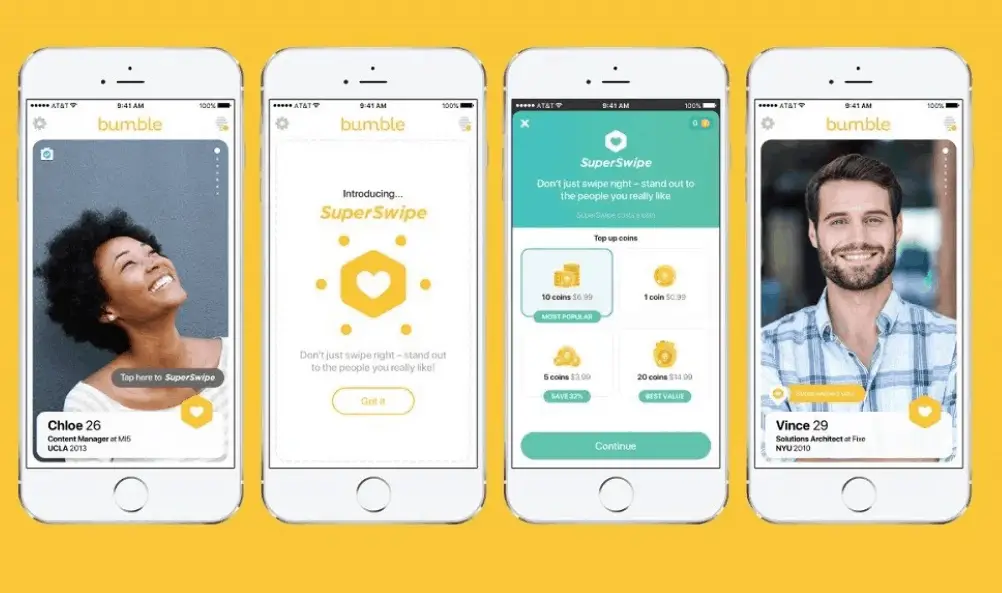 In this case, that person will get a notification that you Super Swiped her and she can decide to swipe you left or right and get a match with you.
For a quick explanation you can check out this promo video from Bumble:
How much does a Yellow Heart on Bumble cost?
If you don't have any coins you will be directed to a sales page where you can buy Bumble Coins. You can use one Bumble heart by spending one Bumble coin.
If you buy more than one Bumble coins at once, one usage of a Bumble Heart can cost you anything from 1.99 to 1.2495 USD.
Here is the current pricing of Bumble coins:
1 coin costs 1.99 USD
5 coins cost 7.99 USD
10 coins cost 14.99 USD
20 coins cost 24.99 USD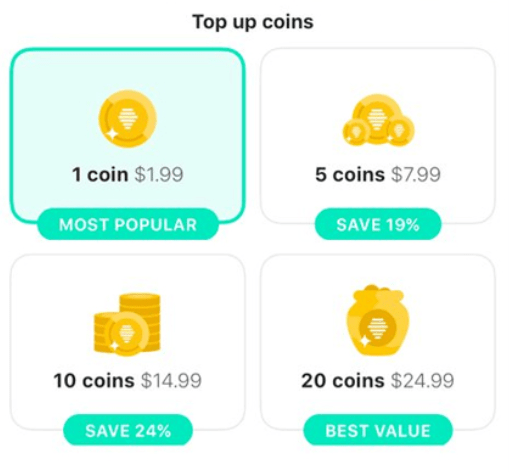 One big difference between Tinder Super Like and Bumble SuperSwipe is that on Bumble you don't get a free SuperSwipe per day and SuperSwipes are not included in the paid subscription Bumble Boost.
Should you buy Coins to use to Yellow heart on Bumble?
As you can see using just one Bumble SuperSwipe is not cheap, so a good question is it worth buying Bumble coins so you can use the Bumble hearts? Do you increase your chances of matching when you tap on them?
Well, there is a big debate about this, with totally different viewpoints.
Some people believe that it only signals neediness to your potential partner, so it won't increase rather decrease your chances of matching.
Others say (including Bumble official communication) that you can significantly increase your chance of matching with someone when you tap on the yellow hearts as they also send a notification to the profile you SuperSwiped.
However, as Bumble Superswipes can be tested for free, it is more difficult or actually more expensive to find out if they are really worth it in your case
If you have money to spend on Bumble, we would first suggest you spend it on a Bumble Spotlight and if you still want to spend money you can experiment with Bumble SuperSwipes. But they are 100% not necessary for successful Bumble dating.
If you want to know more about Bumble SuperSwipes and when should you use them to be more effective on Bumble, check out our in-depth article about SuperSwipes where we go deep everything related to Bumble SuperSwipes.
Can you take a Bumble Yellow Heart back?
Unfortunately, there is no way to take a Bumble SuperSwipe back. Although Bumble Backtrack is a free feature that enables you to take back your swipes but only when you swiped left somebody.
You can't use Backtrack when you swiped someone right or when you tapped on the heart icon on your screen.
For this unpleasant reason, we would suggest you to always spend your Bumble Coins once you purchased them. This way you won't be able to accidentally tap on the heart icons and waste a couple of bucks for this accident.
Bumble Yellow hearts in other modes
Interestingly, when you are using other modes of Bumble, Bumble Bizz or Bumble BFF, the yellow heart icon in the date mode also changes in color and shape as well.
Bumble Bizz SuperSwipe – White Star with Red Background
In Bumble Bizz mode the SuperSwipe is actually a white star icon on a red background. The functionality is the same so when you use them on the Bizz mode you let the other profile know that you really want to network with him or her.

Bumble BFF SuperSwipe – White Star with Green Background
When you are using Bumble BFF to find new friends and buddies you can also use a SuperSwipe that is a white star with a green background. When you tap on it, you will let the other person know that you really want to be friends with him or her.

Frequently Asked Questions
What are these yellow hearts on Bumble?
The yellow hearts are they symbol of the Bumble SuperSwipe feature. When you tap on them, you let the other person know before she would swipe you that you like her.
Can you get Bumble Hearts for free?
No, you have to get Bumble coins to be able to use Bumble heart and SuperSwipe someone. You don't get any of them for free even if you have a Bumble Boost subscription.
Can guys tap on the Yellow hearts on Bumble?
Yes, guys can also tap on the yellow hearts on Bumble, they just can't start the conversations when they matched before the women would make the first move by sending a message.
I accidentally tapped on a Bumble Yellow Heart. Can I get a refund on them?
No, unfortunately, Bumble won't refund you for accidentally tapping on the yellow hearts. When you purchase Bumble coins, make sure you spend them as soon as you can. In this way, when you accidentally tap on the heart icon, you won't get charged by one Bumble.