Making friends in an online dating app? No, I don't mean getting friendzoned. Making real friendships? It seems to be possible with Bumble, which is not only a popular dating app but with its networking mode, Bizz, you can use it to make new professional contacts and with Bumble BFF, you can also use it to make new friends.
In this blog post, we are going to go over everything you have ever wanted to know about Bumble BFF. Whether you are an experienced Bumble date users who has already found a partner or still looking for love or someone who has a long term relationship but just want to find some new friends, we are going to help you here.
We will share with you how does Bumble BFF work, how can you use it, also cover how you can make new friends whether you are guy or girls and at the end give you an unbiased, honest review whether it is worth trying Bumble BFF.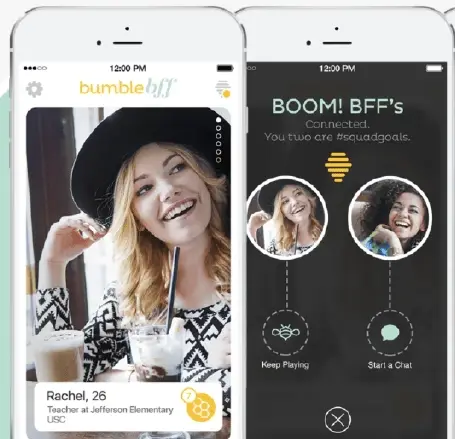 What is Bumble BFF?
Bumble BFF is the making friends mode of one of the most popular online dating app, Bumble. You can use it to find any kind of friends: a work out buddy, a roommate, a platonic friend who you never meet just like to chat with, or as the name implies your new BFF.
Only one kind of relationship is not allowed: romantic. That is what Bumble Date is for. To make BFF less spammy, and filter out needy guys trying to find friends with benefits, in Bumble BFF you can't see and match with profiles from the opposite gender.
How does Bumble BFF work?
Bumble BFF works the same way as the two other modes. First, you have to make a profile, upload some pictures from yourself, connect to social profiles and answer some questions on you profile to show a little bit of personality.
Then just as with Bumble Date and Bizz go to Discovery and start swiping profiles. If you feel that someone could be a great friend, swipe them right and if he or she likes you also, you will get a match and you can start chatting.
How can you use Bumble BFF?
If you only want to use BFF and not used Bumble before then you first have to download the app from the app store and then set up a new profile. When you set up your Bumble profile you will see a screen: "So who do you want to find first?". Here you have to choose "New friends".
If you already used Bumble Bizz or Bumble Date or both then:
Open up the app
Go to the main screen where you can swipe other profiles
Tap the Bumble logo that can be found at the top of the screen
Scroll to BFF and tap "Switch To BFF"
Tap on the grey silhouette in the upper left corner
Tap on the grey pencil by your profile photo
Now you are ready to make you Bumble BFF profile and then you will be able to swipe profiles
How does Bumble BFF differ from the two other Bumble modes?
As we have already mentioned, unlike on Bumble Date and Bumble Bizz you can't see and match with profiles from the opposite gender, if you are a guy you can only find guy friends, if you are a girl you can only match with other girls.
Can you use BFF to make friends?
Definitely, if you look for some personal experiments about Bumble BFF, you will find plenty of articles on the internet that tell you they managed to find a number of new friends.
Bumble BFF for girls
Although, most of these case studies and personal reports are all from women bloggers, so it seems that it is more effective for women trying to find new friends.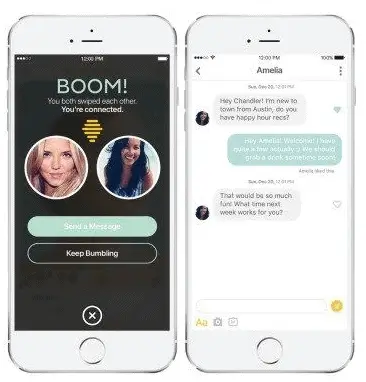 Bumble BFF for guys
It could work, but we think the majority of guys find it really weird to make new friends on an online dating app that is mostly used for finding long term or short term relationships. Also, Bumble BFF still relies on the fundamentals of the dating app: pictures and looks. The problem is that guys don't really make friends based on how the other person looks like.
If you are a guy and want to find some friends, you might try out BFF, but don't have high hopes.
Can Bumble BFF be used for gay dating?
In theory you could, as you can see and match profiles, but we suggest you should not, as users will most likely report you. You can use Bumble Dates for finding your LMBTQ partner, there is no need to game the system.
Bumble BFF Review
All in all, Bumble BFF is a great mode in Bumble that lets you find new friends whatever you are looking for a gym buddy, a roommate or anything else. You can see this mode as an enhancement to the original Bumble dating experience, that most of the other dating apps do not provide.
Let's be honest though, this feature has been developed for girls, so it is only really useful if you are a girl and want to find new friends.
One thing where they could improve on is that it is possible to make friends with the opposite gender, so they should have the option to match with people from the opposite gender. Although the reality is that most guys would try to take advantage of this and still use it for dating.
That's it, folks, everything you must know about Bumble BFF, the mode where you can find new friends. Have you tried it before? What is your experience? Or you have a question we have not answered in this article? Ask us in the comment section and will get back to you as soon as we can
Frequently Asked Questions
Is Bumble BFF Only For the Same Gender?
Yes, you can only match with guys if you are a guy and only with girls if you are a girl.
Can You Delete Bumble BFF While Keeping Bumble Bizz Or Bumble Date?
Yes, it is possible. Just tap the Bumble icon and X out the mode you don't want to use.
Can you use Bumble Boost in Bumble BFF as well?
Yes, if you purchased a Bumble Boost subscription, you can use the features the same way in Bumble BFF as you would use them on Bumble Date mode.
Can You Use Bumble BFF For Dating If You Are Lesbian Or Gay?
Yes, in theory, you could, but that is not what is BFF made for, so most likely sooner or later your profile would be reported. If you want to date with the same gender, you can use Bumble date for that.