Using a dating app to advance your career? Using Bumble, the previous sentence doesn't sound ridiculous, as besides Bumble Date which is designed for finding dates and Bumble BFF which is for finding friends, Bumble has a third mode for networking called Bumble Bizz that is made for finding and building new professional relationships.
Whether you have already used Bumble Date or BFF, or you have only heard about Bumble recently and never used it before, we are going to share with you everything you wanted to know about Bumble Bizz. What is it and how does it work, how is it different from the two other modes, how you can make the most out of it whether you are looking for an internship, some freelancer for your company or a mentor.
What is Bumble Bizz?
Bumble Bizz is one of the three modes of the Bumble app where you can build new professional relationships. It is basically a Tinder meets Linkedin. It works based on the same method as the other modes of Bumble, you have to make a profile, then you can swipe left on profiles who you don't like and right on profiles you would like to have a conversation with.
If both you and the other profile swipe right, there is a match and the conversation can be started by the woman. She has limited time to do so or the match completely disappears.
Unlike on Bumble Date, where you swipe a person based on the prospect of a potential romantic or short-term relationship, you would swipe right or left based on your professional goal which can be anything from simple networking, through finding a job, an internship or a mentor.
How is it different from Bumble Date and BFF?
Bumble Bizz is more similar to Bumble Date as on Bumble Bizz only women can send the first message as well after matching with someone. On Bumble BFF you can send the first message whether you are a woman or man, as you can only interact with the same gender.
This so-called First Move feature that differentiates Bumble Date mode from all the other dating app makes the professional mode of Bumble also more female-friendly.
One thing that is different from Bumble Date of BFF is that women have 7 days to make the first move which is significantly more time than the 24-hour rule in Bumble Date and BFF. To lock in the connection, men also have seven days to reply back.
The reason for this difference according to Bumble official communication is that networking is a slower process than dating or making new friends. We believe the real reason for the 7 days is more of a practical one. People tend to check Bumble Bizz mode less often, so Bumble doesn't want to let matches disappear just because someone doesn't check the app for a day.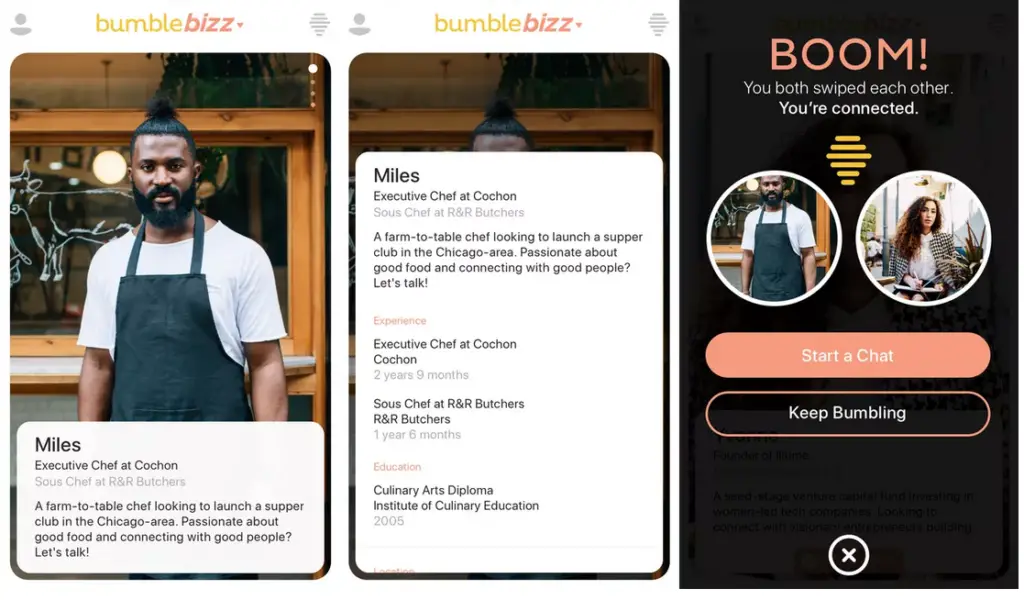 How does Bumble Bizz work?
Bumble networking mode works quite the same way as the two other modes. First, you have to make a profile, answer some basic questions, add a bio on what you are looking for (job, networking, mentor, etc.) and what your professional experience and interests are, then you are ready to swipe.
When you are making your profile, the app asks you to choose what is your main goal for using the Bizz mode:
investments and investors
internships
freelance work
networking opportunities
part-time work or full-time work
hiring
mentee or mentors
How to access Bumble Bizz?
If you are a new user and only interested in Bumble Bizz, when you sign up for the app, you will get a question: "So who do you want to find first?". Here you should choose Networking regardless of whether you want to find a freelancer, a job or just do some networking.
If you are an existing user and using either Bumble Date and/or Bumble BFF then here are the steps so you can also use Bumble Bizz:
Open up the app
From the screen where you are doing the swiping, tap on the Bumble logo that can be found on the top of the screen
Here scroll To Bizz and tap on "Bumble Bizz"
Tap on the grey silhouette in the upper left corner
Tap on the grey pencil by your profile photo
Now you can start creating a profile and then you are ready to swipe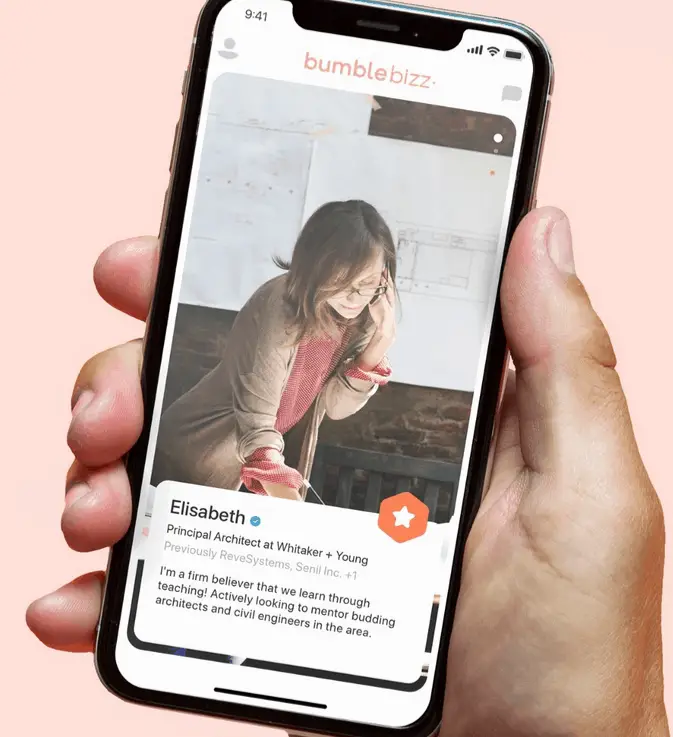 Bumble Bizz Review
All in all, we think that Bumble Bizz is a great add-on to the original Bumble Date experience. It makes networking or looking for a job or a mentor a fun and light experience that is usually a stressful activity for most people. If you have some professional goals you want to achieve, Bumble Bizz is worth trying.
It is obvious that Bumble has first developed a dating app and later the Bumble Bizz mode has been added as its main features and functionality are perfect for a dating app not so much for a networking app.
However, if we change our perspective and think that Bumble can be not only used for dating as most dating app competitors but also for professional purposes it is a great way to differentiate itself from its competitors.
To mention some areas for improvement: If you don't live a metropolis with a high population, you won't find a lot of potential professional matches, your deck will be empty quite soon. So maybe they could find some ways that would increase the number of profiles available for professional matches. If you are interested in a very specific topic,  you could still make connections with a person who is into the same topic, but lives in another continent.
Well, that's it, everything you need to know about Bumble Bizz. Have you tried it? What is your experience, have you managed to build new professional relationships? Or you have found a new job or business partner through the app? We want to hear your story.
You have any questions we have not elaborated on? Share with us in the comment section and we will make it sure that you will get an answer to it.
Frequently Asked Questions
Is Bumble Bizz free?
Yes, Bumble Bizz is free to use just like Bumble Date and BFF as well. You can pay for premium features with Bumble coins such as Spotlight or SuperSwipe and purchase a Bumble Boost subscription but these feature are made for standing out in the dating mode so they are not that useful in this mode.
Can You Use Bumble Bizz For Dating?
Practically you could, but we would suggest not to as Bumble Bizz is exclusively for professional relationship building. If you tried to send some pickup lines, your profile would be eventually reported and your profile deleted. It is not worth it. Stick to Bumble Date for dating purposes.