One of the premium features that Bumble introduced before Tinder and did not copy from Tinder is Bumble Beeline, the feature that can save you a ton of time if you don't like swiping.
In this blog post, we are going to share with you everything you have to know about this feature. What is it, how does it work, how you can see profiles that liked you on Bumble, how much does it cost, if you can get it for free with the blur hack. We will also talk about whether Beeline likes are fake, and whether it is worth buying Bumble Boost for this feature.
At the end of this article, please find our FAQ with frequently asked questions asked about Bumble Beeline. Let's go!
What is Bumble Beeline?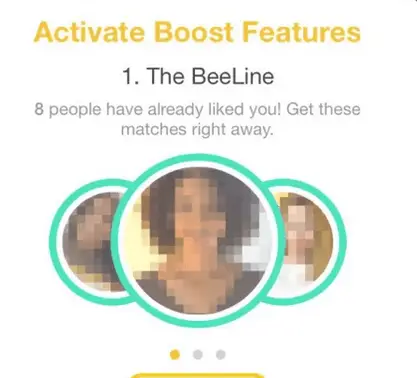 Bumble Beeline is a premium feature on Bumble that lets you see and match with profiles who already liked you but you have not swiped left or right yet. You can use this feature if you are a Bumble Boost subscriber.
It is one of the premium features you get when you subscribe for a Bumble premium subscription, Bumble Boost.
With Beeline, you don't have to swipe anymore, you only have to check your Beeline and choose the profiles you like and by swiping them right, you get an instant match.
If you have still too many profiles in your Beeline and going through your Bumble Beeline is too much work for you, you can also apply Bumble Filters, and see only your Bumble admirers who you didn't filter out and match with those who you really want to.
Where do I see my Bumble Beeline?
Here is how you can see with Bumble Beeline the profiles that already liked you:
Open up the app
Find the grey chat bubble in the upper right corner of your screen and top on it
You can see your Beeline from the left of your Match Queue indicated by a Green Circle
Tap to the green circle to see all the profiles that liked you. If you don't have Bumble Boost yet, you will be directed to a page where you can subscribe for it.
Are Bumble Beeline profiles fake or bots?
Most of the profiles you will see in your Beeline are not fake. They are real profiles that liked you, Bumble bot detection is pretty good.
However, Bumble will sometimes claim when you are not a Bumble Boost subscriber yet, that there are more than 1000 people that already liked you.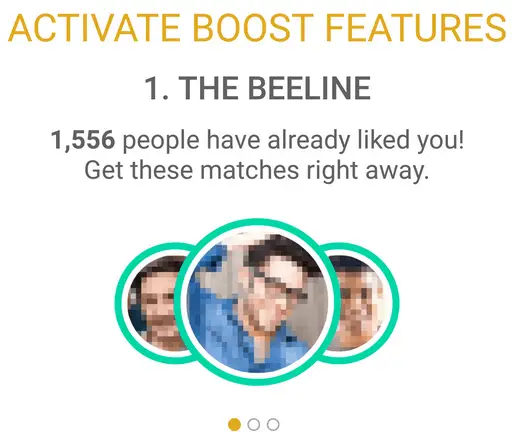 This is a bait to get you to subscribe for Boost, and a little bit misleading, as this means that since you have been using the app, there are more than 1000 people that have already liked you. It does not mean that if you get Beeline, there will be more than 1000 people that you can instantly match with right away.
Bumble Beeline price
Bumble Beeline can only be purchased as part of the Bumble Boost subscription. With Bumble Boost you will get access to other premium features such as Rematch, Bumble Extend, Unlimited Filters and Unlimited Swiping.
For these features, you have to pay 24.99 USD per month, but you can also try it out for a week (8.99 USD), or buy all these features and new features for a lifetime (139.99 USD).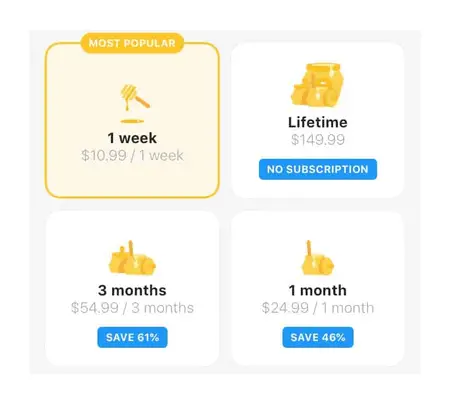 Bumble competitor, Tinder is providing a pretty similar feature, Likes You in its Tinder Gold subscription. So, they only provide this feature in their upper-level subscription package that is more expensive than Bumble Boost.
Bumble Beeline Blur Hack for free
You might be familiar with the infamous blur hack on Tinder that lets you see for free without buying Tinder Gold who liked you. When you don't have access to Bumble Beeline, Bumble will blur the profile photos of your potential matches in a similar way. However, this hack does not work on Bumble.
Bumble developers did not leave any coding loopholes, so you cannot unblur the images in your Beeline in Bumble web mode. To get more info why this hack does not work on Bumble, you can check out this video:
Is it worth buying Boost for Bumble Beeline?
It depends on the quality of your profiles and your personal preferences.
But first, review also all the other features of Bumble Boost and see whether the other features are useful for you. Rematch and Extend will be most likely useful for everyone. But let's talk about Beeline.
Whether you are a girl or guy, if your profile is high quality and you are getting a ton of matches, it might be worthwhile getting Bumble Boost for Beeline, especially if you don't really like the whole swiping part of Bumble. With Beeline, you don't have to bother with swiping anymore and you will still get a ton of matches.
If you have an average profile and you still get excited when you get a new match because you don't get a lot, don't expect that Beeline will change your success ratio of matching.
In this case, Beeline is still a great feature but in itself not necessarily that useful that would make it worthwhile to buy Bumble Boost only for it. Check the other features of Boost and see whether the other features would justify the purchase of a Bumble Boost subscription.
If you don't like your Bumble Boost features, you can also cancel your Bumble Boost subscription it pretty easily.
Bumble Beeline review
All in all, based on our experience Bumble Beeline is a useful feature for those users who find the swiping experience boring and want to deal with just the conversation and flirting part of online dating.
One big plus for Bumble that it is available in Bumble Boost, so you get all the other features available in Bumble Boost whereas on Tinder you have to purchase the more expensive Tinder Gold subscription to get access to this kind of feature.
There you have it, everything you need to know about Bumble Beeline. Do you have any experience with using Bumble Beeline? Do you think it is worth buying Bumble Boost for it? Let us know in the comments below.
Bumble Beeline – Frequently Asked Questions
Can I See Who Liked Me On Bumble?
Yes, you can see who liked you with the Bumble Beeline feature, but you have to purchase Bumble Boost to be able to use Beeline.
Can You Get Bumble Beeline For Free?
No, there is no way to see your Bumble Beeline profiles for free. Currently, there is no hack to unblur the photos. But you can at least see that some profiles have already liked you for free.
Bumble Beeline Is Not Working? Why?
It is rare that this feature is not working, but if you are still experiencing a bug, you can contact Bumble Support.
No Profile In My Bumble Beeline. How Is That Possible?
It is possible that are currently no profiles in your Beeline because you have already matched with all of the profiles that liked you.
Can Bumble Beeline Profiles Disappear?
Bumble Beeline profiles do not disappear in 24 hours, because they are not yet considered a match. If you still experienced it, it might be because the profiles in your Beeline has been deleted or banned.