One of the features that differentiates Bumble from its main rival, Tinder is the ability to filter profiles you want to see, so you are only able to match with people you would be really interested in. Bumble Filters are awesome!
In this blog post, we are going to cover everything that you must know about Bumble Advanced Filters. How do they work, how to set them up, how many you get for free, and whether it is a good idea to upgrade to Bumble Boost to get access to Unlimited Filters.
What are Bumble Advanced Filters?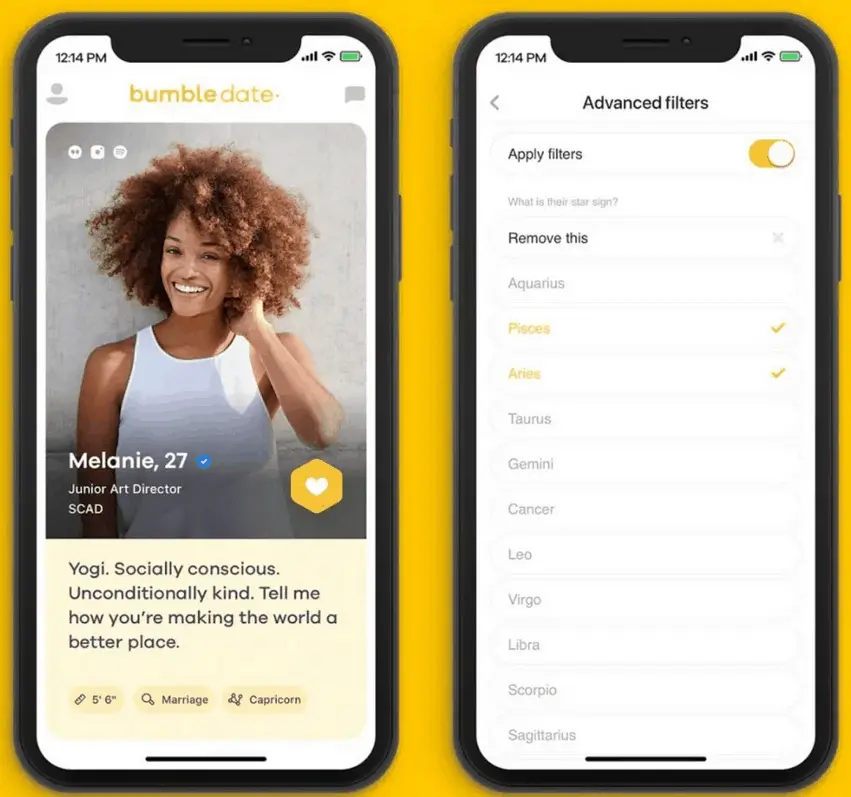 Bumble Filter is a Bumble feature that lets you filter the profiles you see in your swiping deck, so you only see those Bumble profiles you are really interested in. With  a free Bumble account, you can set two Advanced Bumble Filters, if you want to apply more filters, you have to have a Bumble Boost subscription.
How do Bumble Filters work?
Although it is most useful for Bumble Date mode, they are also available in Bumble BFF and Bumble Bizz, so you can use it also to find new friends and professional relationships in a more targeted way.
It is important that you can only use and apply a filter if you have also answered the question related to the filter on your profile. For example, you have to tell Bumble that you are a non-smoker if you also want to filter by only seeing non-smokers in your swiping deck.
Here is a quick video explanation about Advanced Bumble Filters from Bumble:
How to set Filters on Bumble?
It is really easy to set up Bumble filters that enables you to see only the profiles you are interested in:
First, go to your "Settings"
Choose the 'Set advanced filters" option
Go to "Add this filter"
Select the criteria you want to use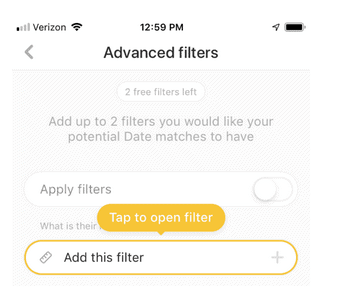 What kind of Bumble filters are available?
Not surprisingly, every Bumble mode has different types of filters as you probably wouldn't filter a romantic partner on the same basis as a potential mentor-
Bumble Date Filters
If you are using Bumble Date mode, you have access to a lot of filter options. This is not only useful for excluding out smokers or anybody without a college degree, but you can also filter to people who are only interested in a long or a short term relationship:
What do you want from your Bumble date?
Do they have or want children?
What is their height?
Do they exercise?
What is their star sign?
What's their education?
Do they drink?
Do they have pets?
Do they smoke?
What is their religion?
What are their politics like?
Bumble Bizz Filters
Bumble Bizz is a great way to build a professional relationship or to find a new hire or an employer. You can also apply filters to the following:
What are you looking for on Bizz?
How many years of experience do they have?
What's their main industry?
What is their education?
Bumble BFF Filters
With Bumble BFF you can find and make new friends. You can also filter the BFF swiping deck with the following filters:
What BFF's are you looking for?
Do they have kids?
Do they smoke?
Do they drink?
What's their relationship status?
Do they exercise?
Are they new to the area?
Do they have pets?
How many filters can you use?
If you have a free account without a Bumble Boost subscription, you can apply two advanced filters for free, which actually might be just enough to filter by the most important things.
To get more than 2 filters you have to have a Bumble Boost subscription where you have access to the Unlimited Bumble Filters feature.
Unlimited Bumble Filters
Unlimited Bumble Filters is a premium feature of Bumble Boost premium subscription that lets you apply as many Filters to filter profiles as you want.
Unlimited Bumble Filters cost
You can't buy Unlimited Filters feature separately with Bumble Coins; you have to have a Bumble Boost subscription to be able to apply more than 2 filters. But if you purchase a Bumble Boost subscription, you also get access to Bumble Extend, Rematch and Bumble Unlimited likes.
You can subscribe to a Bumble Boost from just a week or to a lifetime. Obviously, you get a better monthly price if you subscribe for a longer period.
Currently, the standard US pricing of Bumble Boost is the following:
Weekly Subscription: 8.99 USD per week
Monthly Subscription: 24.99 USD per month
3-Month Subscription: 49.99 USD every 3 months
Lifetime Subscription: 139.99 USD (one-time payment)
Why is Bumble Filters feature not working?
There are two possible reasons.
If you don't have Bumble Boost subscription and have set up two filters already, you need to get Bumble Boost to apply more features.
The second possible reason is that you can only apply filters to questions you also have answered. If you don't have an answer on your height you can't apply filters to your potential matches' height.
Is it worth buying Bumble Boost for Unlimited Filters?
Unlimited Filters is a nice to have feature, but based on our experience (see the next section) it is not as useful to buy Bumble Boost just because of this feature.
So basically, a nice bonus to have but we think Unlimited likes and Extend makes Boost a really worthwhile purchase.
Best practices for Advanced Bumble Filters
As we said Advanced Bumble Filter is a nice feature but at the end of this blog post we would like to also share some best practices on how to use Filters so that it can really improve your user experience.
It might be tempting to go to the Filters section and apply all of them, but we would suggest you not doing this. If you apply too many filters, you will end up with very few remaining potential profiles in your neighborhood.
If you also apply too many filters, you have to also give answers to those questions in your profile that might filter you out from other people's swiping deck, so again a smaller chance to find new matches.
All in all, we would suggest you not to use more than 3 Filters per Bumble mode. In this case, you can still filter out people who you would never want to meet up with, but this you don't restrict yourself too much and can still find enough potential matches.
Bumble Advanced Filters – FAQ
Can You Use More Than 2 Advanced Filters On Bumble?
Yes, you can use more than two advanced filters, but you have to have a Bumble Boost subscription for it.
Can You Filter Profiles Based On Religion On Bumble?
Yes, if you only want to see for example Christians, you can set up a Bumble Advanced Filter to only show Christians.
What Is Expanding Filter On Bumble?
If you applied too many Bumble filters, it might happen that although there are still plenty of profiles in your neighborhood because of filters you are not able to see them. In this case, Bumble offers you to expand your search criteria beyond your filters so it can show you new potential profiles
Can You Filter Profiles Based On Age On Bumble?
Yes, you can. Just go to settings and find filters, and set up the filter "What is their height?"
Are Bumble Advanced Filters Free?
Yes, 2 Advanced Bumble Filters are free to apply for everyone. If you want to apply more than 2 filters, you have to pay for a Bumble Boost subscription. But you also get other premium features if you subscribe to a subscription.