As you might have seen on Tinder subreddit, or you also have seen the ad on Tinder, Tinder has been promoting a new upcoming premium feature or service on its platform. It is called Tinder Concierge.
Was it maybe just an April Fool's joke from Tinder, or is it dead serious? Is it a new service to make just even more money from its users or really trying to help struggling Tinder users who are getting fewer and fewer matches?
We will share our thoughts and speculation and also tell you everything that is currently known about this upcoming service.
What is Tinder Concierge?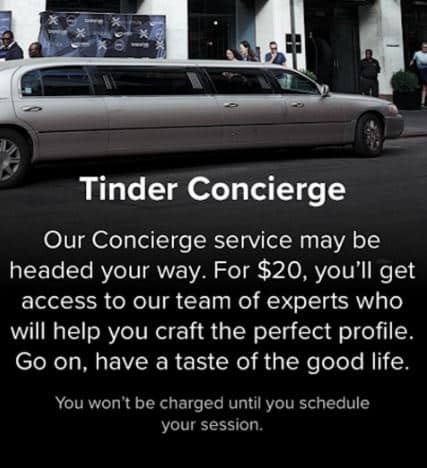 Based on the currently available information, Tinder Concierge will be a paid service that will help users who buy a Tinder Concierge session improving their profiles to get more matches. 
Users who the ad was shown to (most likely users from the US), could already get on the waitlist to have access to the feature first when it comes out.
How does Tinder Concierge work?
At this point, it is only speculation how will this new service work. Most of the official information we received is from the ad Tinder has run on its platform. A company spokesperson commented on the new service but it was just a corporate gibberish about always developing the app and the user experience, basically saying they don't want to tell anything about it yet.
The ad promised that if you get on the waitlist you will get access to a "team of experts" who will help you get a better profile. This would imply there would be real-life humans who would give you advice on how to write a better bio, which picture should you change, etc. 
Meanwhile, the pricing (see next section) would suggest that it won't be this kind of personalized service provided by humans but some kind of "clever" AI algorithm that will tell you which is your most right-swiped profile, which is the profile they swipe left on you, etc. 
How much will Tinder Concierge cost?
Based on the Reddit users' feedback, different prices of the premium Tinder Concierge service were shown in the ad. One with a 20 USD per session pricing and one with a 50 USD per session pricing. As even the beta version of the service has not yet been launched, Tinder is most likely testing to which pricing users reacted more positively by signing up for the waitlist.
However, the dynamic pricing of its premium features and subscriptions is also a well-known practice from Tinder. Based on your age, location and gender you can purchase the premium features and packages for different prices.
This 20-50 USD range is about a 1-2 month price of a Tinder Gold subscription. This pricing suggests that this service will be some kind of machine learning-driven, AI algorithm trying to give you some advice, as there is no business model where they could make profits with this by providing this service with real concierges.
Tinder Concierge –
AI algorithm vs real concierges? 
Tinder AI algorithm to improve your profile
Our honest opinion is that a service with some advanced AI technologies implemented with the users in mind might be a more useful service than a real concierge service.
Currently, there is no way to know based on data which parts of your profile you could improve on. It would be also great if you could make AB tests on your profile and for example test which bio description works better for increasing your match ratio. (Should you say on your bio that you are 5.9 or not?)
And as we said above, it would be also very useful to know which of your profile pictures are performing worse from a left swipe perspective and you could get more matches by just replacing a picture.
Tinder actually made some attempts at this with its smart photo feature but we haven't really seen that it was that effective.
Real-life dating concierges vs Tinder Concierge
Let's be honest, you can get quality advice from real humans on Reddit's Tinder Subreddit or any other forum for free, so it wouldn't make sense to pay someone for that. The pricing also suggests that you most likely wouldn't get any special service, maybe a video call with someone who checked you profile for a minute.
From a business perspective, real-life concierges are also not that scalable as well. Tinder is a great company, as they can sell two times more subscription packages without increasing their cost structure, this wouldn't be true for a concierge service as you would have to hire more concierges to sell the service for more people.
Making even more money or helping struggling users?
It is also interesting to think about what Tinder's intention was when they decided to develop this new service. A lot of people are saying on the forums that it is just a new way for Tinder to get even more money from its users. And as we know Tinder, and its parent company Match Group is great at monetizing the service, breaking revenue records from in-app purchases almost every quarter and year.
However, another thing to keep in mind is that Tinder is making so much money because there are still millions of users who are getting value out of the app who are also willing to pay for a better experience and ultimately more matches.
And one of the issues Tinder might be facing in the future is that a lot of average looking users are getting fewer and fewer matches in the app. In the long term, this can be dangerous as users will first stop paying for premium features if they don't get matches and might eventually also leave the platform. 
So maybe Tinder's main intention with this feature is not to make money directly but to really help struggling users to get more matches. (and don't forget these users might spend a lot more money later on Tinder).
What do you think of the upcoming new Tinder Concierge service? Do you think it will be really useful for users or it is just a new scam feature to make even more money for the shareholders? Let us know in the comment section below.