To answer it shortly, yes Bumble, the online dating app is free to use for anyone. However, there are certain features that are only available by purchasing them with Bumble coins or buying a recurring subscription package called Bumble Boost that enables you to have access to certain premium features.
In this article, we are going tell you what are the features you have to pay for, whether you should be paying for any Bumble features, or you can still be successful on Bumble without paying anything for its premium offerings. We will also share some tricks and a hack on how you can get premium features for free.
Is Bumble free to use?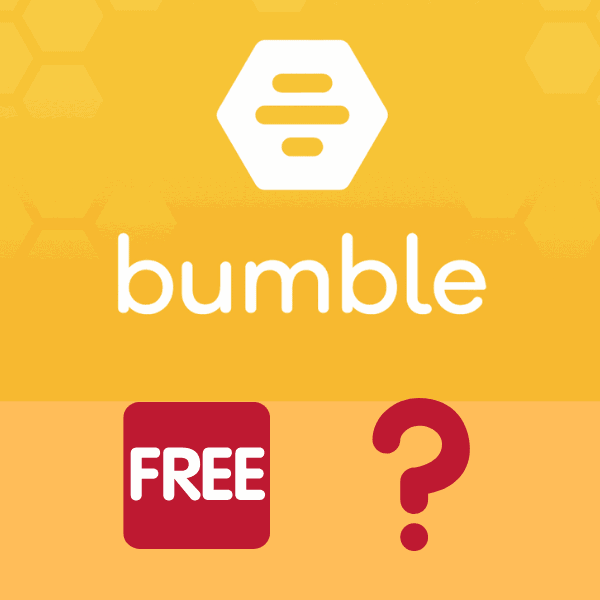 Yes, Bumble is a free dating app. It is famous for giving power to women which means that only women can start the conversation after both profiles liked each other. Bumble also has a free networking mode, Bumble Bizz and a third mode, Bumble BFF where you can make new friends.
It is free to use, so you can get a ton of matches and have a bunch of conversations without paying a dime ever.
However, like most popular dating apps nowadays, Bumble is also making money from a freemium business model which means that in order to use certain features or to use them without any limit you have to purchase features or be a paying subscriber to be able to use those features.
Free Bumble Boost
Bumble Boost is the only recurring subscription package on Bumble that you can subscribe to a week or even get if for a lifetime.
If you are a Boost subscriber, you get access to the following features in an unlimited amount: Bumble Filters, Bumble Extend, Bumble Rematch, Bumble Beeline and Unlimited Swiping. As we will explain, some of these features have certain limits on the number of free uses and some of them are exclusively only available to Bumble subscribers.
You can purchase Bumble Boost subscription for different lengths of time periods. Currently, the standard US pricing is the following:
Weekly Subscription: 8.99 USD per week
Monthly Subscription: 24.99 USD per month
3-Month Subscription: 49.99 USD every 3 months
Lifetime Subscription: 139.99 USD (one-time payment)
Hack Bumble for free Bumble Boost
There are two well-known ways to get Bumble Boost for free.
The first one is to basically hack Bumble and use it for free. You can check this video how you can hack Bumble to get Bumble Boost for free:
However, keep in mind that this method besides being unethical can be dangerous as you give access to apps that might steal your data. Also, it is definitely against Bumble's Terms of Service, so if they were to find out that you hacked the app to get Bumble Boost for free you can be sure that your account will be banned without any consideration.
Free trial for Bumble Boost
The safer and ethical way to do is by accepting a Bumble Boost free trial offer. Bumble is usually offering a free trial for Bumble Boost ranging from 7 days to 14 Days. What we would suggest is to cancel the free trial right away after you accepted the free trial offer.
This way you can minimize the risk of Bumble charging you for the months coming after the free trial period which can be a pretty expensive mistake if you don't want to be a subscriber. However, even if you cancel right away, you get to enjoy the remaining days of your trial period with the premium features for free.
But once again, don't forget to cancel the trial period if you don't want to pay for this. Some users on Reddit reported that they were somehow charged with 3 months of Bumble Boost subscription fee before their trial period would have ended.
Free Bumble Extend
Extend is the feature that adds 24 more hours to the girls' countdown timer to make the "first move", a.k.a. send the first message to you. It can be also used by girls to add 24 hours so that the guy can reply to their first message.
And to answer the question: yes, you can use Bumble Extend for free but you only get 1 Bumble Extend for free per day. If you want to use an unlimited number of Extends, you have to be a Bumble Boost subscriber.
Free Bumble Filters
Yes, Bumble Filters are free but only in a limited amount. If you don't have a Bumble Boost subscription you can apply 2 filters per mode, so you can use 2 for Date mode, 2 for Bizz mode, and 2 for BFF mode if you happen to use all of the modes parallelly.
You can apply an unlimited number of Filters if you have Bumble Boost. Although even if you have an unlimited number of Filters, you should be cautious to use too many filters. As you might end up with too little number of available profiles in your neighborhood if you are too restrictive with your filters.
Free Unlimited Swiping on Bumble
Bumble has kept its Unlimited Swiping and liking for free for a pretty long time, but they couldn't keep it free forever.
Just like on Tinder, today you can't swipe an unlimited number of profiles only if you have a Bumble Boost subscription.
If you want to still get unlimited swiping for free, read our section on how you can get Bumble Boost for free.
Free Bumble Beeline
There is also no free way to see who liked you on Bumble. You can only use Bumble Beeline to see who liked your profile when you are a Boost subscriber.
What you can see for free is how many people have already liked and you haven't swiped yet, but you won't see their profiles and you won't be able to swipe them. This number is also speculated to be inflated, so users are more incentivized to buy Bumble Boost.
You can also see the first person in your match queue but her profile will be blurred so it is really difficult to identify her when she shows up in your swiping deck.
On Tinder, you can use a hack to see for free which profiles liked you, but this hack cannot be done on Bumble.
Free Bumble Rematch
If you have Boost subscription you can use Rematch to match again with the profile right away after the match disappeared because the girl didn't make the first move in 24 hours, or the guy didn't reply back to the first message.
Bumble Rematch is also featured that you can't get for free even in a limited number of times if you are not a Bumble Boost subscriber.
As with all premium features of Bumble Boost outlined above, you can try the free trial of Bumble Boost to get these features for free for a limited time or use the hack you can check in the video we embedded above.
Free Bumble Coins
Bumble Coins is the in-app currency of Bumble that lets you buy certain premium features that are not available in the Bumble Boost subscription.
We currently don't know any method you could get Bumble coins for free.
Although you can get cheaper per coin price if you buy more coins at once. Currently, pricing is the following:
1 Bumble Coin: 1.99 USD
5 Bumble Coins: 7.99 USD
10 Bumble Coins: 14.99 USD
20 Bumble Coins: 24.99 USD
So, you can argue that by buying 20 Coins at once, you get almost 8 Coins for free.
Although there is a post on Bumble subreddit, where the OP is reporting about free Bumble Coins but the post has been deleted since then.
If you know any method that is available to get free Bumble Coins, let us know in the comment section below.
Free Bumble Superswipes
Bumble SupersSwipe is a feature that lets you notify a profile that you like her or him before she or he would swipe you right. It is actually a very overrated features as you can read it in our review.
You can only pay for them with Bumble Coins, and unlike with Tinder Superlikes, you don't get a free SuperSwipes per day so you can't really test the effectiveness of this feature. You also don't get free SuperSwipes if you are a Bumble Boost subscriber, so the only way to get them is by purchasing Bumble Coins.
Free Bumble Spotlight
Bumble Spotlight is the premium feature that makes you the top profile in your neighborhood for 30 minutes. It gives you a high profile visibility for half an hour that results in a lot of new matches if you live in a crowded neighborhood.
Just like with SuperLike, Tinder is more generous with its similar feature, Tinder Boost. If you are a Tinder premium subscriber, you get 1 Boost per month for free. You don't get anything similar in Bumble, you have to pay with 2 Bumble coins to use 1 Spotlight.
Free Bumble Travel
With Bumble Travel you can change your location for 7 days to any location you want in the world.
Tinder made its similar feature Tinder Passport free in the Covid-19 epidemic, but normally they only grant access to it if you are either a Gold or a Plus subscriber.
On Bumble, there is no free option for it and you can't get it in a subscription. You have to buy Bumble Travel separately with Bumble Coins. Currently, it costs 5 Coins to get a Bumble Travel, which is fairly expensive compared to Tinder's similar feature.
Which premium features should you buy on Bumble?
I think when you are just first starting out with Bumble, don't pay for anything just right away. You are getting a pretty great user experience even if you don't pay for any premium features. You can get matches, start conversations and even try certain premium features such as Extend or Filters for free.
After a couple of days, you are going to see if limited swiping is an issue, or if you could use more than 1 Extend per day. In this case, you can even first just start with a Bumble Boost free trial and still cancel if you change your mind later.
Regarding premium features that you can only buy with Bumble Coins, we would only suggest trying out Bumble Spotlight because that can really increase your match number and it is fairly cheap.