In this blog post, we will answer every question you have ever had about Bumble Boost, the feminist Tinder's lowe level premium subscription and also give a review and tell you whether it is worth the money. What features you will get access to, its price, how does it compare to Tinder Plus and Gold, whether you should get it and much much more. You can also read a Bumble Boost FAQ at the end of this article.
What is Bumble Boost?
Bumble Boost is Bumble's lower level premium subscription which makes it easier for users to use the app and maximize the number of matches they can get. By purchasing Bumble Boost, you will get access to features that free users can't or can only use a limited number of times.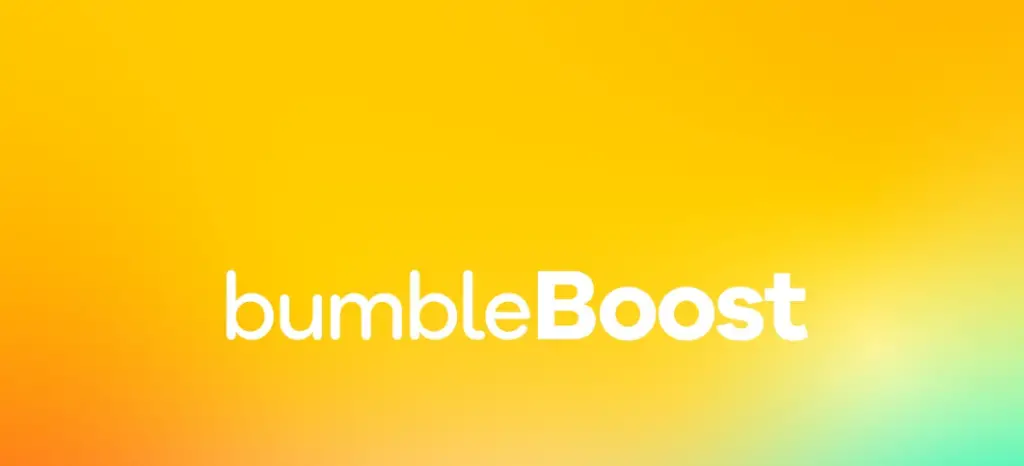 Recently, Bumble has split legacy Bumble Boost to a revamped Bumble Boost and a Bumble Premium subscription. So there are some Bumble  features that are now only available to Bumble Premium subscribers.
Bumble Boost Features
The revamped Bumble Boost will provide you access to the following features:
Legacy Bumble Boost subscribers also had access to Bumble Rematch, Unlimited filters and Bumble Beeline but not anymore. If you want to use those features, you have to upgrade to Bumble Premium.
Let's go through the features step by step, explain how do they help you, and if they can be useful for you. If you want more details, you can read more details about the features as we have written separate articles about each of the features.
If you prefer a video explanation, you can check out this video as well:
Bumble Extend
Maybe, one of the most useful features of Bumble Boost is Bumble Extend. This is a unique feature in Bumble that would not make sense in Tinder or any other dating app, as it is related to the core functionality in Bumble. When you have a match in Bumble, only the girl can start the conversation and she has 24 hours to do so. If she doesn't send any messages, the match disappears.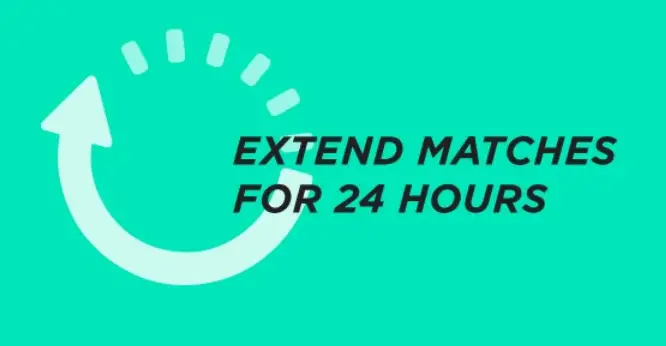 With Bumble Extend, you can extend your matches for unlimited hours so they don't get disappeared. It applies to both men and women. Women can extend the 24 hours, so they have one more day to craft the perfect openers and guys can use Extend to give the girls 24 more hours.
To be fair, most of the time Extend is used by guys who can basically show the girls one more time that they are interested in them.
Without Bumble Boost you also get one Extend a day, but if you are crushing with Bumble you most likely will have more matches to use Extend for.
All in all, a very useful feature in Bumble Boost, one of the features it might be worth purchasing Bumble Boost for.
Bumble Backtrack
Bumble Backtrack, the feature that helps you cancel a right swipe on Bumble, used to be a free Bumble feature but not anymore. You have to have a Bumble Boost subscription if you want to use it.
It can be a useful feature as you can accidentally swipe someone left who you actually wanted to swipe right. You can cancel your last swipe by using Bumble Backtrack.
Umlimited Swiping
Bumble used to have unlimited swiping to differentiate itself from Tinder, but not anymore. Although the exact number is not publicly communicated, the number of right swipes per day has been limited for a while now. When you max out your daily swipe limit you will see a message like this: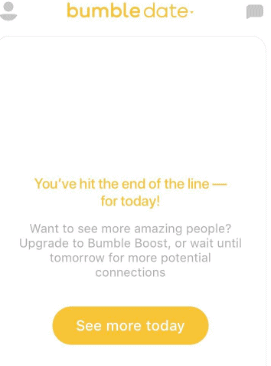 With this new rule, it is not a surprise that you get the feature of unlimited swiping with Bumble Boost.
You will like this feature the most if you live in a big city and you are using Bumble day and night.
Bumble Boost cost
After explaining the main functionalities, let's talk about the price tag, so we can put into perspective how much money we have to pay for the features that are not available in the free plan.
Bumble Boost price depends on the length of your subscription, that can be only 1 week and unlike on Tinder, you can buy Bumble Boost for a lifetime that is quite useful if you are a hardcore user, although not the most optimistic if your goal is to get a girlfriend or boyfriend as soon as possible. As the time of this writing you can buy Bumble Boost for the following periods:
Weekly Subscription: 8.99 USD per week
Monthly Subscription: 24.99 USD per month
3-Month Subscription: 49.99 USD every 3 months
Lifetime Subscription: 139.99 USD (one-time payment)
With this pricing structure, if you are planning to use Bumble for more than 1 year, it is worth getting the lifetime subscription, which is pretty cool.
However, the easiest way to find out your prices is to try to sign up for Bumble Boost.
How to sign up for a Bumble Boost subscription?
There are multiple ways to sign up for Bumble Boost. Bumble is constantly changing this as they are experimenting with it how they can maximize the number of Boost subscribers. Here are two ways you can sign up:
Go to your profile page where they promote Boost feature Beeline. Here you can tap on "Activate" and you will be taken to a Boost purchase funnel.
Go to your Connections screen. If you have profiles who swiped you right, but you haven't swiped them yet, you will see those here with a green circle containing a blurred profile photo. If you click any of these profile photos you will be redirected to a Boost subscription page.
Bumble Boost vs Tinder Plus and Gold
To be able to evaluate the relative value of Bumble Boost it is useful to compare it with Bumble's big brother Tinder and its premium subscription plans. Although Tinder has 2 premium subscriptions, Tinder Plus and Gold, we think it is fairer to compare Bumble Boost to Tinder Boost.
In terms of features, we believe both have some pluses.
Tinder Plus has 1 Boost per month that is arguably the most useful feature in Tinder. Bumble Boost doesn't provide any Spotlight (Bumble's feature similar to Tinder Boost), and it doesn't include any Super Swipe either, whereas Tinder Plus grants the user with 5 free Super Likes per day. (although some would argue Super Likes or Super Swipes are worthless).
One of the pluses of Bumble Boost is Beeline that lets you see and swipe right away the profiles who already liked you. This feature is only available in Tinder Gold, which is a more expensive subscription in Tinder.
In terms of pricing, Bumble Boost has a more flexible pricing structure you can try it only for a week or get it for a lifetime if you want it. Tinder Plus can only be bought for 1, 3 or 6 months. It is also difficult to compare exact prices, as Tinder is working with different pricing for men and women and also gives you different prices based on your age and country. However, generally, the prices for 1 and 3 months tend to be in the same range for Bumble Boost and tinder Plus.
Is Bumble Boost worth it for guys and girls? Bumble Boost Review
Short answer: yes, it is worth trying out. If you are uncertain, you can try it out for a week for 9 bucks, and test it yourself how beneficial are the additional features provided by Bumble Boost. If you don't like it after a week, just don't forget to cancel your subscription.
If you are a woman and don't really like swiping, you will definitely love the Beeline feature. It is a great feeling to go through all these profiles who already found you attractive and decide whether they are good matches for you
If you are a guy, Extend will come as a great help in increasing the number of conversations which a preliminary step for a meetup. Extend really shows the girl that you are interested and will increase the chances that she will drop at least a "Hi" for you.
Regardless of your gender, if you are a desperate user and want to maximize your matches, Unlimited Swipes will help you to swipe as many as you possibly can.
That's it, everything you must know about Bumble Boost. Have you tried and used it? What is your experience? Share with us in the comments below. If you have any questions we have not answered, let us know in the comments and we will let you know.