Tinder has just renewed  Tinder Swipe Night for its second season, which is expected to premiere in the Summer of 2020. In this article, we are going over everything you need to know about Swipe Night. What it is, how does it work and how you can take advantage of it to boost your match number.
What is Tinder Swipe Night?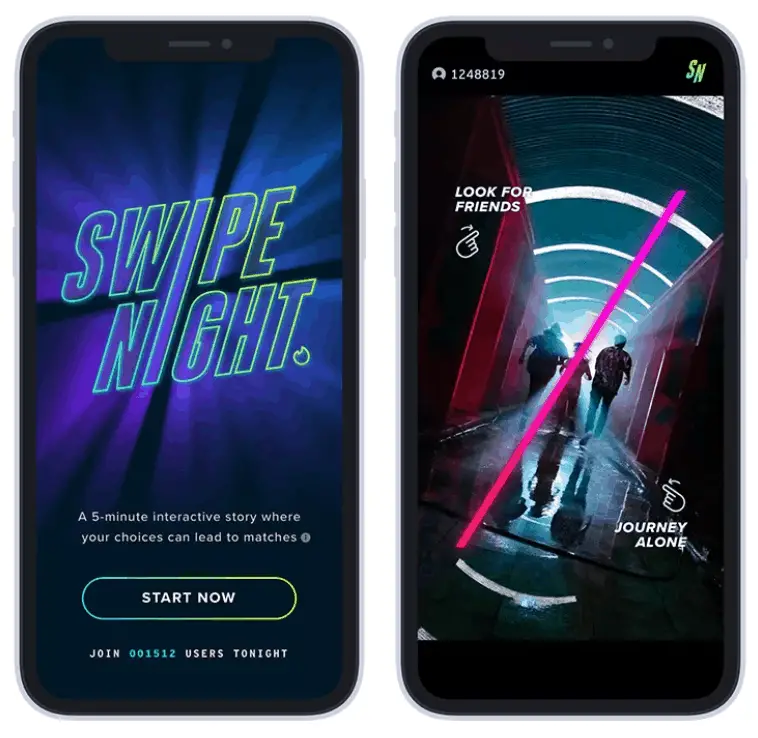 Swipe Night is a first-person point-of-view interactive series within Tinder, in which you can decide by swiping at certain turning points where the story goes next. Besides having fun in this interactive, apocalyptic story, at the end of the episodes, you also have the chance to match with those profiles who made the same decisions in the game.
Here is the trailer for the first season of Swipe Night:
How can you join Tinder Swipe Night?
During the first season, you had to be online on Sunday nights to be able to join the game. There is no replay of the 5 minutes episode, so you can only join if you are online on Sunday nights.
Unfortunately, Swipe Night has been only available in the US, so you also have to be in the US to be able to play the game.
How does Tinder work?
First of all, you have to join the Swipe Night experience from 6 pm to midnight. One Swipe Night episode lasts around 5 minutes and you face moral dilemmas and practical choices for which you get 7 seconds to pick your answer.
Your choices will form the way the story goes on, and they will be also saved to your profile. After the episode finishes you will have a chance to match with other users who participated in the Swipe Night. If you match with them, you will see how they responded to certain dilemmas in the game which is also a great opportunity for a non-conventional conversation.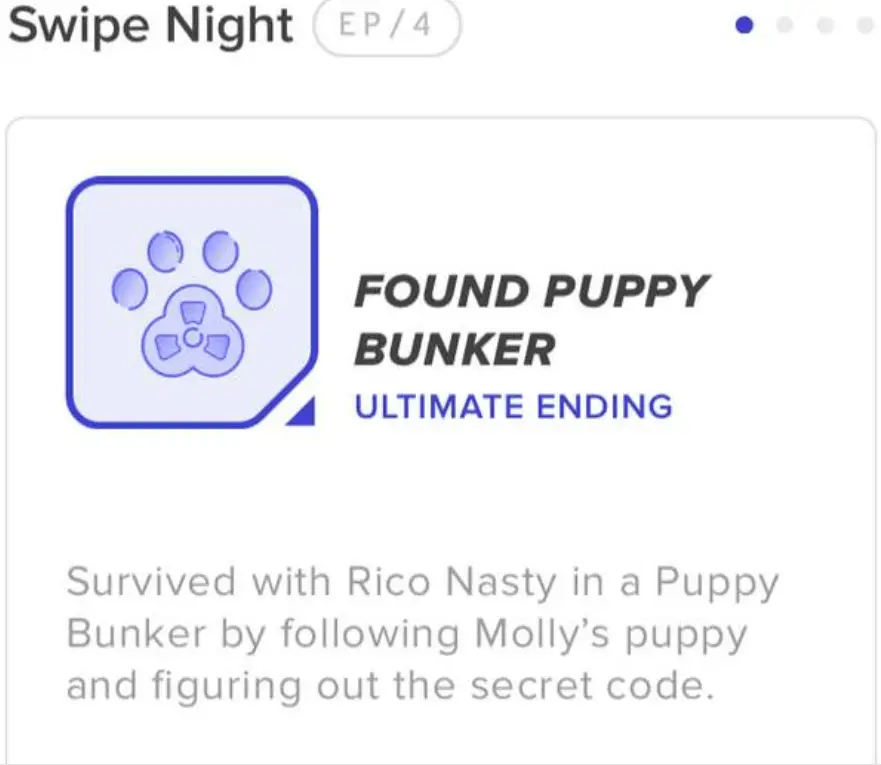 Tinder Swipe Night Season 1
The first season of Swipe Night was released in the United States, on 6 October 2019. It was directed by Karena Evans (work includes Drake's music video, "God's Plan" and "In My Feelings) and written by Nicole Delaney and Brandon Zuck. The story follows a group of friends led by the users. The friends are played by Angela Wong Carbone (Chinatown Horror Story), Jordan Christian Hearn (Inherent Vice), and Shea Gabor.
The first season turned out to be a success, so it has been renewed for a second season.
Main goals with Tinder Swipe Night
Swipe Night has been produced specifically to the generation Z demographics of Tinder which is the most active demographic group on Tinder and accounts for around half of the active users in Tinder.
The creators hope that it will generate more authentic engagement from the target group and also help in differentiating Tinder from other dating apps by providing an additional unique experience for its users.
How to take advantage of Tinder Swipe Night?
We would suggest to definitely try out Swipe Night when it is available for season 2, even if you think that it is a stupid series. It is actually a great Tinder hack, as after an episode you will be able to swipe active users who also participated in the episode, so just because of this, you will have a higher chance of matching a starting a conversation with someone who is really using the app.
Keep in mind that these profiles will be only curated on the day of the episode, so swipe them as soon as possible.
If you match with someone, try looking at her profile and the choices she made and reflect on it, so your chances of having a more authentic conversation will also increase.
Tinder Swipe Night – FAQ
How Long Does One Tinder Swipe Night Episode Last?
One Tinder Swipe Night episode lasts around 5 minutes.
Can You Stop A Tinder Swipe Night Episode?
Yes, just tap once on the video and it will stop. You won't be able to stop it when there is a question.
Is There A Replay Of Tinder Swipe Night Episodes?
No, if you miss it, you won't get another chance. You also won't be able to play the episode twice.