Have you accidentally swiped left a beautiful girl, or a charming good-looking guy on Bumble, and now you feel destroyed? Don't worry, you can take your last swipe back on Bumble with a feature called Bumble Backtrack.
In this comprehensive article, we will go over everything you have to know about Bumble Backtrack. How does it work in the app or in the web version of Bumble, how many Bumble Backtracks do you have, how to get more, and any other question you might have ever thought of.
Let's get to it!
What is Bumble Backtrack?
Bumble Backtrack is a feature in the online dating app Bumble, that allows you to take your last left swipe back if you happen to change your mind and still want to like a profile.
Unlike Tinder's Rewind feature that is only available by subscribing to either Tinder Gold or a Tinder Plus package, Bumble Backtrack is absolutely free. You don't have to have Bumble Boost subscription or pay with Bumble coins to be able to use it.
Update: Bumble Backtrack not free anymore? Check out the end of this post for more details.
There is one caveat though, you only get three backtracks once. After you used a Backtrack, it takes 3 hours for a Backtrack to be restored.
How to go back on Bumble?
Canceling your last Bumble swipe is pretty easy on Bumble. Once you accidentally swiped someone left, you just have to shake the phone. If your shake is detected by the app, you are taken to a screen where you need to confirm that you want to use a Backtrack and cancel your last swipe.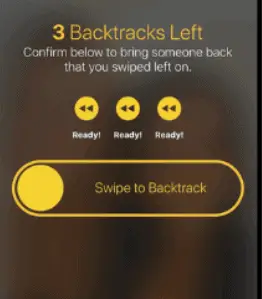 If you are using the web app version of Bumble, you can backtrack your last swipe by tapping the two arrows next to the 'X' icon.
Here a quick video that explains how swiping works on Bumble and how you can use backtrack a profile on Bumble:
Can you take your last right Swipe with Bumble Backtrack?
No, this is a thing that you, unfortunately, can't do in Bumble. You can't use the backtrack to cancel your right swipes, so the profiles that you liked.
If the person that you accidentally swiped right, liked you also before, then it will be an instant match. In this case, you can easily just unmatch the person and she or he will never find out that you accidentally liked her.
If it is not an instant match, you have to wait to find out if the person will like you back. When the match happens, if you are a girl you can just ignore the messaging or again go the profile and unmatch the person.
Can you take back a Bumble SuperSwipe?
Just as with the right swipes, you cannot take your Bumble SuperSwipes back. As you don't get any free SuperSwipes, you should be really cautious and not accidentally tap on Superswipes stars, as you might lose expensive Bumble Coins.
The only thing you can do here is being cautious and always spend your Bumble Coins as you buy them and never buy more Coins than you need. In this case, Bumble will not be able to use your Bumble Coins when you SuperSwipe someone accidentally.
Bumble Backtrack is not working – Fix it
There are several reasons which might cause Bumble Backtrack to not work properly.
First for Bumble enables Backtrack once you already swiped to both directions at least once. Don't forget, that Backtrack only works for left swipes and you only get 3 backtracks in 3 hours.
If you think you have a technical issue, Bumble has a nice guide on how you can resolve technical issues.
If none of these helped, there might be another technical issue, in this case, you should contact Bumble Support and report the issue to them and they might be able to help you out.
How to get more Bumble Backtracks?
Bumble gives every user three free Bumble Backtracks. A Backtrack is restored three hours after it was used, therefore it is extremely rare that someone is out of Backtracks.
If this rare thing still happens to you, you can still gain a Backtrack by sharing that you use the app on Facebook, Instagram or Twitter.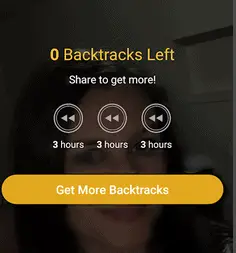 Bumble Backtracks review
All in all, Bumble Backtrack is a very useful feature and you don't have to pay anything for it to be able to use it that is a big plus compared to Tinder where a similar feature is only available by subscribing to the premium packages.
We also like that you have to shake the phone to cancel your last swipe, although this can lead to unpleasant bugs. One thing they should definitely improve or add to this feature: users should be able to take back their right swipes and SuperSwipes as well.
Update in June 2020: Did Bumble get rid of free Bumble Backtracks?
Some users reported that Bumble Backtrack stopped being free or they were no longer be able to use Bumble Backtracks. Have you experienced anything similar to this? Share with us in the comment section below.
That's it. Everything you must know about Bumble Backtrack. If you have any question that is not answered here, please ask us in the comment section below and we will help you as soon as we see your question.
Frequently Asked Questions
Are Bumble Backtracks Free?
Yes, Bumble Backtracks are absolutely free to use, you can take your last swipe back without paying anything. You only get 3 Backtracks in a 3 hour period, but it is most likely enough for 99% of the people.
Why Does Bumble Keep Backtracking?
If you hold your phone parallel to the floor, the app might think that you want to backtrack your last swipe. Make sure you always hold it straight up and down. Another thing you can do is restart the app and in most cases this solves the problem.
Why Can't I Take My Last Swipe Back On Bumble?
You only get 3 Backtracks in 3 hours, so you might be out of the 3 Backtrack. You also can't backtrack a right swipe or a SuperSwipe. If you want to Backtrack a left swipe and shaking the phone doesn't work, it might be a technical issue and you should contact Bumble Support.