You always wanted to know if someone has seen your messages on Tinder and just simply has not replied back yet? It is possible now to see this with the feature Tinder Read Receipts!
In this article, we are going to cover everything you have to know about Tinder Read Receipts: how does it work, how to activate it, how much do you have to pay for it, what you have to do if you want to turn it off. We will also give you an honest review whether it is worth the extra money you have to pay for it.
Does Tinder Have Read Receipts?
Tinder has introduced Read Receipts so users can see when their Tinder messages are read. Read Receipt is a notification that is sent back to you when your match reads your Tinder message. To get Read Receipts you have to purchase them separately.
This is Tinder app feature that was frequently requested by users of all online dating apps not just Tinder users. But let's see how it works on this dating app.
How does Tinder Read Receipt work?
Tinder Read receipt is a paid feature that is not part of either Tinder Plus or Tinder Gold subscription, so you have to purchase Read Receipts separately.
You have to buy at least 5 read receipts at once, which you can do by clicking "Get Read receipts" on a profile you have matched with. If you don't have any Read Receipts, you will be directed to a sales page where you can buy five, ten or twenty Tinder Read Receipts.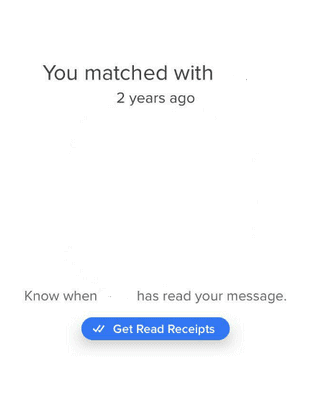 When you activate a Tinder read receipt for a profile, it counts as one use regardless of the number of messages you send. People can opt-out from Tinder reporting their Read Receipts, so obviously you can't activate Tinder Read Receipts for these profiles.
How to activate Tinder Read receipts?
If you have purchased Read Receipts it is really easy to activate Tinder Read Receipt for a profile. Just go to the conversation and click on Get Tinder Read Receipts. From now on, you will see whether he or she has read your messages and at exactly what time he or she exactly read it.
Here is a video showcasing the basic settings of Tinder Read Receipts:
Tinder Read Receipts vs Seen you have sent her a Tinder message
It is important to add that just because someone has not yet read your message, doesn't mean she didn't see that you have sent a message. She might just ignore you completely and didn't even open the chat conversation you have with her.
How much does Tinder Read Receipt feature cost?
Tinder Read Receipt feature is not part of Tinder premium subscription packages, you can only buy them separately. You can purchase them in batches of 5, 10 or 20.
As with all premium features and subscriptions on Tinder, the prices can differ based on your gender, location and age. Currently, the standard Tinder Read Receipts prices in the US is the following:
5 Read receipts cost 15 USD
10 Read receipts cost 20 USD
20 Read Receipts cost 30 USD
This means you can get 1 Read Receipt for 3 to 1.5 USD.
Tinder Read Receipts For free
If you really want to see if someone you are flirting with has read your messages, you don't necessarily have to pay for it, you have other options.
It is recommended anyway when you find someone really attractive and want to set up a meetup with her to exchange contact info and continue the conversation on Whatsapp, Viber, Messenger or on any other messaging app.
Here you can see most of the time for free if and when someone has read your message. Here you go, we have just saved you 30 bucks.
How to disable your Tinder Read Receipts?
If you don't want to send your Read Receipt to your matches, you can also disable Read Receipts and turn them off completely, so other Tinder users can't activate read receipts for your messages. You can do this:
Open up the app
Tap on your profile icon
Go to Settings
Scroll to "Manage Read Receipts"
Turn off "Send Read Receipts"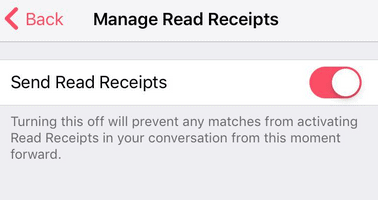 Is Tinder Read Receipts worth it? – Review
The pricing is not that extremely high compared to other paid features such as Tinder Super Boost, but we believe it is very pricy if we consider the added value we get when we use this feature.
Which is, let's be honest, really low. First, you shouldn't really care whether someone has read your messages or not. A lot of people just won't really reply to Tinder messages anyway. So that is the reason you will never get replies to your first message in a lot of cases. Sometimes it is also better just to wait a few days before you would send a second message.
We suggest reinitiating a conversation always if someone didn't reply you back and you want to continue with the conversation. You can do this at least 3 times.
We don't say that it is a completely useless feature, as it has some benefits, but not as much so that it is worth paying for it. It is good to know if she has read your messages when you restart a conversation as it can look quite creepy if she uses the app again after a break and sees that you have sent her a message already 3 times always replying to yourself.
But are Tinder Read Receipts worth paying for? We believe it is not. You better spend that money on a Boost or a Super Boost, those premium features will get you way more matches.
Frequently Asked Questions – Tinder Read Receipt
Does Tinder Have Read Receipts?
Yes, but they only show if someone activated specifically for a profile. It is quite rare as it is a paid feature with a quite high cost. You can also turn it off completely, so no one will be able to see your Tinder read receipts.
Can I Turn Off Tinder Read Receipts? If Yes, Where?
Yes, you can turn off your Read Receipt notifications so nobody can see if you have read her or his messages or not. To turn this off: go to Settings. Scroll down to Manage Read Receipts. Tap on it and here you can turn it off.
Can Matches See If I Have Turned Tinder Read Receipts On?
No, they can't see that. Although they can opt out from sending their Tinder Read Receipts to you.
Is There A "Read" Notification On Tinder?
Yes, there is, it is called Tinder Read Receipts. It doesn't work by default, you have to purchase it as it is a premium feature and activate for a profile if you want to see if she or he read your messages.