General Bumble FAQ
What is Bumble and how does it work?
Bumble is on online dating application that is sometimes called the "feminist Tinder". The reason for the name is that unlike on Tinder, on Bumble only women can make the first move, giving more power to girls. If there is a match, the woman has to send the first message in 24 hours or the match disappears. This results in more active conversations and less harassment and abuse.
What is Bumble BFF?
Bumble BFF is Bumble's place to find friendship. This works in parallel with Bumble's dating mode Bumble Date and its networking mode, Bumble Bizz.
You can use only one or all three modes at the same time. Bumble BFF (which stands for Bumble For Friends) works the same way as regular Bumble, you can swipe your potential friends and if you like each other you can start chatting. On Bumble BFF you can only match with your gender.
What is Bumble Bizz?
Bumble Bizz is a Bumble mode that you can use for networking and find mentors. You can use Bumble while using Bumble Date and Bumble BFF or none of them. Bumble Bizz works the same as regular Bumble for dating, you can make a profile add professional info and swipe people based on your professional interest. Unlike Bumble BFF, you can you Bumble Bizz to find professional partners and mentors in your gender and in the opposite gender.
Is Bumble free?
Yes, Bumble is always free to use, but it has premium features that you can pay for. These can make your Bumble experience better and easier to find matches but are not necessary at all to have them.
Bumble Features FAQ
Can you take your last swipe back?
Yes, you can take your last swipe back on Bumble, the feature is called Backtrack. All you have to do is shake your phone and then confirm that you want to ake your last swipe back. Whereas on Tinder where this feature is part of the paid plan, on Bumble this is free three times a day. Three backtracks a day should be enough.
Can you extend your matches on Bumble?
Yes, you can. Everyone has 1 free Bumble Extend a day. Before the 24 hour passes, you can use it to extend the match for 24 more hours. If you have a Bumble Boost subscription, you can extend your matches for an unlimited amount of times.
Can you rematch with profiles who didn't message you within you for 24 hours?
Yes, but not immediately, you have to wait for them to show up in your swiping deck again. If you have Bumble's premium subscription, Bumble Boost then you can rematch right after the match expired.
Bumble FAQ – Premium Features
What are Bumble's Premium Features?
Bumble has the following premium features at the time of this writing: Bumble Beeline, Spotlight, SuperSwipe, and Unlimited Filter. Its premium subscription is called Bumble Boost.
What is Bumble Spotlight?
Bumble Spotlight is a premium feature in Bumble that lets you "skip the line" and be the top profile in your neighborhood for 30 minutes. You can get a boost in your profile visibility and it is a great way to increase the number of matches you get.
It is very similar to Tinder Boost (actually an exact copy), so if you want to know how you can effectively use it read out guide on Tinder Boost.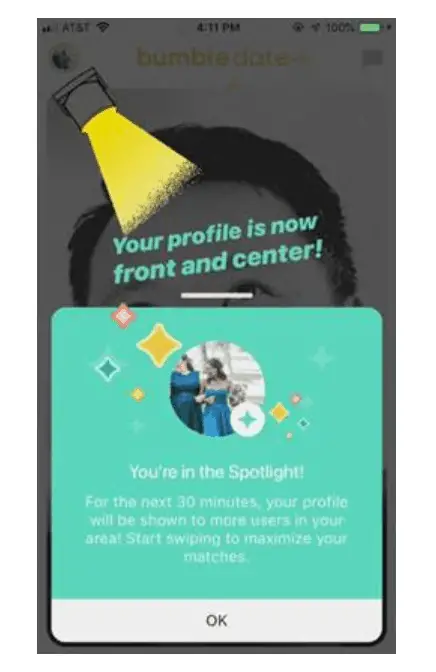 How much does Bumble Spotlight cost?
Bumble Spotlight costs two Bumble coins.
What is the difference between Tinder Boost and Bumble Boost?
They are totally different. Bumble Boost is Bumble's premium subscription that enables you to use specific premium features in Bumble. Tinder Boost is a premium feature in Tinder that lets you skip the line and be the top profile for 30 minutes gaining more profile visibility. Bumble also has this feature but it is called Spotlight.
What is Bumble Super Swipe?
Bumble SuperSwipe is a premium feature in Bumble. By Super Swiping someone you can indicate to her or him that you liked them before they would have swiped you right. Tinder has exactly the same feature called Super Like. It is a controversial topic whether it is worth using SuperSwipe or Superlikes. Some say you can get more matches with Super Swipe some suggest it is just a way to show neediness.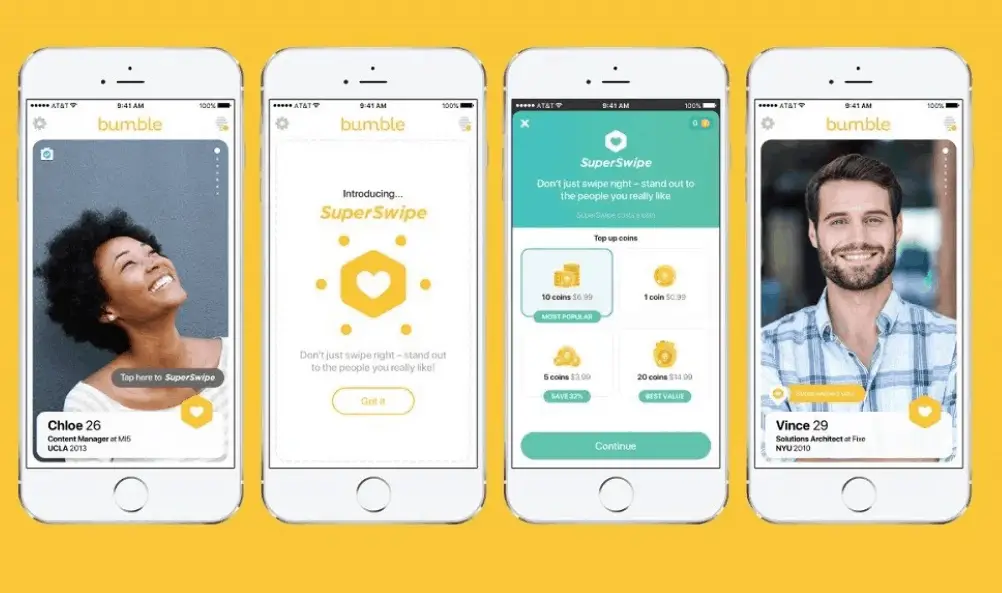 How You can Super Swipe someone?
Tap the yellow heart icon on the bottom right of their profile to Super Swipe them.
What does the yellow heart mean on Bumble?
It is SuperSwipe, Bumble's premium feature similar to Tinder's Super Like. By tapping it you can show a profile that you like them before he or she would swipe you right. Bumble claims you can increase your match chance by using Super Swipe.
Is Bumble Super Swipe free?
Unlike on Tinder where you get one SuperLike for free, on Bumble you have to pay for it. On Bumble you can pay for SuperSwipes with Bumble Coins. A bumble coin costs around 2 to 1 USD depending on how much you buy at once.
How much does Super Swipe cost?
One SuperSwipe costs one Bumble coin. You can purchase up to 20 bumble coins at once, and get a Bumble coin for 1.25 USD. This means that the cheapest SuperSwipe cost 1,25 USD.
What are Bumble Coins?
Bumble Coins is the in-app currency in Bumble that lets you purchase SuperSwipes and Spotlight.
How much do Bumble Coins cost?
1 Bumble Coin costs 1.99 USD. If you want more coins you can get a discount by purchasing more at once. Currently, 20 Bumble coins cost 24.99 USD.
What is Bumble Beeline?
Bumble Beeline lets you see who liked your profile before you swipe them. It is a premium feature that is only available to Bumble Boost subscribers. If you don't have Bumble Boost, you can still see that someone liked you, you just can't see his or her profile.
Bumble Beeline is a similar feature to Tinder's See Who Liked You that is only available in Tinder Gold, Tinder's premium higher-level subscription for a hefty price.
How Can I see my Bumble Beeline?
To see your Beeline, do the following:
Tap the chat bubble in the top right corner on the screen
Locate the green circle to the left of your Match Queue
Tap the green circle to view those who already swiped you right
Can I extend my matches over 24 hours on Bumble?
Yes, you can. However, if you but you have to have either Bumble Boost, the premium subscription of Bumble.
What is Bumble Filter?
Why can't I set more Bumble Filters?
If you can't set up a certain Bumble filter it might be for two reasons. Without Bumble Boost you can only apply two filters, so if you want more, you have to purchase a Bumble boost subscription. Another reason you might not be able to apply a filter is that you also have to answer the question in your profile if you want to apply that filter to others.
How to set up filters in Bumble?
First, go to your "Settings"
Choose the 'Set advanced filters" option
Go to "Add this filter"
Select the criteria you want to use
Bumble Boost FAQ
What is included in Bumble Boost?
Bumble Boost has four extra features that are not available in the free plan. Beeline, Rematch, Unlimited extends and Filters. On the free plan you also get one 24 hours extend per day and you can apply up to 2 filters in every Bumble mode. With Bumble Boost you can apply as many filters as you wish, and have unlimited Extends as well.
How much does Bumble Boost cost?
The price depends on how long you commit yourself to subscribe. For a week it costs 8.99 USD, but if you get if for a lifetime it is only 139.99 USD. Current options:
Weekly Subscription: 8.99 USD per week
Monthly Subscription: 24.99 USD per month
3-Month Subscription: 49.99 USD every 3 months
Lifetime Subscription: 139.99 USD (one-time payment)
Is Bumble Boost worth it?
It depends. For example, if you don't have time for swiping and you have nice pictures, you can just use Beeline and see profiles who already liked you. Bumble Unlimited Extend can be also useful.
The best advice we can give you is to try out for a week and month and see for yourself.
Can you get Bumble Boost for free?
There is no free trial for the Bumble boost currently. You can get is for 8.99 USD for a full week.
Bumble FAQ for dating success
How to get more matches on Bumble?
Bumble is no different than any other online dating apps that focus on looks rather than personality. The number one factor is having top-quality pictures. You can have terrible answers to profile questions Bumble ask, your conversational skill might suck, but if you have great photos, you will get plenty of matches.
So, if you are unhappy with your results on Bumble, take the time a review your photos, ask a friend from the opposite gender to give a humble opinion and take new photos. If you really want to succeed in online dating and Bumble, you can even pay a professional photographer to do great high-quality photos with a DLSR camera. We promise you, if you put a little effort into your pictures, your results will get much better.
How to get more women to message me on Bumble?
The best way is to place something in your profile that makes them curious or easier to them for sending the first message. If a lot of girls forget to message you in the 24 hour period, you can purchase Bumble Boost and extend your matches. If girls see that you extended the match they are more likely to write the first message in the next 24 hours.
What message to send first on Bumble as a girl?
If you are in a hurry, just say 'Hi' and then the guy can reply back with something more creative. But if you want to stand out, you can find some great examples on the internet, just google Bumble openers.
What is the difference between Bumble and Tinder?
Bumble's main thing that differentiates it from Tinder, that girls have to message first after you matched with each other. Bumble says that this way they give more power to women, hence the nickname, the feminist Tinder.
Is Bumble better than Tinder for girls?
On Bumble, only women can send the first message that made Bumble very popular among women.
It is also believed that Bumble is better for long term relationships and Tinder is more for short term. However, we believe that whatever your goal in both platforms you can be successful.
We have a full article comparing Bumble and Tinder that you can read here.
Is Bumble better than Tinder for guys?
It depends. On Bumble only women can send the first message. They have 24 hours to send the first message if they don't start the conversation the match disappears. Because of this feminist aspect, it is generally believed that the women-to-men ratio is higher on Bumble than on Tinder, which means that the competition is lower on Bumble, and it might be easier to get a match on Bumble.
Regardless of their differences, to succeed on Bumble or Tinder, you have to have great photos and have great conversation skills.
Bumble modes FAQ
Can you use Bumble for networking?
Yes, they have a separate mode for that, called Bumble Bizz. You can use it to find like-minded professionals and mentors.
Can you use Bumble for finding friends?
Yes, just enable the Friends mode Bumble BFF.
Can you use Bumble Date, Bumble BFF and Bumble Bizz at the same time?
Yes, you can use any of the three modes parallelly.
Safety and Security FAQ on Bumble
What is the blue checkmark on Bumble?
On Bumble the blue checkmark icon shows that the given profile is verified, which means her identity is verified, she doesn't use any fake photos to use Bumble. It is recommended to verify your profile as it will definitely help you getting you more matches. It gives more credibility to your profile and as not all people verified their profile you it gives a social proof boost.
How can you enable the blue checkmark on Bumble?
You can get the blue checkmark icon to your Bumble profile by verifying your Bumble account according to the following steps:
Open the app
Tap your user icon on the top of the screen
Go to "Edit your profile"
Click the blue button "Verify your account"
Bumble will ask you to take a selfie by mimicking a specific pose
After taking the selfie, hit "Submit'
Once your selfie is reviewed, you get the blue tick from Bumble
What is Bumble Private Detector and how does it work?
Bumble Private detector aims to identify sexually explicit pictures sent through the Bumble app. With its algorithm, it will tell you that the picture that has been sent might be offensive and you have the chance to delete it before viewing the picture. You will also be prompted with an option to block the profile who sent you the message.
Do you have any questions that we have not answered? Ask us in the comment section and we will personally answer the questions for you. Or do you think one of our answers is not 100% correct? Please tell us in the comment section and we will add your two cents into the FAQ.
It also helps us to extend this FAQ and be more useful for Bumble users to find information.