Are you new to Bumble and have no clue what the blue checkmark means on Bumble. Does it mean they are some famous person? Don't worry, we will explain in this article and also tell how you can get yourself this nice blue checkmark on Bumble!
What does the blue checkmark mean on Bumble?
The blue checkmark on Bumble means that the profile who you see has verified its Bumble profile, so you can be pretty sure that the person who you see on the profile pictures is the same one who is sending you the messages after you matched with each other.
Some people on Bumble call it blue tick but if we want to be most accurate, it is actually a white checkmark in a blue circle, as you can see on the picture below: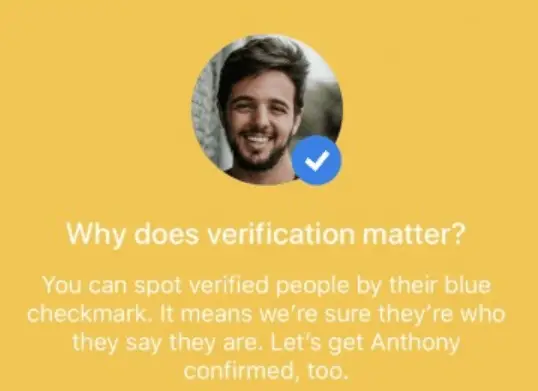 Should I get Bumble's blue checkmark?
Yes, absolutely. Although it is not as a new feature as it is on Tinder where you can get some social status by acquiring the blue checkmark it is still recommended to get the blue checkmark.
You can still signal some social status if a blue checkmark is on your profile, as on other social media platforms the checkmark can only be acquired if you are a celebrity or considered to be a little famous.
You can also signal with the Bumble blue tick that you are a safe choice, your potential match has nothing to worry about when you would meet up.
Both of these effects can contribute a little bit to increasing your chances of matching with someone. It is not a dealbreaker though, most people won't care when they are swiping if you have the blue checkmark on your Bumble profile or not. The bottom line is that it is better to get the blue checkmark than not.
How to get a blue checkmark on Bumble?
It is fairly easy to get the blue checkmark on Bumble. Do the following steps:
Go to your profile and tap on the "Verify Your Account" button
You will be shown a random selfie pose and you need to copy the gesture and take a similar selfie of yourself in that pose
Send the photo to Bumble's Support team
A team member at Bumble will review the photo
In a couple of minutes, you will get back an answer and most likely get your blue checkmark
What happens if I didn't get the blue checkmarks?
If you didn't get the blue checkmark on Bumble after the verification process, two things can happen. If your profile has been previously reported as a potential fake profile, then you are in trouble as Bumble will most likely ban your profile.
If you are not reported and don't use any fake pictures, you don't have to worry about anything. Just restart the process, retake the pictures and you will be good and be able to get the blue tick on your profile.
Can Bumble's blue checkmarks be hacked?
Yes, just because someone got a blue checkmark doesn't mean that you can be 100% sure that he or she is not a catfish, some kinds of other types of fake profile or a bot.
You can find numerous videos on how you can hack the verification process and still get the blue checkmark.
Also on Reddit, some people reported that they had matches and conversations with catfish accounts on Bumble despite the fact that they had the blue checkmark on their Bumble's profile.
So the blue ticks are great and can help you. However, you can identify fake profiles, bots and catfishing without the checkmark. We have a full tutorial on how you can detect these kinds of profiles. You can also check out this video that will help you in detecting fake profiles:
Bumble's Blue Checkmark Summary
To sum it up, you'd better be always cautious and not trust someone just because he has a blue checkmark on his profile.
We suggest using your own judgment and if someone is acting weirdly on Bumble, his or her pictures seem fake, the best strategy always is to ask a social account from him to continues the conversation there and if he is willing to give it to you, you can also check there if he is the same person he claims to be.
Frequently Asked Questions
Does the blue tick on Bumble mean that the profile is famous/a celebrity?
No, every user who is not using a fake profile or using some kind of bot account can get the blue checkmark on Bumble.
Can't get my blue checkmark on Bumble, why?
Most likely the selfie you were asked to take, weren't taken well so the review person at Bumble couldn't verify your profile. If you weren't reported as a fake profile, you don't have to worry, just restart the process and pay attention to taking the right selfies.
Is it free to get The blue checkmark on Bumble?
Yes, getting a blue checkmark is 100% free, you don't have to pay anything for it, no Bumble coins or Boost subscription is needed. All you have to do is go through the verification process Bumble requires you to do.