To swipe left or to swipe right on Bumble should be a pretty straightforward decision, right? Or maybe it is more nuanced than just swiping based on how hot you find someone. We will examine this fundamental question in our blog post.
We are also going to cover (if you happen to be a total Bumble newbie), what is swiping on Bumble, how does Bumble left and right swipe work exactly, what happens when you swipe up on Bumble, is there a swipe limit on Bumble and can you take your last swipe back, and many more.
What does swipe right mean on Bumble?
Bumble right swipe means that you find a Bumble profile attractive by moving (swiping) your finger right across the profile photo of a person on the touchscreen.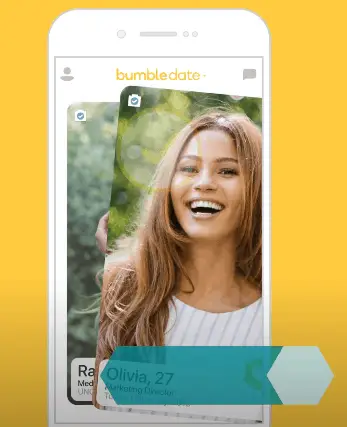 So if you really someone attractive someone on Bumble and think that you could have a nice conversation with her, you should swipe her right.
There is no separate icon for liking someone on Bumble (on Tinder you can also tap on the green heart icon to like someone), so your only option is to swipe right.
What happens when you swipe right on Bumble?
When you swipe right someone on Bumble, two things can happen.
If the other person had already swiped you right before your right swipe then right after the swiping you get an instant Bumble match and you can check out her profile once again in the Bumble match queue.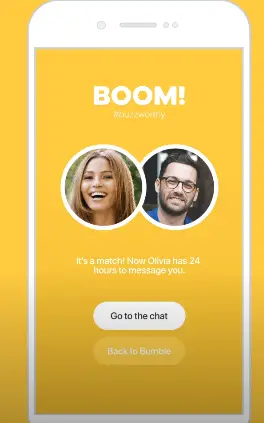 As Bumble is giving the power to women, if you are a man, you have to wait for the girl to message you first so that you can also message her. As a woman, you have 24 hours to send the first message, or your Bumble match will disappear.
What does swipe left mean on Bumble?
A Bumble Swipe left is the exact opposite of a right swipe, you move the profile picture of the Bumble profile you see on your screen left.
This means that you don't find her attractive, or even she has an attractive profile you wouldn't think that a meetup would be realistic.
What happens when you swipe left on Bumble?
In this case, even if she swiped you right, you are not going to match with each other.
This mechanism was first developed by Tinder and it was so brilliant that almost every new dating app since then – so Bumble too – have copied this basic feature.
In this way you are never going to know if someone swiped you left on Bumble, a.k.a rejected you by your physical look. You are only going to find out who found your Bumble profile attractive and swiped you right.
Swipe Left or Right on Bumble?
As we mentioned at the beginning of this article, swiping right or left on Bumble should not be based on whether you find a certain profile attractive or not.
Ans we don't even talk about auto-liking everyone on Bumble. You might think it's a great strategy that saves you time, but it is the opposite. Bumble algorithm can detect this kind of behavior, flag your Bumble account and penalize your behavior by shadowbanning you or decreasing the impressions your profile gets to a minimal level.
However, even right swiping almost every Bumble profile can be detrimental for you. We would suggest being as selective as you can with your right swipes as this behavior seems to be rewarded by the Bumble algorithm and you will be shown to way more people.
You can be selective by only swiping right on Bumble profiles that you not only find hot or good-looking but you also think that there is a chance that you would meet up with them.
Swiped someone left on Bumble, saw that profile for the second time
Even if you swiped someone left on Bumble, after a certain period of time if you live in a not so crowded neighborhood, Bumble might show her profile again.
From a practical perspective, this means that you should always try to improve your profile by uploading new pictures. So when your profile shows up in a person swiping deck who swiped you left the first time, she might swipe you right as she likes your new photo better.
Bumble Swipe Up
A big difference between Tinder and Bumble is that when you swipe up on Tinder you are not going to Super Swipe a profile. On Bumble, you can swipe up to check out other pictures and bio information of the profile you can see on your screen.
You cannot use a swipe up to SuperSwipe someone, Superswipe only works if you tap on the yellow heart on the bottom left corner of the screen. (We have a separate article where we go deep everything Bumble SuperSwipe related, so go check it out if you want to know more about SuperSwipes.)
Bumble Swipe Limit
For a long time, Bumble did not have a swipe limit, as this way they could differentiate themselves from Tinder where a Swipe Limit has been introduced for a long time.
However, as Bumble has become a more popular and crowded platform as well, they had to start to monetize their app also by introducing a Swipe Limit.
Bumble right swipe limit
This limit only applies to the number of right swipes you can do in a 24 hour period. And only when you are using Bumble for free, as if you subscribe to a Bumble Boost package, you get unlimited right swipes as a premium feature (You also get access to other premium features such as Bumble Rematch, Extend and Unlimited Filters).
However, if you are not a Boost subscriber, you will be limited in the number of right swipes you can have in a 24 hour period. There is no official information from Bumble what the exact right swipe limit is, but it is estimated to between 100-200 swipes in a 24 hour period.
If you hit the swipe limit, you will see the following screen that says "You've hit the end of the line – for today"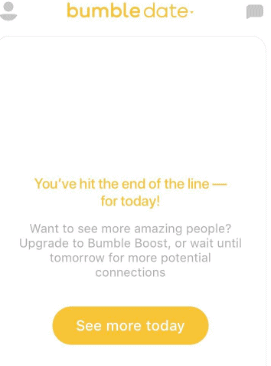 Unfortunately, in this case, you have to wait 24 hours to be able to swipe again or buy Bumble Boost, so that you get unlimited swiping.
Bumble Left Swipe Limit
Whereas the number of right swipes are limited on Bumble when you are not premium subscriber, we believe that you can swipe left as many profiles as you want on Bumble. (Bumble has no information on this, so this is just a speculation based on personal experience.)
Taking back a Bumble Swipe
When you accidentally swiped to the opposite direction you wanted to swipe, you don't have to panic, Bumble has a feature that will help you go back on your swipe, called Bumble Backtrack.
Go Back a Bumble Right Swipe
However, you don't have the opportunity to take back a Bumble right swipe or a SuperSwipe.
In both of these cases, you can only unmatch the profile when you match with her or him. Or you can also just not send the first message and the match will disappear after 24 hours automatically.
We could imagine that they might extend this feature so that you can also take back a right swipe as well but then they might make Backtrack a paid feature.
Taking back a Bumble Left Swipe
Bumble Backtrack only works if you accidentally swiped someone left on Bumble.
In exchange, every Bumble user – whether she has a Boost subscription/Bumble coins or not – gets three Bumble Backtracks for free.
If you want to more about how to take back a Bumble left swipe, you can read our in-depth article about Bumble Backtrack here.
See profile who swiped you right
One more feature that is worth mentioning related to swiping is a premium feature called  Bumble Beeline that allows you to see all the profiles who swiped you right on Bumble but you haven't swiped them yet.
You need to pay Bumble Boost to be able to use this feature, otherwise, you won't see these profiles in your match queue, only the first one and even her profile picture will be blurred out .
If you have Beeline you can also go through this list of profiles and right swipe or left swipe them before they would show up in your swiping deck.
Frequently Asked Questions
Do guys know when you swipe right on Bumble?
It depends. If they have access to Bumble Beeline then they will see your profile in their Beeline immediately after you liked their profiles. However, if they don't have a Bumble Boost subscription, they won't. And of course, when they swipe you right, they will find out that you also swiped them right.
Can I see who I swiped right on Bumble?
No, there is no feature or dedicated screen that shows you who you swiped right on Bumble. Of course, you will be able to see them in your Bumble match queue if they also swipe you right and you get a match.
I swiped right on Bumble but nothing happened, why?
Well, this is very common especially, if you are a guy. When you swipe right a profile you only get a match when she has also swiped you right already. When she didn't swipe you yet or swiped you left on Bumble, you will see the next profile on your screen after the swiping.
What is the swipe limit on Bumble?
On Bumble, the number of left swipes are unlimited, so you can swipe left as many times in a time period as you want. In terms of right swipes, your number of right swipes are limited if you only have a free Bumble account.
Will Bumble show you someone who you already swiped left?
Yes, it is possible, especially if you live in a small neighborhood that after a certain period time you will see someone's profile again who you swiped left previously. This is also true if your match disappeared as she or he didn't make the first move.