In this article we will share everything you need to know about Tinder U, Tinder's brand new and exclusive feature for university students. We will go over everything Tinder U related: how it works, how to enroll in it and how to succeed on it. At the end of this blog post, you can find a comprehensive FAQ on Tinder U.
What is Tinder U?
Tinder U is the Tinder's exclusive feature for college students. (The name obviously comes the from the abbreviation of Tinder University). If you are a university student, you will be able to find your classroom crushes more easily, as people from the same university will skip the line for you and you will see them first when you are swiping.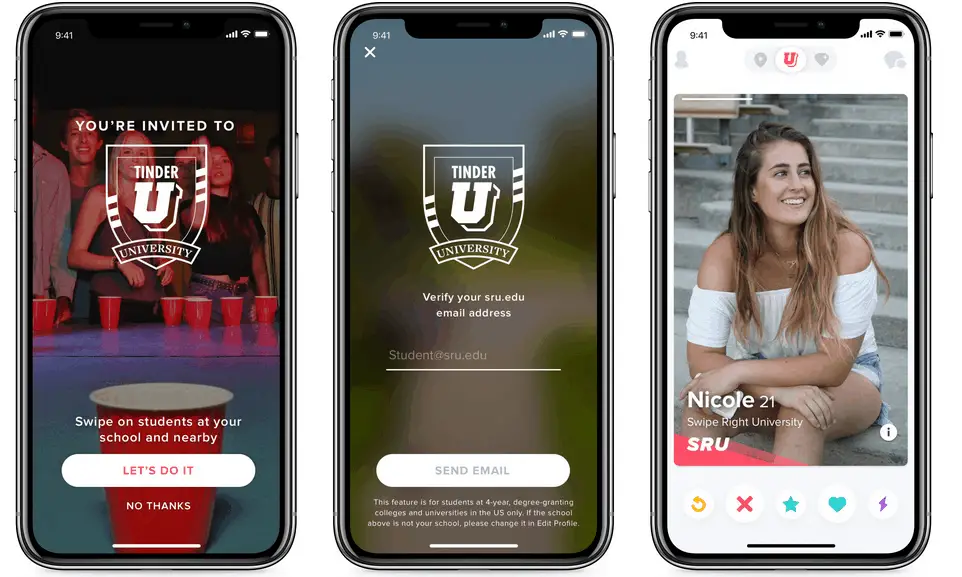 University and college students have always been one of the major target groups of Tinder. From now on, Tinder will make it even more simple for students to find each other. Tinder is not only targeting people who want to date fellow students but also aims to help students in finding new study buddies or friends on the campus. It is a great way for them to increase the user base in one of the most valuable commercial demographics in the US.
Tinder U is not limited exclusively to your own school, as you also have the opportunity to swipe on students from neighboring universities and colleges.
How does Tinder U work?
If you are eligible to use Tinder U, all you need is to be located on the campus and to have a .edu email address, as these two requirements make it easy for Tinder to identify you as a student of that college. This verification process guarantees that only students are able to use Tinder U that makes it especially valuable for the students to use Tinder.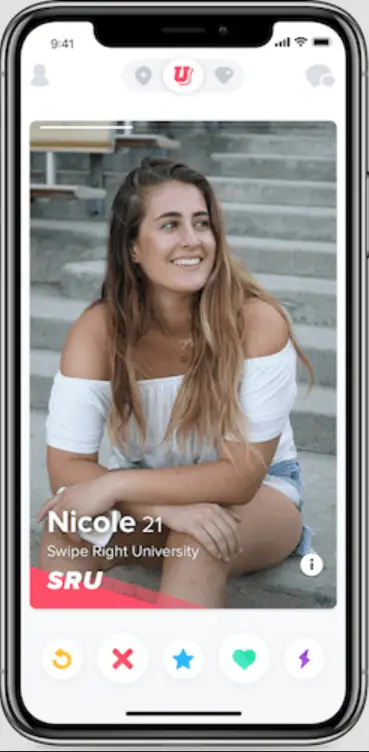 Once you sign up for Tinder U (see instructions below), it is on! Students of your university or people from neighboring colleges will "skip the line" and be the first ones in your swiping deck.
How to sign up for Tinder U?
Here is how to enroll for Tinder U step by step:
If you are on the campus right, get your phone and log in to Tinder
As you are on the campus, you will see an invitation to join Tinder U
Tap on "Let's Do It."
You have to add you .edu email
You will get an email to your .edu email account, open it
In the email tap the "Verify" button
Relaunch the app and there you go, from now on when you are on campus, you can use Tinder U!
Where is Tinder U available?
Currently, Tinder U is only available in the United States for students at accredited, non-profit colleges and universities that provide face-to-face education.
How to succeed on Tinder U?
Tinder U is not different from regular Tinder. You need to master the same things as with regular Tinder to crush it: put up great pictures, have a short bio and message in a light, fun way to get as many dates as you want.
The only difference might be that you might have some common friends, courses and teachers, so you might have an easier way to find topics to start conversations. Although we don't suggest you to have a long conversation on the app as you will get friend zoned easily.
Special promotions exclusively for Tinder U
Tinder is trying to promote Tinder U with special promotions that make it even more useful for students to join Tinder U. To be successful on Tinder U, we recommend joining these special promotions as they will give you a better chance of matching.
For example, they introduced Spring Break Mode as a limited time feature in March where Tinder U users were able to show where they will be during the spring break vacation.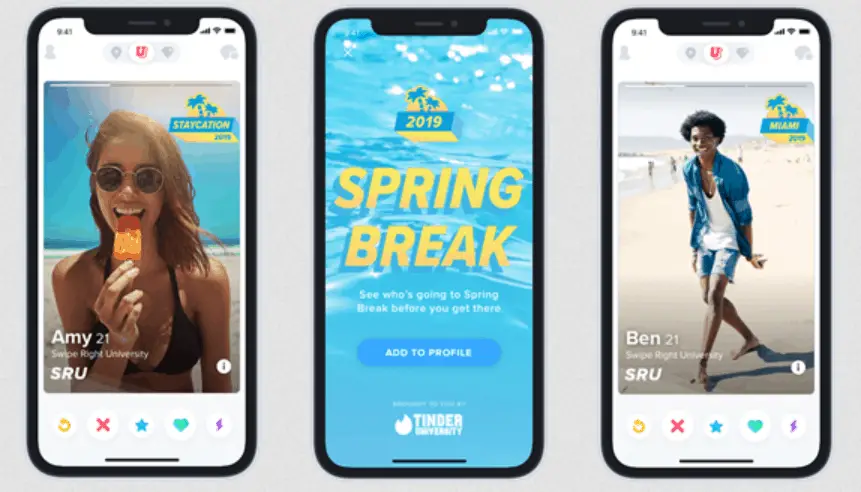 They also held a #SwipeOff contest where the university with the highest number of right swipes won a free Cardi B concert.
Is tinder U still a thing?
Definitely, if you are college students from the US, it is definitely worth signing up for Tinder U. It not only helps you match with fellow students but also gives you a boost to your profile which is similar to using Tinder Boost. It will "skip the line" for you for other Tinder U users and give you a higher profile visibility. And it is doing it for absolutely free! This is especially useful when a lot of male users on Tinder are experiencing decreasing match numbers.
And that is all. Everything you need to know about Tinder U. If you have any questions we have not answered in the blog post, ask us in the comment section.
Are you in a US college? Then definitely take advantage of this feature as it makes it a lot easier to find attractive people around the campus. Have you ever used it? Did you like the experience? Let us know in the comment section below.
Tinder U Frequently asked questions
✅ Is There A Tinder U Age Restriction?
There isn't any age restriction for Tinder U. Tinder can only be used over the age of 18, but 99% of the university students are over 18 years old.
✅Is Tinder U Available Outside Of The US?
No, currently Tinder U is only available in the United States.
✅What Is The Difference Between Tinder U And Regular Tinder?
There isn't a lot of differences. If you can enroll in Tinder U, you will see a badge with a College/University logo on profiles, indicating which college the person goes to. Other Tinder U users will also skip the line for you, so you will have a better chance of matching with fellow students if you are on Tinder U.
✅I Can't Access Tinder U? Why Is That?
First, Tinder U is only available in the United States currently. If you are from the US and attend an eligible college, then check whether you don't have any typo in your .edu email address. If you don't, contact Tinder Support and they will help you out.
✅Why Isn't Tinder U Showing Up?
If you already enrolled in Tinder U, and it doesn't show up, the reason might be that you are not on campus. Tinder U can be only used if you are physically located on the campus.