Tinder has just launched a new feature that will help online daters during the difficult times of the COVID-19 pandemic. Based on the request of many users, Tinder has released a beta version of its in-app video chat feature, Tinder Face to Face.
In this article, we are going to cover everything that is currently known about Face to Face Video such as how it works and how to use it. We are also going to share some advice on how you can master the art of Tinder video dates that will lead to real-life physical dates.
What is Tinder Face to Face Video Chat?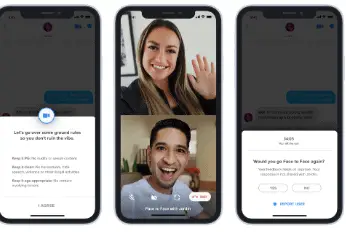 Tinder Face to Face is an in-app video chat feature of Tinder that lets you video call and chat with your Tinder matches without leaving Tinder. 
It is an absolutely free way to video chat your match during the quarantine times or to first video chat with someone who you like but you don't feel yet comfortable to go on a real-life physical date. You don't need to be a Tinder premium subscriber to be able to use the app, but the beta feature is currently only available in select countries.
Tinder Face to Face provides a great opportunity to video chat with potential dates without the need to share your social media accounts or your personal phone number.  So if you are afraid to share your phone number to someone who might turn out to be a total creep and might harass you later online you can just use Tinder Face to Face to get to know someone a little better.
How does Tinder Face To Face Video work?

According to Tinder's official PR team, Tinder Face to Face was built by prioritizing the comfort and safety of the users. (Tinder has been focusing heavily on safety recently, hence the multiple new features released to make Tinder safer).
This means that both profiles have to first agree that the other person can use the video call feature.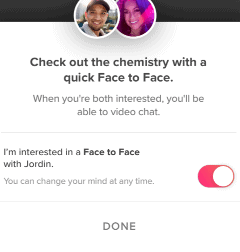 If this happens, a camera icon will appear next to the reporting blue shield and you can tap on it so that a video chat call can be started.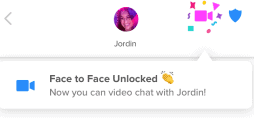 You also have to basically accept the rules of Tinder Face to Face video calls, that are the following:
Keep it family-friendly – No nude or lewd images

Don't be offensive with your match (hate speech, bullying, etv.)

No minors in the video
After the Tinder Face To Face video call has ended, you can also answer to the question: Would you go Face To Face with the person again'. Your answer is not shared with your match.
If anything was inappropriate or something that made you uncomfortable happened during the video call, you can also right away report the person on Tinder: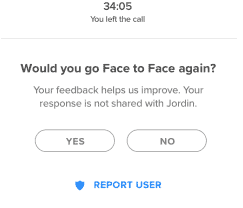 How to Use Tinder Face to Face Video Chat feature?
To start a video call just tap on the camera icon on the top of the conversation screen.

As we previously mentioned, both you and your match first have to enable Face to Face Video Chat to be able to call each other.
During the call, you can switch off the camera if you want or you can also switch off the sound if that is necessary for some reason.
What to do during a Tinder video date?
Tinder Video dates are a great way to build more comfort if you just start to get to know each other with your Tinder match, but the main goal should be to meet in real life, so you should keep this goal in mind when you are video chatting with someone on Tinder.
If you are a guy the main goal you should have is to establish comfort with the girl and also definitely ask her out at the end of the Face to Face video call for a real-life date. In a video chat, it's more likely that the girl will comply with your request as she has to say something and most people are really bad at saying "no" to requests.
If you are a girl, video calls are a great way to verify that the guy is really who he is claiming to be. You can also find out by video chatting with someone on Tinder, if he is not a creep, if things don't work out he won't harras you, so you are okay to go with a date with him.
Tinder Video dates during COVID lockdown isolations
An exception is when both of you are still under the lockdowns and it is basically impossible to meet each other in real life. In this case, it is a good idea to not just chat on the video date but also do something together. 
Even if you are not physically close to each other, you can do something that is still very close to a real-life date. Here are some of our favorite ideas:
Watch a Netflix movie. You can easily watch a Netflix movie or series if both of you have a subscription

Watch a sports game. If both of you are Sports fan, it might be even better as a movie as it can create a connection fast

Play video games together

Go to a virtual museum tour.
Tips for Tinder Video Dates
If you need additional tips, here is a great video where this dating and relationship coach shares some tips on how you can crush a video dates on Tinder or on any other dating platform:
Frequently Asked Questions – Tinder Video Dates
Is Tinder Face to Face Video Chat free?
Yes, Tinder Face to Face Video chat feature is absolutely free feature, you don't have to be a Tinder Plus or a Tinder Gold subscriber to be able start and receieve video calls via Tinder platform.
I can't see where I can start a video chat call on Tinder, why?
You most likely live in a country where Tinder has not yet launched its new Face to Face video chat feature yet.
Where is Tinder Face to Face available?
Tinder has released only a beta feature yet to select markets which include some US states (Virginia, Illinois, Georgia and Colorado), Brazil, Australia, Spain, Italy, France, Vietnam, Indonesia, Korea, Taiwan, Thailand, Peru and Chile.