Tinder is one of the most popular online dating platforms with tens of millions of users which also means that there are a lot of crazy people, creeps, impersonators, fake profiles and bots that can ruin your experience of using Tinder. Therefore, it is a valid question of how you can report a profile on Tinder.
Fortunately, Tinder is offering multiple solutions for reporting and blocking these profiles and accounts. We will showcase every one of these methods in this blog post. As your profiles being reported too many times can lead to your Tinder account getting banned, we will also give you some tips on how you can avoid getting reported on Tinder.
How to report someone on Tinder?
There are multiple ways to report someone or something that happened with you on Tinder or outside of Tinder with a person you met through the dating app.
Once you report someone, they will be also deleted from your match list and you will be deleted from their match list and all your messages will be deleted.
You can also just unmatch someone where you can also provide a reason for unmatching. However, if you report a profile, it is more likely that his or her profile will be reviewed, so if you find the messages really offensive and dangerous to other people as well, you should report a profile.
Report something that happens on Tinder
Most of the time you will see or experience something that happened in the app that needs to be reported. You can report profiles while being in swiping mode or when you have already matched with them.
Report Tinder profiles while swiping
When you see a profile during swiping that you want to report, you can report him or here in the following way:
Open the profile by tapping on the "i" icon

Scroll to the bottom of the profile

Tap on Report "Name"

You will be asked to add Reasons for the report.
During swiping, you can report someone for:
Inappropriate photos

Feels like spam

The profile is a minor

Other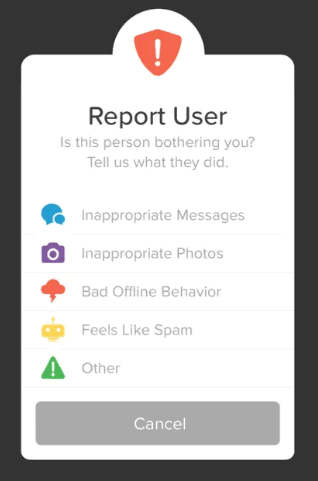 Report profiles from your match list
You can also report someone if you experienced something negative after you matched with each other This usually happens if he sends you a message that you find offensive, like nude pics, or a malicious link he shared, etc. In this case, you can report him by doing the following:
Tap on the user profile you would like to report

This opens the message screen where in the upper right corner of the app, tap on the

ellipses icon (Android) or the flag icon (Apple) 

Choose Report

You will be asked to give a reason for reporting.
Besides the reason we have mentioned above, here you can also add Inappropriate Messages or Bad Offline Behavior as the reasons for reporting.
Here is a video that explains quickly how to report someone on Tinder if you need video instructions:
Report something that happened outside of Tinder
As hopefully you know, the main goal of being on Tinder and on any other dating platform is to meet up with new people. However, this also means that negative experience that has to be reported can also happen outside of Tinder, for example on dates.
In this case, you can report a profile in the method we described above, and then you can choose the reason for reporting as "Bad Offline Behavior".
Another more effective method might be to contact Tinder directly, which you can do by submitting a request via this link. Choose safety or privacy concerns as the reason for the contact request.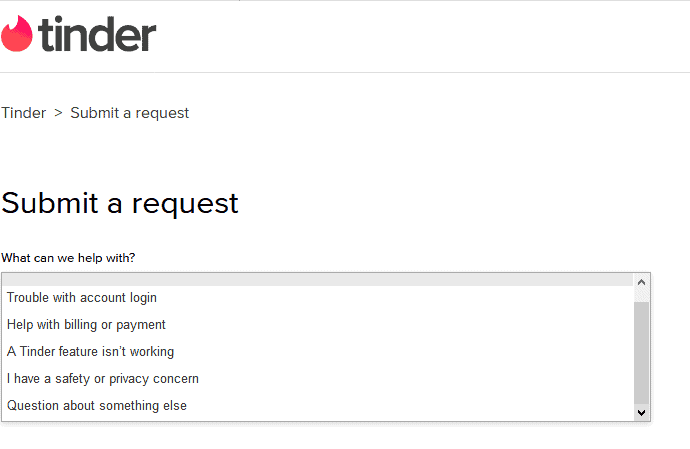 Tinder is advising you to add as many details about the incident as you can so they can investigate the issue in a better and faster way and can block and ban the profile if your claims turn out to be true.
If you have safety concerns regarding a Tinder date, you should also download the Noonlight app, that integrates with Tinder and helps you with contacting local authorities by using a Panic button if you feel threatened on a date.
Tinder Impersonation – How to report?
If you find out that someone is catfishing or impersonating you on Tinder, you can report that by contacting Tinder here.
In the request form, choose safety or privacy concerns as the type of request you would like to make. On the next screen, provide as much proof of the impersonation as you can so Tinder can investigate and ban the profile who is impersonating you faster.
The best case for a quick process is when you can provide the following information:
The name, age, bio, and photos that appear on the profile that you are reporting (with screenshots)

The user's location, and contact information
How to avoid getting reported on Tinder?
We have already a comprehensive post on how you can avoid getting reported and then banned on Tinder. 
However, to summarize the main points you should read Tinder's Community Guidelines and try to use Tinder in accordance with them.
Some of the most frequent community guideline violations that you should avoid:
Sending nude or any inappropriate pictures

Messaging in a way that someone would consider harassment. You should be direct and try to be engaging in the conversation but if someone stops responding to your messages it should be quite a clear sign

Promoting or soliciting something. You can't place any ads or links to your bio obviously. You can advertise on Tinder, but making a profile with promotional messages in the way to go. If you are interested in that, read our post here.

Prostitution or anything that is related to asking for money on Tinder

Scamming people, fake profiles, impersonation, hate speech. But these should be quite obvious that  these behaviors will definitely lead to getting reported.
You will get notified if you are reported so that you can stop the behavior that most likely get you reported. Tinder will send you a notification similar to this: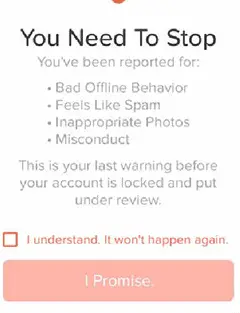 Report a technical issue
If you have a technical issue or bug that you experienced you can also report that or contact Tinder Support Team. In this blog post, you can find how you can do that.
Frequently Asked Questions

✅How to report Tinder catfish/impersonation?
If you find out that someone is impersonating you, you can contact Tinder via their contact form. You can add as many proof of the impersonation as you can, so Tinder can shut down the account. (profile and contact information, screenshots)
✅How to report nude pictures on Tinder?
If someone sent you nude or other inappropriate pictures on Tinder, you can report him or her by opening his profile, you will get to the message screen. Here in the upper right corner of the app, tap on the ellipses icon and choose Report.
✅How to report offensive messages on Tinder?
If Someone Sent You An Offensive Message Than You Can Report That User By Opening The Chat With The Person You Would Like To Report, Tap On The Ellipses Icon (Android) Or The Flag Icon (iPhones) Then Tap On "Report" And Select "Inappropriate Messages" As The Reason For Reporting