Tinder has introduced Tinder Platinum as a new type of premium Tinder subscription in 2020.
In this blog post, we are going to explain the most important things you have to know about Tinder Platinum subscription, so we are going to cover:
what is Tinder Platinum
Tinder Platinum features
Tinder Platinum pricing
Tinder Platinum Review
Is Tinder Platinum worth it
What is Tinder Platinum?
Tinder Platinum is the most premium subscription tier on Tinder, and also the most expensive one. It includes all the features of Tinder Plus and Tinder Gold and three additional exclusive features: Message before Matching, Prioritized Likes and See Likes Sent.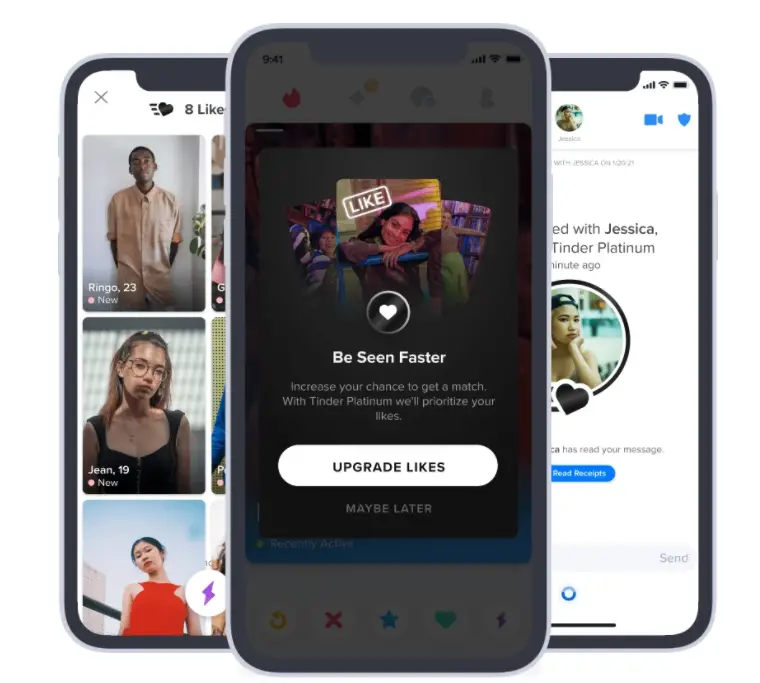 So besides these exclusive features, you will also get every Tinder Gold feature:
So if you are wondering if you should buy Tinder Gold or Tinder Platinum, you should decide based on how valuable the extra three exclusive Tinder Platinum features are.
Tinder Platinum features
Tinder Platinum currently has three features that Tinder Gold doesn't have:
See the Likes you've sent in the last 7 days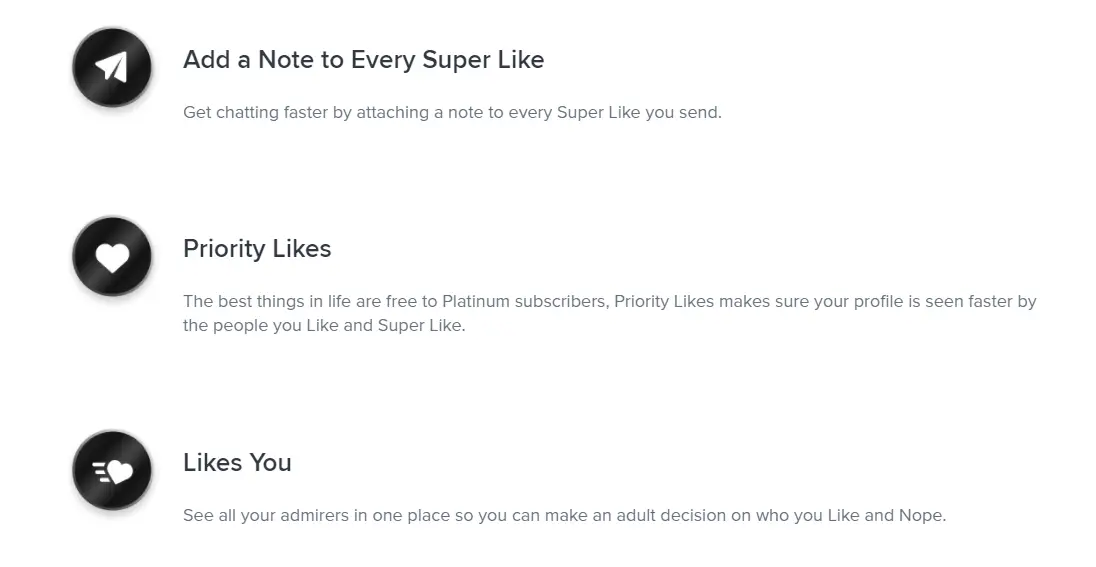 We have a separate tutorial on each of these Tinder features, but let's see the gist of what they enable you to do.
Message before matching
Tinder Super Likes used to have almost no value, this changed with this new Platinum feature. If you super like someone and have Tinder Platinum subscription, you can also send a note with the Super Like.
This basically means that you can send a Tinder opener without matching with someone. To learn more about how to take advantage of this feature, read our tutorial on the 'Message before matching' feature:
Priority Likes
The second Tinder platinum feature is the prioritized likes feature that might be the most valuable Tinder premium feature ever. With it, your Tinder profile is way more likely to show up for people who you swiped right.
This is a partial solution to the biggest issue with Tinder right now that your profile is rarely shown to potential matches even if you are not shadowbanned. The reason for this is that the platform is too crowded especially for guys and if you don't have a good Tinder ELO number, most likely your profile never gets shown to even those girls you swiped right.
With Tinder Platinum's Priority Likes your profile will at least have the chance to match with people who you are more interested in.
Likes sent
Last but not least, Tinder Platinum subscribers are also able to see all the right swipes they have made in the last seven days.
This Platinum feature complements the Message before match feature. As with this feature, if a person doesn't like you back, you can still see her profile and super like her and send a message to her which will definitely maximize the chance that she sees your profile.
Tinder Platinum pricing
As we said, Tinder Platinum is the highest subscription tier among the Tinder premium subscriptions.
As it is well known, Tinder Platinum pricing is based on your gender, age, location, one-time sale price, etc, so you might see different prices when you upgrade.
However, in the US people can expect to pay 39.99 USD for 1 month of Tinder Platinum. You will get better Platinum prices if you pay for 6 or 12 months in advance.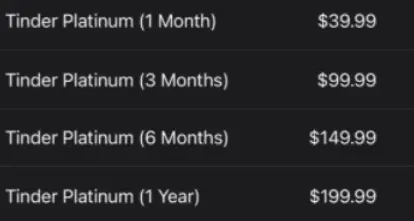 This might seem to be very expensive but Tinder Gold for the same demographics costs around 29.99 USD for 1 month. For 10 bucks extra, you get three extra features that actually can move the needle for you and get you more Tinder matches.
Tinder Platinum review
When Tinder introduced Tinder Gold, it was most useful for busy girls who were most interested in getting a lot of Tinder matches without swiping through a bunch of profiles.
Tinder Gold's Likes You feature is only effective if you are getting a ton of right swipes and want to just pick those who you are interested in.
We believe that Tinder Platinum has been introduced mostly for guys who are not happy with the number of matches they get and feel that the Tinder algorithm doesn't favor their profiles.
When you purchase Tinder Platinum, you will definitely get more Tinder matches so if you were already paying for Tinder Plus or Gold subscription this upgrade seems to be reasonable.
Although, you could argue that Tinder Platinum is only valuable if just a tiny amount of people upgrade to it. Once a lot of people start paying for it, its most valuable feature, the Priority Likes will be less valuable.
Is Tinder Platinum worth it?
If you are thinking about buying a Tinder premium subscription, so you have the extra money to purchase a subscription, Tinder Premium is definitely the best option you can choose.
Although it is the most expensive subscription tier, the features you exclusively get with Tinder Platinum are worth the extra price you pay for it.
However, keep in mind that you can still get many matches and be successful on Tinder without buying any paid features or subscriptions. If you focus on the fundamentals of online dating, you will be able to get many matches without paying anything using Tinder for free.