One of the three exclusive Tinder Platinum features is the Message Before Matching feature. Using this premium Tinder feature, you will be able to message people on Tinder without matching with them.
Let's see how it works and how to use it effectively.
Message Before Matching Tinder Feature Explained
If you purchase a Tinder Platinum subscription, you will get three exclusive premium features:
Likes Sent
Message before matching
Before the Message Before Matching  Tinder feature was developed, one of the basic rules of Tinder was that you can only message people who you matched with. With this Platinum feature, you can get out of this rule and send one message before matching with someone.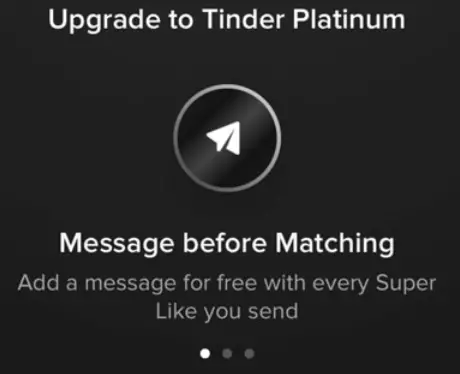 But you can send this first message without matching only if you Super Like the potential match. And Super Likes have also become more exclusive.
Even free Tinder users used to get one Super Like per day for free. Now, only Tinder Gold and Platinum subscribers get free Super Likes and only 5 a week. Of course, you can always buy more Super Likes if you find this feature useful.
So when you Super Like someone, you can also send a message that is not longer than 140 characters.
Message Before Matching Feature Pricing
Currently, there is no way to purchase this feature separately, you only get access to the Message before matching feature if you buy a Tinder Platinum subscription.
The price of Tinder Platinum will change based on your age, gender, and geographic location, although based on our experience it is not so much more expensive than a Tinder Gold subscription.
You can only check the price of Tinder Platinum if you have already purchased Tinder Gold or Tinder Plus.
How To Use This Tinder Feature Effectively?
Since you get only less than 1 Super Like a day for free if you don't buy extra, you should use the Tinder message feature wisely and send the Super Like with the opening message if you believe it can move the needle for you.
We would recommend using it when you think you have something in common with the potential Tinder match, so even if she or he wouldn't find you that attractive, because of the message she swipes you right.
So definitely don't send just the usual boring, 'hi', 'How are you doing' type of Tinder opener and try to be more creative if you want to grab the attention of your potential match and want her to swipe you right.
Is It Worth Upgrading For Platinum To Get Message Before Matching Feature?
When Tinder Gold came out, the Gold features were mostly developed for busy girls who were bored with swiping and wanted to just go through their like list.
Tinder Platinum is definitely for guys on Tinder who are not happy with their match number.
Message before matching is one of the features that might help you get more matches and make Tinder Platinum a worthy investment.
So we would definitely say it might be worth trying out for a month and based on your experience, you can decide if it is worth the higher subscription fee.
FAQ  – Message Before Matching Feature
How to message on Tinder without being matched?
You can only message someone on Tinder without matching with them if you have a Tinder Platinum subscription and also Super Like someone. In this case, you can send them a 140
Can you buy Tinder's Message before Matching Feature?
You only can access this feature if you purchase a Tinder Platinum subscription, you cannot purchase it separately.
Can you send more than 1 message before matching with someone on Tinder?
No, you can only send one message before matching with someone on Tinder. And only if you have Tinder Platinum Subscription and you Super Like that person as well.