As Tinder introduced Tinder Platinum, you might be wondering if you should buy Tinder Platinum or Tinder Gold. Before you would decide, read this blog post, where we explain the differences between Tinder Gold and Tinder Platinum such as:
Tinder Platinum vs Gold features
Tinder Platinum vs Gold Pricing
Which should you buy
Premium features – Tinder Platinum vs Tinder Gold vs Tinder Plus
When you are wondering if you should buy Tinder Gold or Tinder Platinum, you should mostly consider the value of premium features you will access to.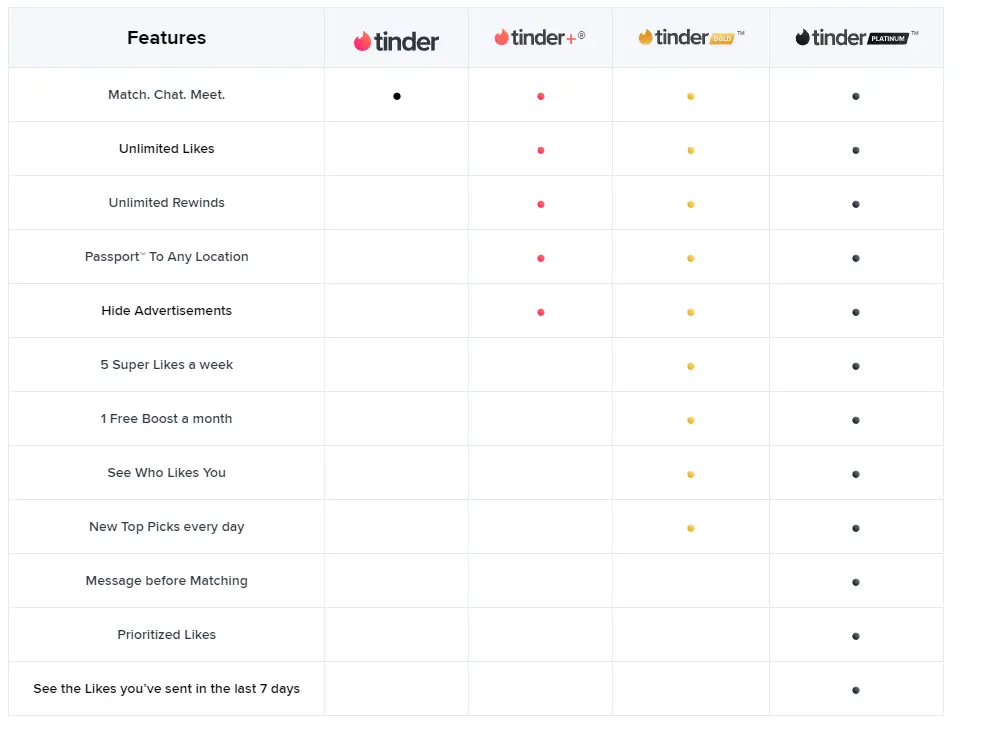 There is a difference in pricing as we will see in the next chapter but it is not that big of a difference.
If you buy Tinder Platinum, you will get all the premium features that Tinder Gold has. These are the following features:
You can swipe right as many times as you want, there is no limit in the number of likes you can have on a day. (This one is also available for Tinder Plus subscribers.)
You can also take back your previous swipe with both Tinder Gold and Platinum. (also available for Tinder Plus as well)
You can change your location to any part of the world you want. (available for all Tinder premium subscriber)
Swipe without seeing any annoying ads on Tinder. (last feature that is available for Tinder Plus subscribers as well.)
Super Likes used to be an almost useless feature but with its recent upgrade, it became quite useful if you have Tinder Platinum. If you only have Gold, it remained the same.
Tinder Boost will 10X your profile view in a 30 minutes period. This will also at least 10X the number of matches. Tinder Plus subscribers also had this premium feature but not anymore.
This change actually makes boost more valuable as if fewer people use it, it should be more effective for Gold and Platinum subscribers.
Most useful for the lazy but very attractive Tinder users with high ELO. If you are not a big fan of swiping all day and just want to pick the ones who you like and already swiped you right, this Gold feature is for you.
Also mostly developed for users who are not the biggest fan of swiping, and just want to go through a list of users who have a high Tinder ELO score. (Tinder denies using the ELO calculation, but they must be using a similar algorithm to select the "top users')
Exclusive features of Tinder Platinum
The premium Tinder features we have gone through above are both available for Gold and Platinum subscribers.
There are three features however that you can use only if you upgraded to the highest tier Tinder subscription, Tinder Platinum. Let's go over them one by one:
When you have a Tinder Platinum subscription, you can send a note with your Tinder Super Likes. So you can basically send a Tinder opener without matching with someone.
This feature can be very valuable if you are good at crafting conversation starters.
Definitely the most valuable Tinder Platinum feature that might make Platinum a worthwhile upgrade.
With Tinder Priority Likes you will get to skip the row, and the people you liked or super liked will see your profile sooner compared to people who only have Gold, Plus or no subscription.
You can also see a list of Tinder users who you liked in the last seven days. This gives you the opportunity to super like people who didn't like you back.
Tinder Platinum vs Tinder Gold Pricing
In terms of pricing, there isn't a huge difference between Tinder Gold and Tinder Platinum pricing.
We can't specify the exact difference as Tinder changes up the pricing constantly and you will also different prices based on your gender, age and geographic location.
However, based on experience if you can buy Tinder platinum for 39.99 per month, you will be able buy Tinder Gold for 29.99 USD per month. So you can expect a 10 USD difference, but this can be also smaller is you buy the Tinder premium subscription for 3 or 6 months.
Should you buy Tinder Platinum or Gold?
I think it should be a very easy decision to make if you should buy Tinder Gold or Platinum.
As the price difference is not huge, you should have a look at the features of Tinder Platinum and decide if these extra features make sense for you. If you see any value in them, I think Tinder Platinum is worth the try even for a month.
After one month, you can see if the Platinum upgrade was worth it or not. If you experienced getting way more quality matches then it is worth keeping your subscription.