When Tinder doesn't display your correct age on your profile it can be annoying for two reasons. First, you always have to have it on your bio that you are actually not 89 years old and have your real age there.
The second one is the bigger problem, that 99% of people tend to have age filters applied, so because of this wrong age issue, your profile will never show up for most people if your age displayed on your profile is over 30 or 40 years old.
But don't worry, in this blog post, we will show you how you can change your age on Tinder. We will also cover how to change your preferred age range and how you can hide your age on your Tinder account.
How to change your age on Tinder?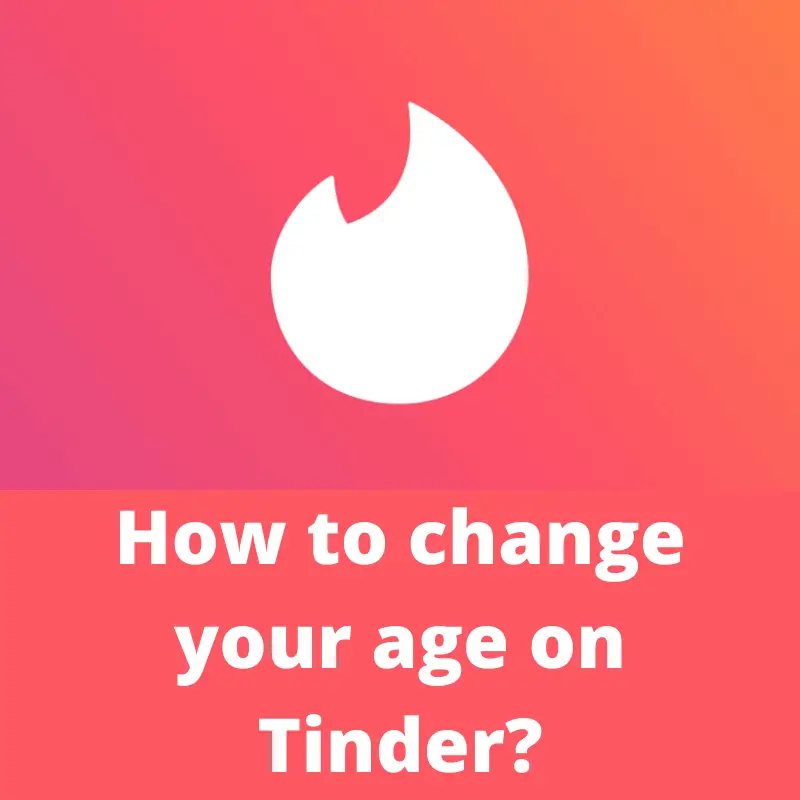 You have different options to change your age on Tinder and it depends on how you signed up for Tinder. If you don't remember how you signed up you can test this by logging out and trying to login back to your profile. If you were able to login back with Facebook then your Tinder account is getting its name and age info from Facebook.
Change your age on Tinder when you signed up with Facebook
In this case you have to change your age in your Facebook account so that Tinder can pull your correct age from Facebook. To change your age in Facebook, do the following:
Open up your Facebook app
Go to your profile page
Click "About" under your Facebook cover photo.
You will see a new menu where you have tap on the Edit Basic Information part. This will open a page where you can change your date of birth
Change your date of birth to the correct one from the drop-down menu.
Don't panic if your age didn't change right away on Tinder. You have to wait about 24 hours for the change to be active. Once a day passed, check your Tinder and it should now display the correct age. If you have recently changed your age on Facebook, Facebook might now allow you to change your age. In this case, wait a couple of days before trying to change it again.
Change your age on Tinder when you signed up with phone number
If you signed up with your phone number, unfortunately you only have one option. You have to delete your account and set up a new one and be very focused when you have to add your age, not to add a wrong age again.
You have to keep in mind that when you delete your Tinder account, you will also lose all of your existing matches, the conversation you had with them and everything else. However, you can also profit from starting up a new account, as new accounts get a so-called 'new profile boost' which results in higher profile visibility and more matches when they just start to use Tinder.
The process is pretty much the same when your name is not displayed correctly. You can read it in more details in our blog post, how you can change your name on Tinder.
Change age range on Tinder
You can also set the age range of the profiles you want to see in your swiping deck. This means if you set it between 20 and 40, you will only see profiles between the ages of 20 and 40.
You can change your age range by going to Settings, scroll down to Age Range and use the slider to set the desired age range.
You can also check this how-to video on how to change age range on Tinder.

How to hide your age on Tinder
If you want to hide your age on Tinder, you can do so if you have purchased a subscription to Tinder Gold or Tinder Plus. You can't hide your age if you only have a free account.
You will also get access to other features if you're a premium Tinder subscriber such as Tinder Rewind, 1 free Boost per month, 5 Super Likes a day, No ads, Tinder Passport, etc.
If you are a subscriber, here are steps to hide your age on Tinder:
Open up the app and tap Edit info in your profile settings
Scroll down to the Control Your Profile part
Toggle the Don't Show My Age" on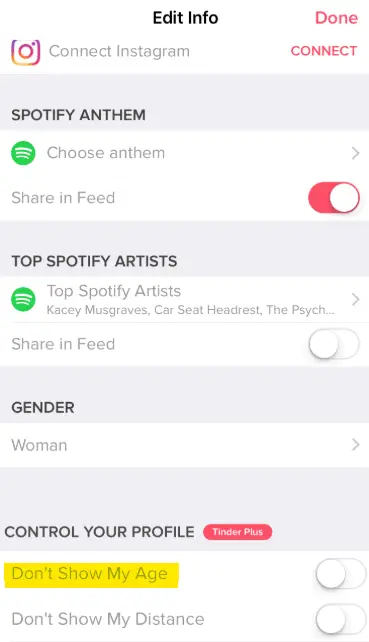 If you have any questions we have not answered in this blog post, don't hesitate to ask us in the comment section below. We will make sure you will get an answer.