One of the most popular tactics on Bumble's competitor Tinder is to reset your account so that you can be favored by the algorithm and get more matches. Does it work on Bumble? Can you get penalized, banned or shadowbanned for it?
We will answer these questions and also explain how you can reset your Bumble account and what are the best practices you should follow when you do a Bumble reset, a.k.a. delete your Bumble account and start a brand new one right after you deleted it.
What is Bumble reset?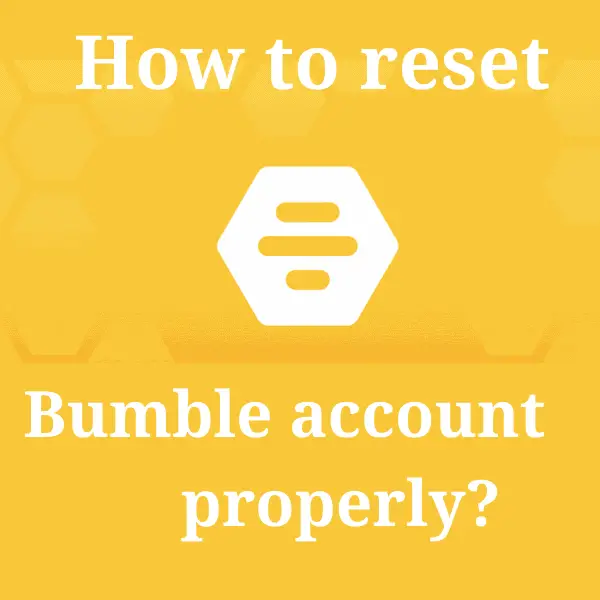 Bumble reset is the process of deleting your current Bumble account and right after deletion restarting it in order to get a higher number of profile impressions as a result of the Bumble reset.
When you reset your Bumble account, you have to delete your account first, so you have to keep in mind that in this case, you would lose all of your previous swipes, matches and all the conversations you had with other Bumble profiles. 
Your profile pictures, profile prompts and bio information will be also deleted, so you have to recreate those when you restart your Bumble account.
Does Bumble Reset work?
Yes, Bumble reset works, as we have explained in our in-depth article about the Bumble algorithm. 
In the first couple of days after you restarted your Bumble account, your profile will be shown to significantly more potential matches than a similar average Bumble profile. And more profile impressions means more Bumble matches for you. It is basically a very strong and long Spotlight without paying any Bumble Coins for it.
There are two main reasons for why the Bumble algorithm is giving a newbie boost to new Bumble accounts.
First, as many dating sites and web apps have found out, they can retain a user for a longer time when the initial experience on the platform is extremely positive. 
When you sign up for a dating app and in the first couple of days you get a lot of attractive people matching with you and messaging you, you will definitely stay on the platform.
The other main reason that you get an increased number of profiles impressions after you reset your Bumble account is that Bumble doesn't know anything about you. 
As the key part of the Bumble matching algorithm is still how attractive your profile is, the algorithm wants to find out how attractive or popular you are relative to other Bumble profiles. So they show you to a bunch of different types of profiles to find out this out as soon as they can.
Why should you reset your Bumble Account?
Besides getting a newbie boost, there are two other main reasons that you might consider resetting your Bumble account.
So all in all, there are three main reasons why you should reset your Bumble account:
You are getting only very few matches

You are constantly out of new profiles

You got banned from Bumble for some violations of their guidelines or Terms of Service
Very low match numbers
AS we have explained above when you are getting less than 2 matches per day on average in a crowded neighborhood than you are doing something wrong. 
In this case, we would definitely suggest you try to reset your Bumble account as it can at least temporarily provide you with more Bumble matches. 
Out of new profiles
If you happen to live in a small neighborhood or in a country where Bumble is not that popular yet, it is quite possible that after a couple of weeks of heavy swiping you will be out of new profiles as shown in this picture: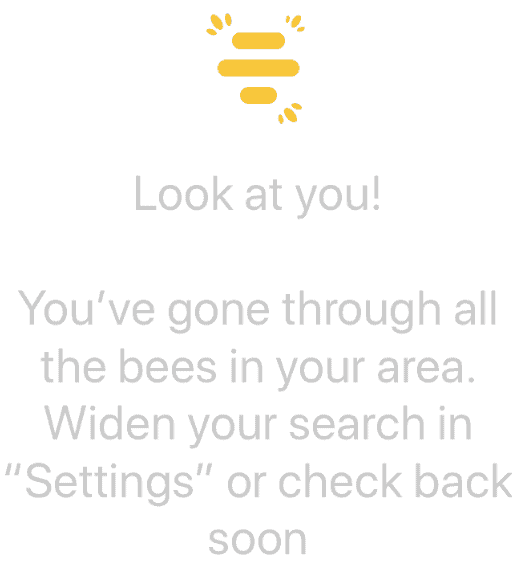 If this happens a lot, it means there are not too many new people signing up for the app. In this case, we would also recommend you to reset your Bumble account. You would get a second chance with all the profiles who swiped you left with your existing account.
Got blocked or banned from Bumble
If you have been blocked by Bumble, a complete reset of your Bumble account is your only option to get back to Bumble. Bumble blocks or bans are permanent decisions from Bumble, so you can't get back your account after a certain period of time if you have been blocked.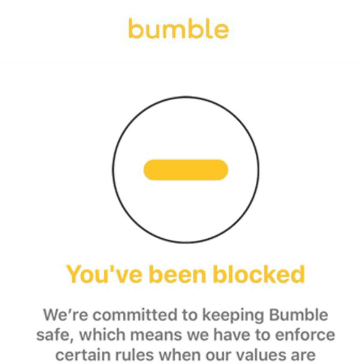 In this case, it is especially important to recreate your Bumble profile with login and other data that are completely different from your previous account login data. We not only mean a different phone number or Facebook account, but we would recommend uploading completely new photos as well.
Does Bumble penalize reset with block or shadowban?
Unlike Tinder that has already taken steps against Tinder reset and will ban or at least shadowban your account if you try to reset it, Bumble doesn't have a similar policy (yet.)
They even explicitly claim on their website that yout website won't be penalised if you delete and restart your Bumble account.
Although they are not recommending to reset your Bumble account but for different reasons. (not because of a ban or shadow ban). They say that when you reset your account too many times your potential matches will remember your profile and think that you are fake profile or bot that will make them swipe left on your profile.
Although we don't think that Bumble is right with that, you should rather focus on improving your profile rather than always resetting it. Bumble reset can get your more matches, but it is too short term and you are better off just improving your profile.
How to reset your Bumble Account?
Now, if you are sure that you want to delete your Bumble account and start a brand new one, here are all the steps you have to do.
If you prefer a video format you can also check out this video that sums it up in a pretty nice way:
Step 1.: Remove Bumble from Facebook linked app section
This step is only necessary if you have connected your Bumble account to Facebook which is not necessary anymore, you can use Bumble without Facebook as well
Go to Facebook.com and log in

Click the arrow in the upper right corner and choose Settings and Privacy, then click Settings

On the left side of the screen click on Apps and Website

Click on Bumble

Scroll down and click Remove and confirm it as you can see on the screenshot below: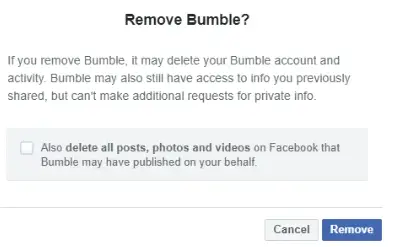 Open up the Bumble app from your phone

Go to "Settings"

Scroll down to the bottom and tap on "Delete account"

You will be asked why you want to delete your Bumble account, choose one of the options

Type "DELETE" to confirm you really want to delete your account.
Don't forget that doing this kind of Bumble reset will delete all of your current matches and conversations you had with them. You won't get them back when you reset your account.
You also have to cancel your Bumble Boost subscription if you have one.
Step 3. Delete the Bumble app from your phone
Hopefully, you know how you have to do this (deleting an app) on your device.
Step 4.: Wait at least 24 hours
Although Bumble says they don't care about resetting your account it is always better to be on the safe side. Some people suggested it is better to wait at least 24 hours before you would start to recreate your new Bumble account.
Step 5: Recreate your Bumble account
It is important to add that when you try to reset your account after Bumble has banned from their platform, you have to make sure that all the data you provide for Bumble with your new account is different from your old account. 
This includes anything from your phone sim card, to your IP address, credit card information, Facebook account or phone number. You shouldn't even use the same profile pictures if you want to make sure Bumble can't connect your old account to the new one.
Having said that, here are all the steps to sign up for a new Bumble account:
Download the app from the Apple app store or the Google Play store

After the app installation is complete, open up the app

Select the signup method you prefer (Facebook account or Phone number without a Facebook account)

Depending on the method you chose, sign in to Facebook or verify your phone number with the code they sent you in SMS

Go through the steps of setting up your profile

You are done, start swiping on Bumble likey crazy to enjoy the effects of the new account boost.
Best practices before resetting your Bumble account
As we said, although the positive effects of a Bumble reset might be not as huge as you might have experienced on Tinder, Bumble reset still works.
When you reset your Bumble account you will get a nice newbie boost which will help you get you way more Bumble matches than you have got used to on an average week.
However, don't forget this reset boost only lasts a couple of days after you reset your account. So, you should also try to improve your Bumble profile when you do a Bumble reset.
As all your previous swipes will be deleted as well, you will get a second chance of matching with people who swiped you left on your previous Bumble profile.
So before you would start swiping with your new account as a crazy person, review all your profile pictures and try to even take better profile pictures of yourself. You can even ask your opposite-sex friends to give their honest opinion of which of your pictures they like the most.
When you put some time into making yourself a better profile, you will get more Bumble matches not just in the short term with the new user boost, but also on the long term.
Frequently Asked Questions
What is a Bumble reset?
A Bumble account reset is when you delete your existing Bumble account and right after the deletion, you create a completely new Bumble account in order to get a newbie boost and a second chance of matching with other Bumble profiles.
Will Bumble ban my account if I reset my account?
According to Bumble's official blog post, no, you don't have to worry about your account getting banned when you reset your account. Bu don't go overboard, as even if you don't get banned it is not effective if you do a Bumble reset too many times.
Will I lose my matches and conversations when I restart my Bumble account?
Yes, a Bumble reset means that everything stored in your previous account will be deleted, so you won't have access to your previous matches and conversations as well.