Do you want to use the premium features in Tinder Plus but don't have the budget for it? Or you got banned from Tinder and can't reset your Tinder account? You can solve both of these problems by downloading a hacked version of Tinder called Tinder ++
In this blog post, we are going to explain what Tinder++ is, when should you use it instead of the regular  Tinder app, how you can download it, is it safe to use it and many more.
What is Tinder++?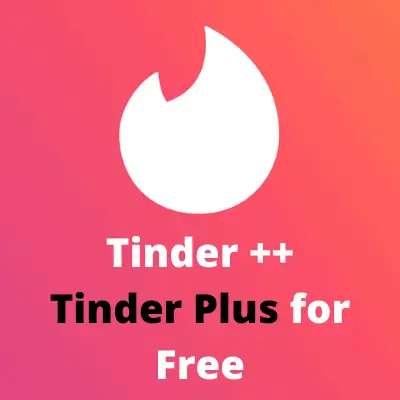 Tinder ++ or Tinder Plus Plus is a hacked version of Tinder that enables you to also use Tinder Plus features for free.
As you are not using the original version of Tinder, Tinder won't be able to catch you for using a hacked version of the app and get all the Tinder Plus features for free.
There are different versions of Tinder++, for both Android and iPhones, but don't worry, we will explain down below how you can download and use the tweaked versions of the app.
When Should you Use Tinder++?
There are two kinds of reasons you might consider downloading Tinder++ and use it instead of regular Tinder.
Tinder++ for free Tinder Plus
If you want to have access to unlimited liking, you want to use the Passport feature or the most useful premium feature,  Tinder Boost for free, but don't want to pay for Tinder Plus monthly subscription fee, the best option you have is to download Tinder++.
With newer Tinder++ versions, you should also get See Who Likes You and Tinder Top Picks for free that are features of the Tinder Gold subscription.
Tinder++ to get you back to Tinder when your account got banned
Another big reason you might consider using Tinder++ instead of the regular Tinder app is when you got banned from Tinder for all.
As Tinder bans are usually permanent, you cannot recreate your Tinder account in a normal way as Tinder stores all your account info, so once they detect that you try to restart your account they will ban or shadowban your account again.
Tinder++ can overcome this issue as it is a tweaked version of Tinder, so they won't be able to identify you.
How to download Tinder++
Tinder++ can be downloaded from many websites, it is important to add that you cannot download it from the app store.
All these methods work both on Android and on Apple devices.
I will also embed three YouTube videos that show these methods that work in 2020.
So what you have to do is go to the website described in any of the videos. Search for Tinder++. Download Tinder Plus Plus to your device.
Then you will be asked to download 2 or 3 apps to your phone. All of these apps are free to download from the app store, so you don't have to worry about any kind of spammy apps.
After you downloaded these apps you can start using Tinder++.
Here are three videos that show you this process step by step:
If this method no longer works to get Tinder++, try this one:
In this third video, it is shown how you can get your Tinder account unbanned using Tinder ++:
Is Tinder++ safe?
We have not heard about anyone having any safety issues with Tinder plus plus. If you had an issue with it, please share with us in the comment below.
However, as this is a hacked version of Tinder there is always a risk, so use this method only if you are okay with the risk associated to Tinder Plus Plus.
As Tinder is making a bunch of money out of Tinder Plus and Gold subscriptions, they are also fighting against hacked version of the app, so you shouldn't be surprised if these solutions will stop working sometimes in the future. If they find out that you were using Tinder++, your account might get banned.
Tinder++ not working
Did you try all the methods shown in the videos but they don't seem to be working? We also have another blog post where we show three other methods to get Tinder Gold for free.
If one method worked but another one did not, let us know in the comments below so we would update the videos accordingly.