Someone was offensive to you or shared an unsolicited photo in your Bumble conversation and now you want to block or report him? You can easily do that with the Bumble report or block feature.
In this quick guide, we are going to show you how you can report someone on Bumble and block him forever if you don't want to see him ever again on Bumble.  We will also share with you at the end of the article how you can avoid getting reported that might lead to getting blocked permanently from Bumble.
How to report someone on Bumble?
Currently, there are two ways to report someone on Bumble. You can report someone from his profile or from the conversation you have with them.
When you want to report someone on Bumble from his profile, here is how you can do that:
Open the profile of the person you would like to report (you can do this of course during swiping as well)

Scroll to the bottom of the profile and tap "Block and Report"

Choose one of the reasons why you want to report that person

Tap on "Submit report"

Confirm that you want to report the Bumble profile
You can choose from the following options when you are choosing the reason for reporting and blocking a user.
"Made me uncomfortable"

"Abusive or threatening"

"Inappropriate content"

"Spam or scam"

"Stolen photo"

"I'm just not interested"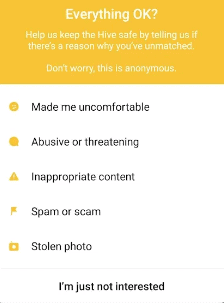 Reporting someone is completely anonymous so you don't have to worry about the reported user getting notified about who reported him.
The second option to report and block someone on Bumble is through the conversation screen. Here is how you can do that:
Open the conversation you had with the Bumble profile who you would like to report and block

In the upper right corner you can see 3 dots, tap on them

Tap on "Block & Report"

Choose the reasons why you want to report someone. The options are written above. It is important to add a reason, as the Bumble Support team can review the profile more easily and might be able to block him from Bumble permanently.
What happens when I report someone on Bumble?
Keep in mind that once you block & report someone on Bumble, his profile and the conversation you had with him will be also deleted from your match queue. He will no longer be able to contact you and you won't be able to contact him.
Besides this, when you report someone and don't just simply block him by choosing "I'm not interested", you basically send a request to Bumble Support team. 
Based on your report, they will review the person's Bumble account. If they find that the person has violated their Community Guidelines or the Terms of Service they might block him from Bumble permanently. 
Report on Bumble vs Unmatch
It is a good question to ask what the difference is between a Bumble Unmatch and Bumble Block & Report.
When you unmatch someone on Bumble, the profile and the conversation you had with him will be deleted but the Bumble Support Team won't review his profile unless you are giving a reason why you unmatched someone. (made you uncomfortable, fake photos, etc.)
Also, it is possible that after a certain period of time passes, the same profile will resurface in your swiping deck and if you want, you can match with him again.
However, when you explicitly report and block someone, you can also see him again on Bumble, if he resets his Bumble account. You can check out this video to learn more about Bumble reset:
How do I know if I was reported on Bumble?
Sometimes it is possible that Bumble will notify you if your profile has been reported or a message or photo of yours was moderated on Bumble. You will get a message from Bumble Support like the following: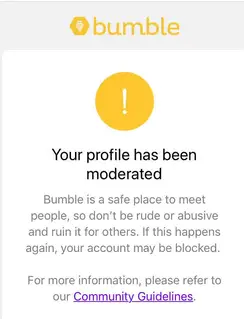 In this case, you should refrain from the behavior, whatever behavior we are talking about. If you get reported again on Bumble, it is very likely that they won't give you a second warning but block your Bumble account immediately.
Sometimes, unfortunately, they don't notify you about a Bumble user reporting you but if the violation is so huge, they will block your account straightaway.
Avoid getting reported and blocked on Bumble
Before wrapping up this article, we would like to share some general advice about using Bumble in a way that will make sure that you don't get reported by other Bumble users.
You should read or at least skim through Bumble's Community Guidelines and Terms of Service to learn what behaviors on Bumble are considered violations of these guidelines so you can avoid those types of behavior.
The most frequent violations that get reported are the following:
Catfishing, or impersonating someone on Bumble. Not uploading your own pictures.

Automating message sending on Bumble

Uploading inappropriate images

Promoting or soliciting stuff

Behavior that others might find offensive
If you are interested in more details check out our in-depth blog post on Bumble Blocks. If you got reported and then blocked we also have a strategy that can get you unbanned from Bumble and get back to the dating platform.
Frequently Asked Questions
Can I unblock a blocked Bumble user?
No, once you blocked a user on Bumble, you can't unblock him. So, make before blocking someone that you really want to block him.
I blocked someone on Bumble, but I keep seeing his profile, why?
It is possible that someone reset his Bumble profile and that is why you keep seeing him. (so it is the same person but a different account.) In this case, you should report and block him again, so Bumble Support Team can block his account.
When you have blocked someone, you should never see that specific profile ever again, as Bumble blocks can be taken back.
What happens if someone reports you on Bumble?
If you get reported on Bumble, or someone else reports you, the reported person will be unmatched, so all the conversations you had with each other will be also deleted. If you add a reason why you reported someone, Bumble Support Team will also review and possibly block the account of the reported person.