You have been blocked from Bumble and now you are wondering if is there a way to get unbanned from Bumble or if you can't do that is there any other way to get back to Bumble.
Don't worry, we're here for you and we will show you the two main ways how you can get around a Bumble ban by sharing with you the step by step way to get back on Bumble.
How to get unbanned from Bumble – 2 ways:
There are currently two methods of how you can get unbanned from Bumble and use the dating app again. One of them is the easy one but will work in just a few cases, the other one is the complicated one but will work no matter what:
Bumble Ban Appeal

Reset your Bumble account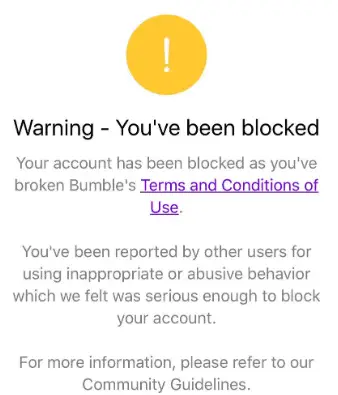 How to get unblocked from Bumble – Bumble ban appeal
The easier way to get your Bumble account back is to try to contact Bumble Customer Support and ask them to review your ban and unban your account. 
We would suggest this method in that case only when you're 100% sure that your ban was an accident and you didn't violate Bumble's Term of Service or Community Guidelines. (You can check some of these Guidelines at the end of this blog post)
So if you want to contact Bumble, you basically have three ways to do it as we have written in our article about contacting Bumble Customer Support.
However, in this particular case, we would suggest you contact them via their official contact form here:

Contact Bumble To Unblock your Bumble Account
At Step 1 we would suggest you to choose "Report a technical issue", at Step 2, Choose "Other ". At Step 3 you can describe your issue.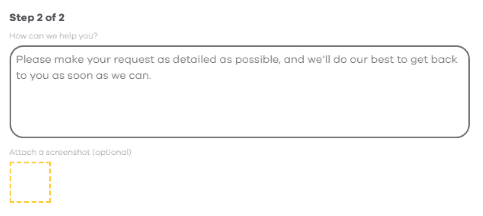 In this answer box, explain to the Support team that you have been banned from Bumble but you think the block from Bumble was only an unfortunate accident. As you have never been reported in the app and you have never done anything against their community guidelines so ask them to review their decision or at least provide you with an explanation of why you have been blocked from Bumble.
If the Bumble Support team replies, they usually do that within a week. If they don't even reply, you can make the conclusion that your ban is final and you cannot get back your old account back.
In this case, keep reading, as we will show how you can still get back to Bumble.
How to get around a bumble ban – Reset Bumble
The second option you have is to reset your Bumble account. To be honest, the first method of contacting Bumble Support to lift your ban, won't work 99% of the time, so you most likely have this option only to get back to Bumble.
We have an in-depth comprehensive article on how you can get your account back by resetting your Bumble account, so definitely check that out. But we will also give you a summary here, and highlight some important things that you should pay attention to.
So the basic idea behind a Bumble reset is that you first delete your account and then right after you deleted it, you recreate a completely new one. 
Bumble, unlike Tinder, is actually quite liberal about account resets, they claim that they do not ban or even shadowban your account when you try to reset it. However, when you have been blocked from Bumble before, they will obviously won't allow you back if you try to restart a new account with login information that is the same as your old blocked Bumble account had.
Get Unbanned with Bumble Reset when your account got blocked
So in this case, when you sign up for a new Bumble account you have to make sure that you use new personal information so that they can't identify you. So make sure to use a new Facebook account if you sign up with Facebook or a new phone number if you sign up for Bumble without a Facebook account.
To be absolutely on the safe side, it is also recommended to use a completely new phone sim card, make sure that you have a new IP address, don't use the same credit card if you have subscribed to Bumble Boost or purchased Bumble Coins, etc.
This second technique of getting around a Bumble Ban also works if you think your account has been shadow banned by Bumble.
For more details, check our in-depth post about Bumble Reset.
Don't get blocked again on Bumble
So whichever method turned out to be successful, it is recommended to review the community guidelines of Bumble, so you won't get blocked again on Bumble.
In the blog post about Bumble blocks and bans, we have comprehensively explained the most common issues your account might get banned. To summarize the most important points here:
Don't catfish someone, only upload photos from yourself

Don't send offensive messages (bullying, hate speech, racism, etc.)

Don't fully automate your messaging
You might get a notification when you get reported the first time by another user. If this happens, take it as a serious warning. When you get reported the next time, you might get blocked without any more warning.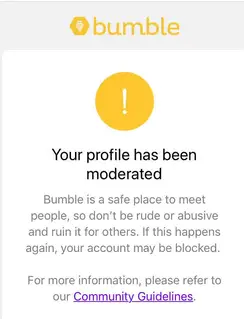 Frequently Asked Questions
How Can I Unblock My Bumble Account?
As Bumble Blocks are final, the only way to get back your Bumble account and use Bumble again is to reset your account. This means that you have to delete your current account (if you still have access to it), and create a new one with different login information than the one that has been blocked by Bumble.
Can you appeal for Bumble to unblock your banned account?
Yes, you can try to do that but in most cases they won't unblock your account just because you are asking it in a really nice way. If your Bumble account has been blocked they must have pretty good reasons to do that.
Does a Bumble Boost subscription help in getting around a Bumble ban?
No, just because you have been subscribed to Bumble Boost, you won't get a free get out jail card. Your account will be reviewed the same way as every other free Bumble account. It is way more important for Bumble to keep the creeps out of Bumble than to maximize the number of paying customers in the short term.