Feeling bored of being single? Looking for a soulmate, or simply someone to talk to? Are you looking for a romantic relationship? Apparently, Facebook can gain the insight of more than 200 million of its single users. If you are curious to know what Facebook Dating is, this blog is for you.
What is Facebook Dating?
Facebook Dating is a dating service operated by Facebook that shows up on the user profile interface.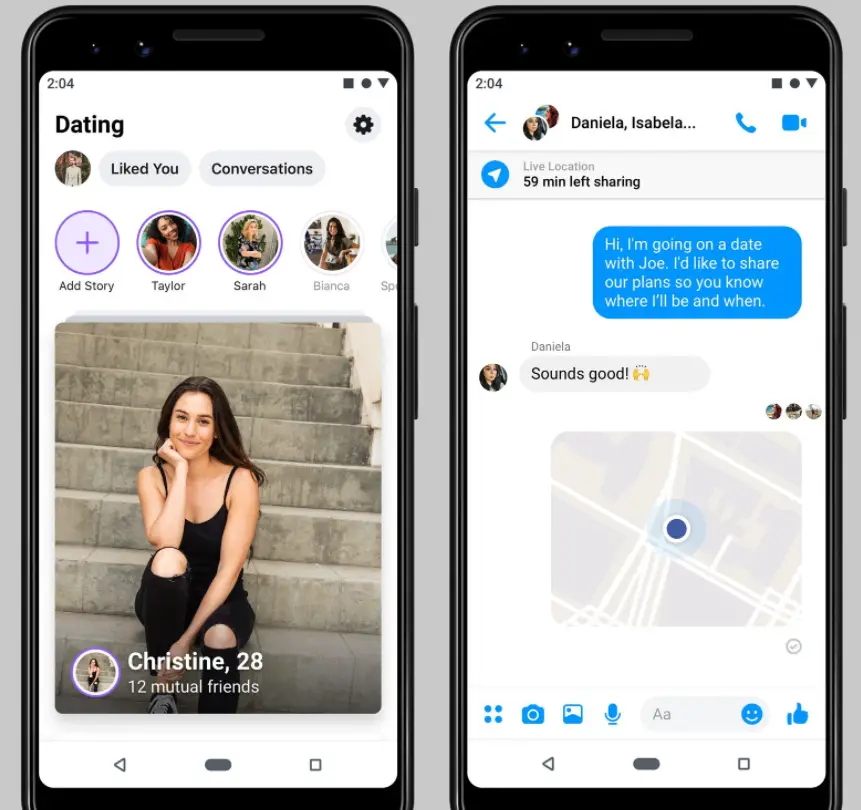 Facebook Dating allows you to create an account on Dating; then it will show suggested matches for you. You have the right to choose or ignore those matches.
How does Facebook Dating work?
To use this service, you must download the latest version of the Facebook application. Then, you tap on the Menu section and select the pink and purple heart-shaped sign, which is Facebook Dating.
After that, you create a profile, which may be a little bit different from the main profile on Facebook. You will be suggested matches to connect based on your interests and activities on Facebook.
Also, you can select or skip suggested profiles, chat directly with selected profiles right on Facebook Dating.
How to use Facebook dating?
1. Update personal information, find dating easier
Open the Facebook application, select the three-line icon in the right corner; Tap Dating; Select Profiles.
Select the pencil edit icon; Enter your information; Enter your Job and Education; Update Other beliefs; Add Interests.
Select the back icon in the upper left corner of the screen.
Select Add Photo; Select Photo t; Select Save to add your photo.
Select Answer Question; Select Question, enter Answer; Select Save to add an answer that introduces you.
2. Find your ideal matches on Facebook Dating
Open the Facebook application, select the 3 dashes icon; Select the Dating icon.
Select the cog-shaped settings icon.
Select Distance; Enter Age; Enter Height; Enter Language.
Select Education level; Select Beliefs; Select the back icon in the upper left corner of the screen to see ideal type suggestions.
3. See who likes and wants to get to know you on Facebook Dating
Open the Facebook application, select the 3 dashes icon > Select the Dating item.
Select Liked you.
Select the heart icon

at the bottom of the screen if you like the person.

Select the X icon

if you want to ignore the person and see the next account.
4. See suggestions for matching, texting to find an ideal date
Open the Facebook application, select the 3 dashes icon; Select Datin ; Select Pairing Suggestions. Here will display a list of people who have been paired with you, you can:

To connect with users via Messenger, select the

contacts icon

in the lower-left corner of the screen; Select Invite.

To use the chat widget, select the heart icon

; select a question, enter an answer and press the send icon

To chat with that person, enter a message, select stickers, emoticons.
Is Facebook dating free?
Yes, Facebook dating is absolutely free.
At this time, when using the Facebook Dating feature, you will not be charged, but it is uncertain whether it will be changed later when it is developed into a perfect feature.
Facebook said that it had the idea for this feature many years ago and started working on it in 2017. They think that when people use Facebook with attachment, they make many new friends, so the Facebook Dating feature was created.
Advantages of Facebook Dating
Separate Facebook profile: Facebook Dating offers a separate space within the Facebook app. They won't share your dating activity on your personal profile or anyone else's on Facebook.
Matching based on common background: Users will see suggested matches based on their interests and activities on Facebook, helping to connect people who share things in common.
Control who can see your Dating Profile: With Facebook Dating, only people you've been suggested to match up with can see each other's Dating Profiles. Existing friends and people blocked on Facebook will not be suggested, unless the user chooses this feature.
Opt-in to Events or Groups to meet daters (who also opt-in): Users can choose to find out if other people are also using Matching Date in Events and Groups. When users choose this feature, other people can also see their profiles.
Enhanced privacy controls: Users can add or hide friends of their friends in the list of suggested matches. Users can also report or block others who make them feel uncomfortable.