Coffee Meets Bagel is a game-changing dating app that creates perfect matches using an advanced compatibility algorithm. It only recommends people who strictly meet your preferences, which helps improve the quality of your dates. Let's take a closer look at how Coffee Meets Bagel works.
What is Coffee Meets Bagel?
Coffee Meets Bagel (abbreviated as CMB) is an online dating app with a highly accurate matching algorithm. Unlike other dating sites, CMB brings people together based on their degree of compatibility. Every day at noon, you are suggested a list of potential matches that meet your expectations in terms of education, location, hobbies, age limit, social circles.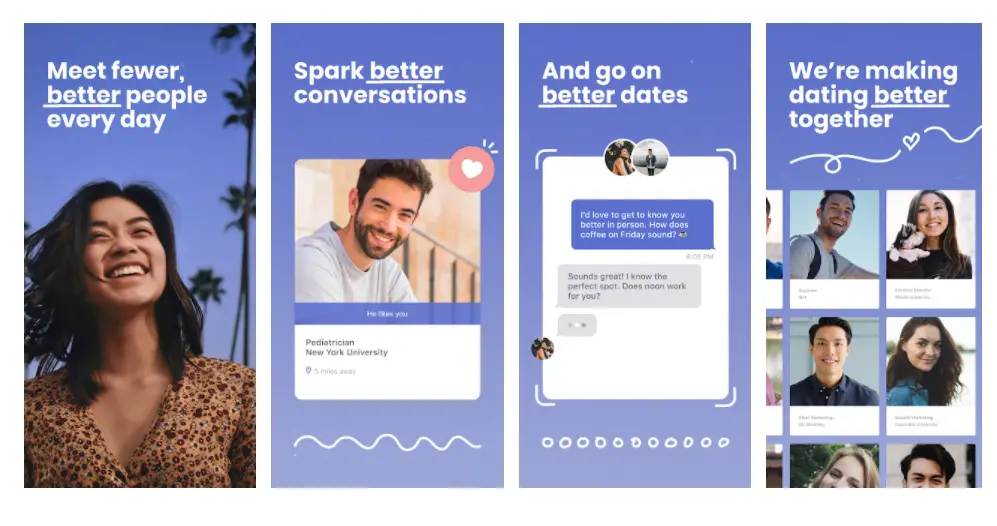 This prevents you from swiping hours until you finally bump into a person who satisfies your preferences. There is a lower risk of going out with someone who wants you just for fun and doesn't have plans for a serious relationship.
CMB has paid plans but you can also use it for free. The paid membership gives access to a number of perks and more matching opportunities. Read on for a deeper insight into Coffee Meets Bagel app.
How does Coffee Meets Bagel work?
The app has a more sophisticated matching algorithm aimed at adding quality to your dates and increasing your chance of starting a serious relationship. You will not see tons of profiles every day liking you and inviting you on a date. After bumping into some uninteresting and ill-intended people, you will want to leave the dating app forever.
CMB wants to mitigate such unpleasant experiences by implementing a smart algorithm of bringing compatible people together. So how does Coffee Meets Bagel work? When you create your profile, you will be asked to specify your preferences as per your educational background, interests, age limit.
The matching algorithm will take it into consideration and suggest to you only profiles that meet your expectations. The list of potential matches who liked you is provided every day at noon. You have 24 hours to respond with a "like" and engage in a conversation.
If you don't do it, the match will disappear the next day at noon when the list of suggestions is renewed. A match occurs only when the users like each other. The person who liked you can send you a message, but you won't be able to respond to it if you didn't reciprocate their "like".
Keep in mind that chats have an expiration date, being open only for 7 days. If you want to talk to your match for longer, you can spend some Beans to reactivate the expired chat. Beans are the app money that allows you to unlock a variety of additional features.
How much does Coffee Meets Bagel cost?
You can buy a membership plan to improve your match-searching experience.
You can pay $120 for 6 months or $75 for 3 months. If you hope to find someone fast, you can purchase the 1-month membership for $35. The paid plan unlocks more features for you and gives you access to more potential matches.
Is Coffee Meets Bagel Premium Membership worth it?
Premium Membership provides some valuable perks that can help you find a quality match faster. They include getting reports on member's activity, message read receipts, and 6000 Beans. You can spend the Beans on a variety of things that can bring you closer to finding a special one.
For example, you can buy new Bagels. A Bagel is a potential match suggested by the app algorithm. By getting more potential matches, you get a larger choice and are more likely to find a person who meets your needs. Also, Beans give you access to the Discover section.
The Discover section features a list of profiles in your area which you can check on and like. They include both people who meet your criteria and those who do not.
While a paid membership is a huge advantage, you may also use a free plan. It allows you to create a profile, add photos and preferences, get a list of potential matches every day, and chat with them.
However, the list will include a small number of suggested matches. This can lower your chance of finding someone soon. But you can buy more Bagels if you want to get to know more people.