When it comes to meeting someone special, dating agencies can be very useful. After all, waste time and energy on dates that you know aren't going to come to anything?
With a premium dating website like Seeking Arrangements, a lot of the hard work is done for you, especially when you know what sort of relationship you want.
What is Seeking Arrangements? (Seeking.com)
Seeking Arrangements (now known as Seeking) is a specialist dating agency, for "sugar babies who want to meet sugar daddies". It might be just the thing if you want to indulge and pamper someone, or if you want to be on the receiving end of such adoration. After all, who doesn't want to be spoilt?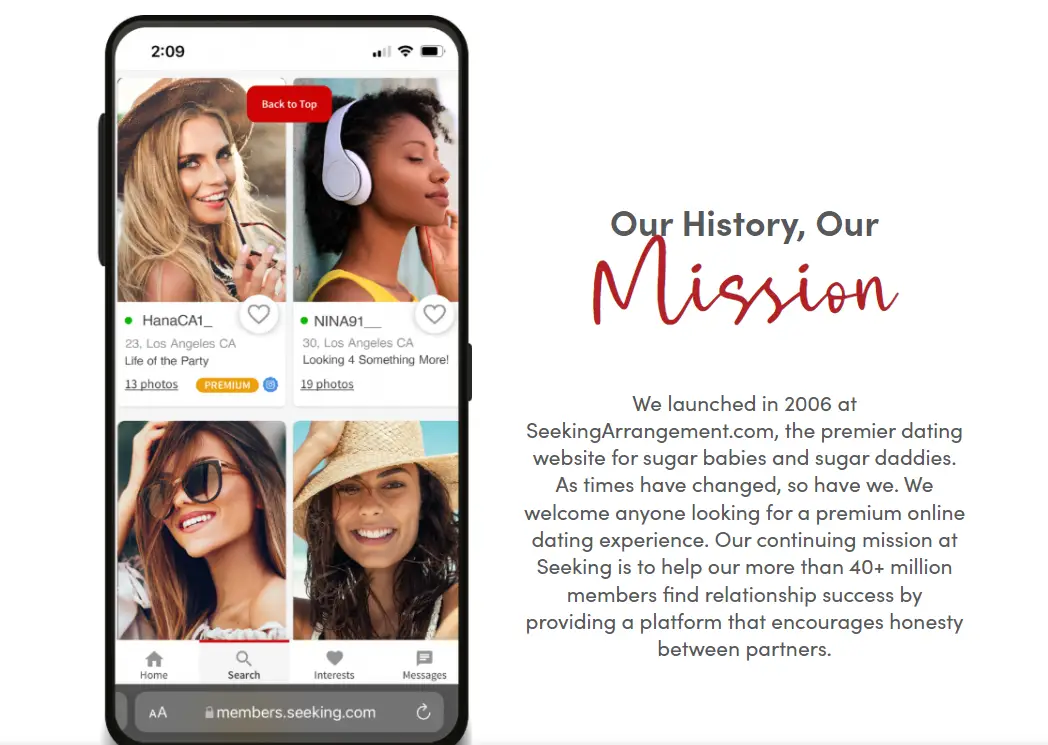 Seeking Arrangements has members from 130 different countries. Some people are looking to step outside the boundaries of a traditional relationship and want to try something different.
How do Seeking Arrangements work?
Registering with Seeking Arrangements couldn't be easier. Whether you are a "sugar baby" or "sugar daddy", you just need to give your gender, date of birth, and email address, before answering some questions to ascertain your preferences.
Following on from this, your account will then take 48 hours to be verified. This is for your protection, to ensure that people who join the site are genuine.
Following on from this, you need to complete your profile. This firstly involves picking seven different tags to specify what you are hoping for. Tags include attentiveness, flexibility, and whether you wish your potential partner to be monogamous.
It then gets more interesting, you need to fill in the "about me" section. Here you have the opportunity to sell yourself.
Once you're all signed up, you will find that Seeking Arrangements has several useful features. You can use the messaging service or video message service to get to know someone better. In addition, you can also exchange private photos and save members as favorites.
How much does Seeking Arrangements cost?
If you are just looking to test the water, you can browse the site for free. This way you can get a feel for the site and ensure that it's what you're looking for. However, you won't be able to communicate with other site members.
If you decide to register, you will be able to use the site for free if you're registering as a "sugar baby". However, if you're a "Sugar Daddy", you will need to initially pay $50 for your verification. This is to make sure that "sugar babies" are safe; at the end of the day it's for your protection. Following on from this, you have a choice of two levels of membership, premium or diamond.
Premium membership costs $90.00 per month if you sign up for 30 days, $80.00 a month if you sign up for 60 days, and $70.00 a month if you pay for six months. The longer you sign up, the more you save.
Whilst it's by no means cheap, being a sugar daddy will never be inexpensive. This membership level gives you access to all the features, including being able to boost your profile, messaging members, and keeping notes on potential matches.
Diamond membership costs £249.99 per month. In addition to the main features, you have the option to be featured on attractive member's dashboards and you can join a VIP room. You also get a diamond badge, which shows potential sugar babies that you are more serious and trustworthy. The site claims that members have more success with diamond membership.
Is Seeking Arrangements legit and safe, is Seeking.com worth paying for?
Seeking Arrangements is fully legitimate and completely safe. Whilst it's more expensive than other dating sites, there's an obvious reason for this. if you are going to be someones' sugar daddy, it's going to be a costly business and you will need to be in a position to maintain that lifestyle.
if the sugar baby, sugar daddy relationship is for you, it's worth it. After all, Seeking Arrangements is a specialized site so you are far more likely to get what you want than through a traditional dating site.
If you're still undecided, you can always dip a toe in the water by signing up for a free trial The next steps are up to you.