When using an online dating app, one of the main challenges is choosing a person with the same standing as you. Whenever you had found one, there is a probability the profile might be fake.
Aside from a fake profile, it would be difficult to find a partner when your standards are too high. Those who had been on the online dating scene for too long could relate to this. The League is an online dating app that could be a place where you do not have to worry about your high standards.
What is The League Dating App?
After getting frustrated from her online dating experiences, Amanda Bradford founded The League in 2014. Those experiences were used to create a dating up that screens the singles who want to be a part of the platform. There is no screening as rigorous as The League when it comes to their members.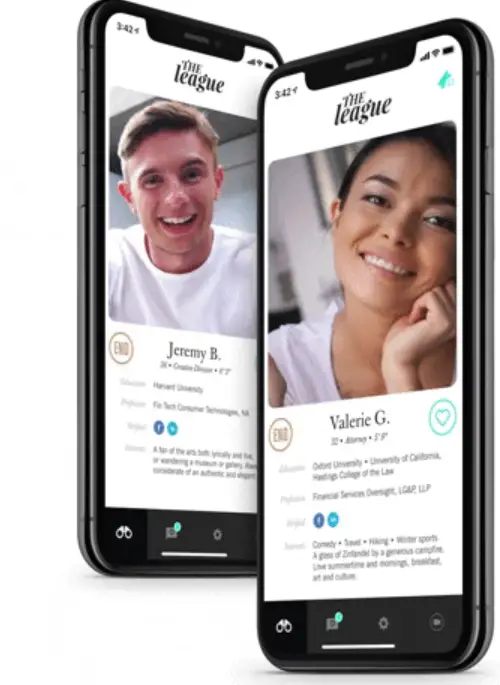 The screening was so intense that those who are not on VIP tier profiles could take weeks to be approved. When members are approved, they are more likely to be active and start looking for their match. Even the launch of this app is done by the city and not on a national level.
There are so many things that The League does differently than other online dating apps. It is highly selective of its members. Before the rollout in each of the cities, the team spends hours to make sure that the algorithm fits the culture of the city. They want to maximize user experience and this is the reason why active members are high despite the high cost of premium membership and applying is difficult.
The application process can be tedious. It can take a few weeks for the profile to be updated. This gives an impression that the site is an elitist. With the members of the site being one of the most successful professionals in the business like the lawyers, doctors, tech startups, and other single professionals who want to meet their match but do not have time to go out and mingle.
The League is only available in selected cities and you need to apply and be on the waitlist. You will be asked to upload photos and enter information such as your age, height, location, gender, and a short bio. You will also be required to sync your LinkedIn account so they could pull in your employment and educational info.
The waitlist can last up to a few weeks to a few months depending on how detailed you are with your profile. Uploading 6 photos, should be alone in the picture, no sunglasses, LinkedIn Account, and filled out About Me section. When this had been completed, you had to wait until you are approved.
The League Pros and Cons
The well-screened members of The League are one of its strongest points. When you know you are far from being scammed, you would be encouraged to use the platform. This is one of the reasons why active members keep on increasing as there is a sure way of meeting qualified professionals when you are using this platform.
This online dating app is also good for expanding your network. There is a huge chance of you meeting professionals in the same field. If you will not be lucky to find the one for you, then maybe you can find the one that will work with you. With members who have heavy academic backgrounds, you might find your future business partner.
One of the biggest downsides of this app is the price of membership. It is too pricey to maintain. If you want to look for a partner with a limited budget, then this might not be the online dating app for you. The choices for the match are limited and the verification of the profile may take time.
Is the League Free? Does it have a Free Trial?
The League has a free trial. There is even a Guest membership where you do not have to pay any amount of money. You can also send messages but it is limited to one message. You will also be given 3 matches per day but what you can do with those matches given would be limited.
Guest Membership is for unlimited time. You can be a Guest member for as long as you want but you have to endure first the long wait to get approved.
How much does The League Cost?
Paying for an app sure has its perks. How much does it cost to enjoy those extra perks in The League?
Regular Member for six months – $67/month
Regular Member for three months – $99/month
Regular Member for 1 month – $199.99
Premium Owner Level for 3 months – $299/month
Premium Owner Level for 1 month – $399
VIP Investor Level for one month – $999.99
VIP Investor Level for one week – $399.99
The League dating reviews: Is The League worth tt?
The League is one of the most expensive online dating apps. Despite its rigorous background check on its users, thus the long waitlist, it does not mean that people could not lie on things like their height, marital status, employment, and alma mater. Paying a lot of money does not ensure that you will be meeting the person of your dreams or you will have a successful marriage.
If you are the kind of person who is willing to spend too much money and gamble that you will meet the "one" when you spend more, then this is the app for you. If you are a professional who is willing to gamble at a lesser price, then you can try another online dating app.
The League is not for the faint-hearted. You will be spending money, which is way more than the other apps that also boasts about having a good number of professionals on their site, and you are not sure if it will end happily.