If you are a young beautiful woman and looking for a wealthy man who will take care of your needs, especially financial needs, then you are most likely to be looking for a sugar daddy. Some men would be wary if you show your intention of being loved and provided at the same time.
That is where sites like Sugardaddie.com differ from other sites. They are more open to the concept of women asking for anything more than love.
What is Sugardaddie.com? How does it work?
It was founded in 2002 and is the first to introduce single ladies dating wealthy men. It is a dating site with a lot of exposure from different TV shows making it one of the most recognizable. Its popularity keeps on soaring that up to date it has 5 million active members.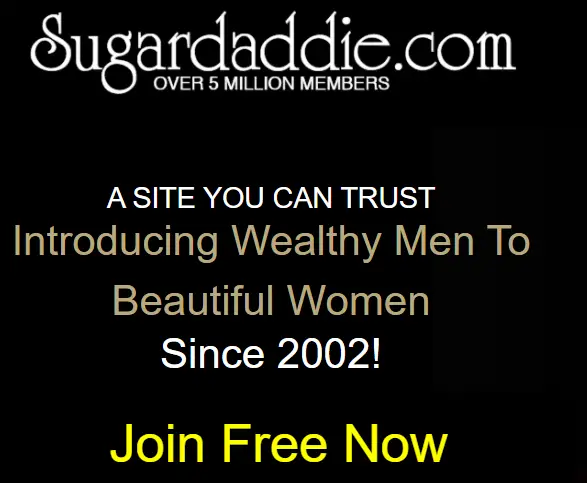 This is a haven for men who can afford to pay for more than love to find hot, young, and attractive women. You can either date and have a long-term relationship or it could also be a casual one. For whatever kind of relationship you want to have, this is the dating site for you.
Before settling down in a relationship, the ease of use of the site always comes first. Members would complain if the site looks gloomy and that is where Sugardaddie.com has an edge. It has a modern design and is stylish, making the appearance attractive to its users.
Navigating the site is comfortable because its buttons are straightforward and you know which to press depending on the action you want to do. The registration process could be completed within a few minutes. Registration is free and you only need to state your gender, provide a username, password, and email, and then set up your account.
After your account had been set up, You will be asked to provide more information like uploading a photo, which is compulsory, providing your annual income, since women would be looking into this. Sugar daddies must be able to provide for their women not only love but also allowances.
While women look into how much allowance they can receive, men look into the physical features of women. Since there are thousands of women who might match what you are looking for, you can turn on the filter options. You can even filter the age of the sugar babies.
If you had seen the woman of your dreams, you can chat with them through IM Chat or send them a message. If you are not ready to do either, you can just add them to your favorites. If you are not willing to pay and want to try the site first, they have a 7-day free trial.
An interesting feature in this website is "Meet my Match", which analyzes profiles and provides you with matches. They also have the profile quality score and the higher score you get the more you get matched. The site has guidelines on how to improve your profile and you can follow this to improve your score.
This is the site where sugar babies look for a sugar daddy and the site makes sure that fraud can be prevented. The website provides scam protection and security by constantly monitoring any suspicious activities on the website. They also look into pictures and check if there is anything suspicious in the profile.
Sugardaddie.com Pros and Cons
One of the downsides of this site is that it does not have a mobile app. This could be seen as an inconvenience since the mail server auto deletes all messages that contain phone numbers and external emails. So you would need to visit their website if you want to chat with someone.
Some members use old photos of themselves so they would look younger and fresh. Even if you are just looking for a hookup, you want a new photo of someone. Even for ladies, you need to pay for a premium membership on the website to enjoy the extra features.
The good thing is that there is a 7-day trial so you can have a glimpse of what premium membership feels like. If you decide that you want to try the premium membership, you can register your card and they do not auto-renew your subscription. This site has an anti-scam feature so you know you are safe.
Is Sugardaddie.com free? Does it have a free trial?
There is a free subscription for Sugardaddie.com and there is also a 7-day free trial that you can try. What you can do in the free subscription would be too limited so you can opt to try the free trial and take the next step to get a premium membership.
How much does Sugardaddie.com cost?
If you want those extra features so you can choose your sugar daddy or sugar baby better then you can look into these premium membership payments and enjoy those extra features.
1 month – $33.99/month
3 months – $26.66/ month ($79.99 total)
6 months – $23.33/month ($139.99)
12 months – $20.00/month ($239.99)
Sugardaddie.com Review: Is Sugardaddie.com worth it?
Finding love in itself is already difficult. Finding love and anything extra that goes with it is more difficult. The relationship between a sugar daddy and a sugar baby is a dynamic that most people would frown upon. If you can be in a relationship that both of you understood from the beginning what it is going to be like, that is worth all the time.
A website that had outdone all the others for existing for almost two decades is a testament to what it is capable of doing. Despite the new sites that are out there, it only means that the site is capable of surviving and competing with others. There is something that it can offer that others could not.