Hily is a wonderful dating app that might be worth trying out.
Unlike other dating apps that usually waste most of your time with nothing serious and which often focus their attention on the looks, you can bet your bottom dollar that Hily is a different dating app on another level.
Though the Hily Dating app may feel casual, it is not dirty as such, which most people love.
What is Hily, how does it work?
Many things are changing today about dating sites, and Hily is joining this arena as well. The popularity of this app has drastically gone up barely three years after its inception.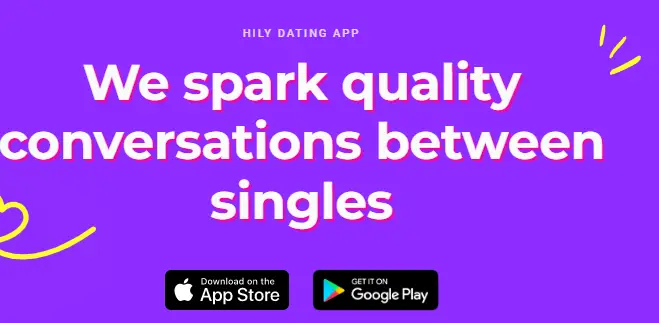 Although it has been in the market for this little amount of time, this app has become one of the top 5 most downloaded apps, and to date, it has more than 15 million users. The app has been tailored to meet the needs of young people and offer safe, quick and fun, and exciting dating online.
Hily uses statistical algorithms and machine learning. The app checks data like word choice, dialogue, and even mutual taste to find profiles that have the likelihood of matching with the other person.
Before enjoying the goodies this app has, you need to ensure that your account is verified through a photo upload or photo capture. After launching the app, it will now search for people who are within your preferred location and display to you their profiles. On your side, you'll see people who might be your best match.
As with various dating apps, this app work using what we referred to as a swiping method. Here, you can swipe to your left if you're not interested in a person and right if you're interested in someone, or they could match what you're looking for.
Also, you can continuously tap the user's photo to get in-depth information about them. When you tap it, information about a person will be displayed in a sheet, and you'll see their interest, and whether or not you have friends, you share friends.
Hily Dating App Pros and Cons
Pros
It features an auto-blocker that fully protects the users from crude and rude messages
Its verification process keeps off bots and scammers on the app
The app comes with a social media feel that makes it communicate with ease
The likes from the app are not restricted or limited
It comes with various attractive features
Cons
Everybody can message you
It has a confusing cancelation process, and it is pretty complicated
You'll always be charged automatically unless you cancel the subscription
Is Hily Free? Does It have a free trial?
After you have signed up for the app, you can get a free membership. And as a free user, you can use different features that span from basic; filtering and messaging to sophisticated ones such as events, protection, and so on. Fortunately, the app also comes with a free trial, which enables you to have a catch with the features offered in the advanced version, which will inform whether you'll continue with the subscription. The higher version usually comes with more remarkable consumable features, a visitors list, zero ads, etc.
How much does Hily cost?
This is where the problem lies. The cost and free trials often bring confusion. They offer you a one-week free trial but to know the right time to exit is often a problem. That said, they offer you an option to pay weekly, monthly, and even for a lifetime. Check it out here:
Weekly  price: $7.99
Monthly  price: $29.99
Lifetime  membership subscription: $199.99
Hily Dating App Review: Is Hily worth it?
If you want to avoid wasting time on fake accounts which post inappropriate messages, then this one suits you best. It adds an equally nice substance to online dating. You will love it though may it may feel casual but doesn't make you feel like it's dirty.
Moreover, you are offered a one-week free trial to try all premium features, so you are able to experience it before you make up your mind. With it, there are more great options to try more features. Therefore, I recommend you try this dating app and enjoy great fun with it.